Description
Learn how disability and physical differences can revolutionize design thinking!
As part of the 2019 Cambridge Science Festival, join Born Just Right's co-founder Jordan Reeves and the student participants of the BOOST by BJR workshop on Sunday, April 14th from 5pm - 7pm for a BJR Design Night Reception sponsored by the Cambridge Innovation Center (CIC) as we showcase the inventive creations of these young innovators.
Free with RSVP - space is limited!
Learn how the BOOST by Born Just Right program is changing how kids can learn and develop in the world of inclusive design. This event will offer participants who attend a two-day BOOST by Born Just Right at Microsoft Garage to reveal the design concepts they developed over the course of the weekend.
Co-founders, Jen Lee Reeves and 13-year-old Jordan Reeves will join program director, Kate Ganim as they introduce the concept of teaching kids how to develop designs and concepts that build off of each child's differences. The curriculum focuses on how helping each kid identify a challenge or a concept through design thinking and teach them how to develop and build those concepts into reality.
Ganim will also share how Born Just Right has developed a hands-on workshop into a classroom curriculum to teach all students personal design and client-based design. Co-sponsored by STEM on Stage with additional community support from Kellyanne Mahoney of Autodesk.
Thanks to the support of Microsoft Garage and Cambridge Innovation Center for making this event possible!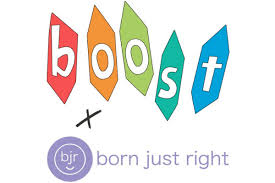 OUR MISSION
We build creative solutions that help kids with disabilities live a more enjoyable life. We believe giving kids design and STEM knowledge empowers them to create their own solutions. http://www.bornjustright.org
Contact: Jen Lee Reeves, jen@bornjustright.org