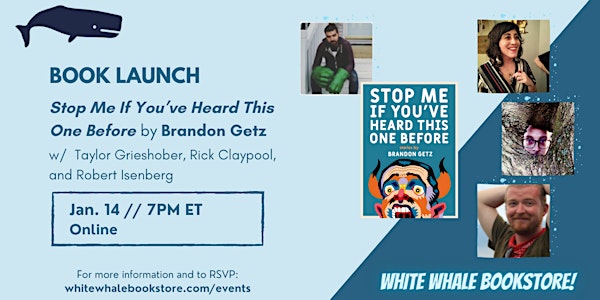 Book Launch! "Stop Me If You've Heard This One Before" by Brandon Getz
Join us online for the launch of Brandon Getz's book! Featuring readings with Taylor Grieshober, Rick Claypool, and Robert Isenberg
Refund Policy
Contact the organizer to request a refund.
Eventbrite's fee is nonrefundable.
About this event
Excited to host local author Brandon Getz for the launch of his collection of short stories, Stop Me If You've Heard This One Before! He'll be joined by Taylor Grieshober, Rick Claypool, and Robert Isenberg for a reading.
Head to this event's page on our website to order these writers' books! Check out our website, where you can search our whole inventory or order any books we don't have in stock, and don't miss our lists of recommended and best-selling titles.
This event will be hosted on Zoom. You'll receive the link to the Zoom meeting the day of the event via email. Free registration/ticket sales will end at 6:30pm ET on 1/14. Please email events@whitewhalebookstore.com if you miss this cut-off and need a ticket. For questions, check out our FAQ for events here.
About Stop Me If You've Heard This One Before:
A man's midlife crisis unfolding in a taxidermy factory. A widower and his baby daughter visited by demons. A homunculus climbing out of the skull of a woman's sick father. These stories exist in the borderlands between literary and genre, injecting strange and speculative elements into the mundane. Creatures, spirits, ghosts, robots, superheroes, and the Devil himself populate the pages, as elements of satire, horror, and science fiction enter the everyday tragedies of love, death, and loss. With odes to jazz and cyberpunk, spanning Pittsburgh to Argentina, Stop Me If You've Heard This One Before is twelve tales of the weird, including a previously unpublished story and novelette.
About the authors:
Brandon Getz earned an MFA in fiction writing from Eastern Washington University. His work has appeared in F(r)iction, Versal, Flapperhouse, and elsewhere. His debut novel, Lars Breaxface: Werewolf in Space—an irreverent sci-fi monster adventure—was released in October 2019 from Spaceboy Books. His forthcoming short story collection from Six Gallery Press, Stop Me If You've Heard This One Before, is arguably more literary, but still extremely fun and weird as hell. He lives in Pittsburgh, PA.
Rick Claypool is the author of the novel Leech Girl Lives (Spaceboy Books, 2017), the novella The Mold Farmer (Six Gallery Press, 2021), and numerous short stories. By day he works for a nonprofit organization researching corporate crime. He spent most of his life in Western Pennsylvania and now lives in Rhode Island, where he goes looking in the woods for fungi as frequently as he can.
Robert Isenberg is a freelance writer, playwright, photographer, stage performer, and documentary filmmaker. His books include The Archipelago: A Balkan Passage (Autumn House Press, 2010), Wander (Six Gallery Press, 2011), The Green Season (The Tico Times Publications, 2015), and three entries in the ongoing Adventures of Elizabeth Crowne series: The Mysterious Tongue of Dr. Vermillion (Backpack Media, 2015), The Woman in the Sky (2020), and Curse of the Qattara (2020). Originally from Vermont, he lived in Pittsburgh for 16 years. He now lives in Rhode Island, where he serves as staff writer for Providence Monthly.
Taylor Grieshober is a fiction writer and educator based in Pittsburgh, PA. She holds an MFA in fiction from Oregon State University and her debut short story collection, Off Days, was released by Low Ghost Press in 2019.