Book Launch at World Bank—the State of Open Data: Histories and Horizons
Description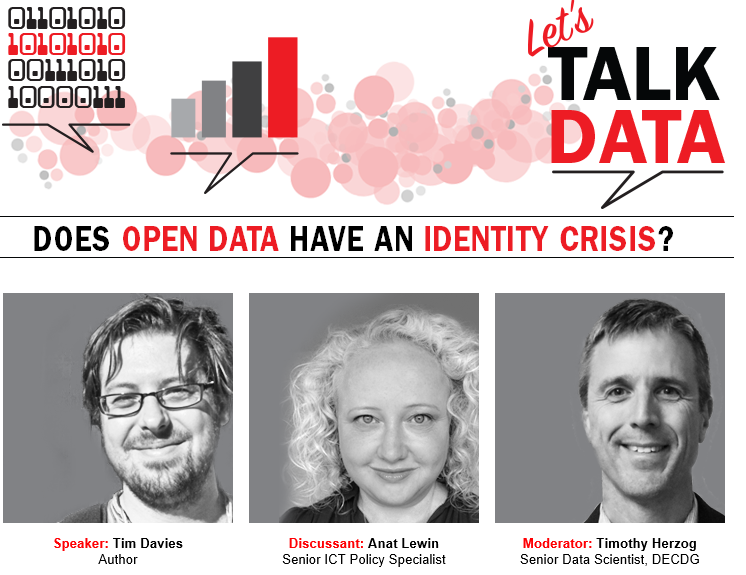 Overview
Ten years of open data advocacy and implementation have produced impressive progress, and vibrant open data initiatives have taken hold in every region around the world. But the last decade has also surfaced some difficult challenges. How broad should the open data strategy be? How can the needs of citizens, governments, private sector, and donors be addressed in a balanced way? Are issues such as artificial intelligence, privacy, and data sovereignty opportunities—or threats?
The State of Open Data: Histories and Horizons—available on May 17th—is the collective effort of 66 authors and open data experts from around the world. Critically reviewing the current state of the open data movement, and assessing progress of open data in supporting social, economic development and democratic development around the world, the book looks back over the last decade, and looks forward to challenges currently confronting open data advocacy and practice. It identifies an impending identity crisis at the heart of work on open data, as competing pressures to narrow focus, to build broad open infrastructures, and to respond to dark sides of data, risk fracturing the broad coalitions that have driven a decade of progress. Join us for an engaging discussion with Tim Davies, co-editor of The State of Open Data, along with open data experts from the World Bank and elsewhere.
Available on May 17th at: http://stateofopendata.od4d.net
Speakers
Tim Davies is an activist, researcher, and social entrepreneur, who has been working on themes related to open data since 2009. Tim was the research coordinator and co-editor of The State of Open Data: Histories and Horizons, and has contributed to research efforts on open data throughout the world. Tim has been a fellow at the Berkman Centre for Internet and Society and has studied at the Oxford Internet Institute and University of Southampton Web Science Centre. He blogs at http://www.timdavies.org.uk and tweets at
https://www.twitter.com/timdavies.
Anat Lewin is a Senior ICT Policy Specialist at the World Bank, where she leads activities on Open Data and Big Data, Cybersecurity, Digital Government and Digital Identification. Her Open Data projects span countries in the Caribbean (Saint Lucia, Jamaica, Saint Vincent & the Grenadines, Antigua and Barbuda) and Africa (Botswana and Mauritius).
Click here for online webex access
meeting number: 737 928 702
meeting password: vtU7Mpi3

Let's Talk Data is brought to you by the World Bank's Development Data Group. For more information, contact Christelle Signo Kouame.