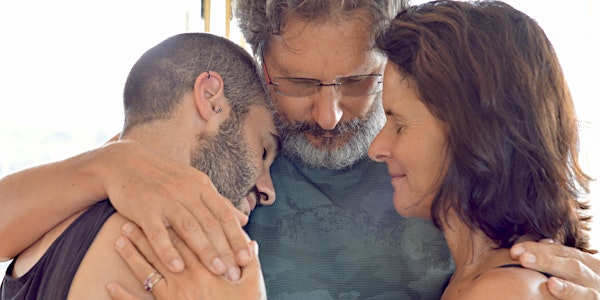 Body Talk: A full day relational embodiment training
A deep dive day into the therapeutic relational practices of Somatic Experiencing and Authentic Relating.
Date and time
Saturday, May 6 · 10am - 5pm BST
Location
The Salisbury Centre 2 Salisbury Road Edinburgh EH16 5AB United Kingdom
Refund Policy
Contact the organizer to request a refund.
Eventbrite's fee is nonrefundable.
About this event
"Emotions are what make life worthwhile, exciting, challenging, and meaningful. They drive our explorations of the world, motivate our discoveries and fuel our growth" ~ Gabor Maté
For one full day this May, you are invited into a safe, nurturing container to explore your embodied, emotional being and the many ways you express yourself in relation to other beings.
Through movement, contact and conversation, we will guide you to artfully encounter your curiosity, vulnerability and boundaries through a journey of deep, meaningful, playful communication exercises.
This one-off training will take place at Edinburgh's inner city sanctuary, the Salisbury Centre, and lead by two experts in Authentic Relating and Embodiment techniques: Laurie King and Emma Snellgrove.
Participants often walk away with a profound sense of well-being, a remarkable connection to their bodies, and an experiential toolkit that they can use right away to make every part of their lives even better.
WHO is this event for?
This training is for individuals who wish deepen their professional and personal life skill set. We welcome practitioners, therapists, as well as those new to this work. All is required is your desire to being open, vulnerable and invested in your self development.
If you've found yourself recently feeling blocked, anxious, disconnected, lacking purpose or direction, and need to reground and remind yourself what's truly important and who you truly are, this event is for you.
Our experience includes working with Highly Sensitive People (HSPs); neuro-diverse people; people suffering from anxiety and depression; people going through major life shifts; and members of the LGBTQ+ community.
We look forward to welcoming you into a beautiful container that is sure to inspire you to step further into the kind of life you truly deserve.
If you have any questions about whether the event would suit you, pop me a message and I'll get back to you within 24 hours.
WHAT will actually happen?
Activities will explore connection through movement, conversation and touch, focusing on the therapeutic practices of Somatic Experiencing and Authentic Relating.
Somatic Experiencing helps us explore the connection between our bodies and minds, facilitating the integration of our physical, emotional, and psychological experiences. Developed by world-leading psychotherapist Peter A. Levine, this method has been shown to significantly improve the lives of those living with PTSD and other stress disorders. By moving the body in certain intentional ways, we can release deep rooted blocks, creating a greater sense of ease and well-being. Step into the now and into the new.
For more info on Somatic Experiencing, check out https://traumahealing.org/.
Authentic Relating is an interpersonal meditation. It is the practice of listening and speaking in deeper awareness of our present moment sensations, curiosities and boundaries, allowing us to weave richer, more truthful and loving human-to-human connections.
https://www.authrev.org/.
Together, we will create a rich container to explore the many layers of our human experience, to invite loving, consensual touch, and arrive more deeply into present moment awareness of ourselves and one another.
WHERE will it be?
The event will take place in the Art Room of The Salisbury Centre, 2 Salisbury Rd, Edinburgh EH16 5AB.
The SPACE HOLDERS
Laurie King
I'm Laurie, and I am dedicated to enabling human-to-human relationships to arise, deepen and flourish. I have organised and facilitated over 200 Authentic Relating, Dating and Embodiment workshops in Oceania and Europe. My training includes the Authentic Life Course, the International School of Temple Arts, and the Connection Institute. My portfolio includes internationally acclaimed festivals such as Stretch, and organisations such as ART International.
My workshops have sparked thousands of nourishing connections, turning many strangers into life-long friends. I look forward to holding space for you!
Here's what others have said about my workshops:
"This was a game changer for me. I'm blown away on a daily basis as to how easy communicating and relating has been since doing Laurie's incredible workshop" - Andy
"Laurie led us through a series of games and exercises that allowed us to open up and create very real bonds with others and with our own selves. Many emotions were felt in the safest most welcoming environment" - Jason
"I felt so deeply and beautifully seen, heard and held by everyone in the group, and that was in large part because of Laurie's gift of facilitation" - Megan
For more info, check out itoiauthenticrelating.com.
Emma Snellgrove
Hello my name is Emma I have worked in the Arts as a performer/director and actress for over 15 years now. My holistic practices focus on Somatic Experiencing, Authentic Relating and Contact Improvisation.
As a performer I use dance, acting, comedy and directing to create shows that uncover human stories that are not always celebrated or talked about, danced about or laughed about. We need more laughter.
The work I do is about revealing the vulnerability we all hold, performance has a special magic, in that it can transcend ideologies, bridge differences and establish human connectivity. I think performance is very healing, I build embodied environments both on stage.
As a therapist & Guide, I use my methods in organisations, groups and with individuals, so they can become more human led. I do this through embodied exercises, guided heart lead dialogue, voice & somatic movement work.
HOW MUCH will I invest?
£95 - Discounted ticket (for those with low financial means)
£120 - Regular ticket
£145 - Supporter ticket (for those who can afford to pay for themselves & a contribution to the discounted ticket holders)