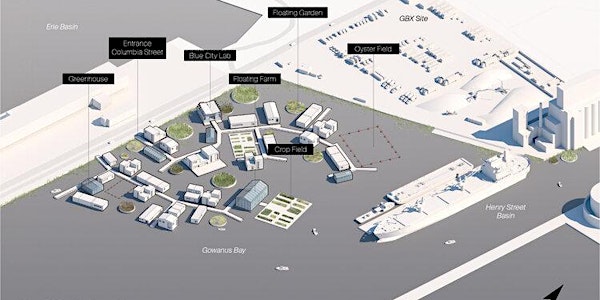 Blue City Red Hook Workshop - Developing New York's Floating Community
DEVELOPING BLUE CITY - NEW YORK'S OFF-GRID FLOATING CENTER FOR THE CLIMATE INDUSTRY IN SOUTH RED HOOK
When and where
Location
RETI Center 153 Coffey Street Brooklyn, NY 11231
About this event
Interested in sustainable, innovative and clean technologies and implementing them in the places that need them the most?
Become part of a pioneering community network of innovators and entrepreneurs who are passionate about driving social, environmental and economic justice for local populations. Join us to find out how you can become part of New York's most innovative climate-resilient development!
Register now for the Blue Futures Workshop, 6-8pm November 20th at 153 Coffey Street, Brooklyn. Please stay after for drinks and networking.
To tour the future site of Blue City, meet at the Gowanus Bay Terminal, 699 Columbia Street at 4pm.
_______________________________________________
Program:
4pm (Optional) Site tour of the GBX Terminal
5.30pm Doors open at RETI Center
6.15pm Brief intro on the BlueCity initiative and outline of the evening (Marthijn Pool, Co-Founder, Space&Matter)
6.30pm Learnings from PlusPool (Kara Meyer, Deputy Director, +POOL)
6.45pm Call for action of BlueCity Futures (Tim Gilman, Executive Director, RETI Center, and Marthijn Pool, Co-Founder, Space&Matter)
7.00pm Outline of the break-out sessions and the objectives (Klaus Lehn Christensen, Danish Cleantech Hub, and Matthijs Bouw, CEO, One Architecture)
7.10pm Thematic workshop
1. Clean technologies and materials
2. Ecosystem restoration and food production
3. Water management
4. Education and training
5. Economics & Governance
7.45pm Wrap up at break-out tables
7.50pm Report back to plenary
8.15pm Reception
9.00pm End
_______________________________________________
Organized by
RETI Center, GBX, Oasis, Space&Matter, One Architecture, Pratt Institute, Thread Collective and NY Blue Tech.
Space for the workshop is generously donated by STUDIO 153