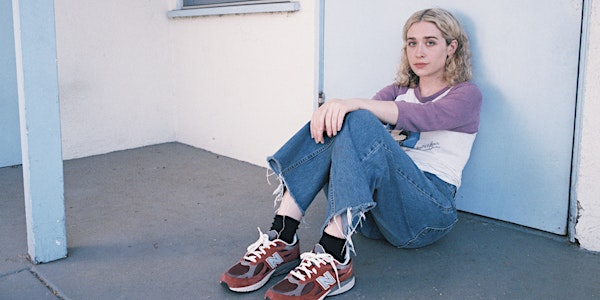 Blondshell
ALL AGES
DC9 Presents: My Home Is Your Playground Summer Tour '23
͏
Date and time
Saturday, July 22 · 7:30 - 10pm EDT.
Location
DC9 Nightclub 1940 9th St NW Washington, DC 20001
About this event
2 hours 30 minutes

ALL AGES

Mobile eTicket
Blondshell
WEBSITE | FACEBOOK | INSTAGRAM | TWITTER | SPOTIFY
In the past few years, 25-year-old Sabrina Teitelbaum has transformed into a songwriter without fear. The loud-quiet excavations that comprise her hook-filled debut as Blondshell don't only stare traumas in the eye—they tear them at the root and shake them, bringing precise detail to colossal feelings. They're clear-eyed statements of and about digging your way towards confidence, self-possession, and relief.
Teitelbaum grew up in a classic rock-loving household in several Midtown Manhattan apartments, raised primarily by her single dad. During an era of sleek teen radio pop, her most formative childhood obsession was the Rolling Stones. Piano and guitar offered a means of processing the instability around her. "I had a lot of really big feelings, but I had learned as a child that I couldn't really express them," she says. "Performing and writing ended up being the only place where I could get any feelings out." In high school, she discovered new indie-rock bands by scouring the websites of Bowery venues with her fake ID in hand—teen fascinations that instilled in her a love for lyrics with specificity and intensity, particularly as learned from The National, whose lyrics "informed a lot of the way I write."
But when Teitelbaum moved to Los Angeles for music school in 2015, she began forging a different path. Entering USC's Pop Program, she was swept into a context where the brooding pop legacies of Lorde and Lana Del Rey reigned. She dropped out after two years, but Teitelbaum studied classic and jazz theory, the art of harmonies, and found herself writing songs inside the world of pop studio sessions.
The biggest gift the pop machine gave her was the stark clarity of realizing that she didn't quite belong there. Her music was increasingly too raw and intense to easily categorize, and after finishing her last full-on pop EP with producer Yves Rothman (Yves Tumor, Girlpool, Porches) at the start of the pandemic, she gave herself permission to write without expectation. She began penning songs just for herself, with no thought that she would release them. The process emboldened her. Subtracting self-consciousness became a catalyst for the lucid songs of Blondshell, on which her experiences all coalesce to form her truest expressions of self yet. "It was me, as a person, in my songs," she says. When she showed a few to Rothman, he encouraged her to write an album, joining a chorus of friends saying, "This is you."
This moment of creative self-reckoning was the tip of the iceberg for Teitelbaum during a season of profound change; she had also gotten sober in early 2020. "There was a rush of really intense emotions," she says. "I was going through a lot of things that put me in a position to be as honest as possible."
That bracing honesty charges every note of Blondshell. With the world at a screeching halt, she recommitted to guitar and revisited the galvanic 90s alt-rock of Nirvana and Hole, absorbing their simmers and explosions, the crests and contours that made their abrasive version of pop so potent. Immersing herself into books, too—particularly the writing of Patti Smith, Rebecca Solnit, Rachel Cusk, and Clare Sestanovich—she found patience and permission. "I loved how seriously she took her own experiences," Teitelbaum says of Solnit's Recollections of My Nonexistence. "It helped me not trivialize the things I was going through."
Powered by brilliant, crystalline melodies, Teitelbaum's eloquent writing takes root in the concrete: every line is literal, a keyhole to a bigger truth. "I think my kink is when you tell me that you think I'm pretty," she sings on "Kiss City," a witty expression of learning to state desire; "I think you watched way too much HBO growing up," goes "Joiner," a blunt address of formative damage. Blondshell is about learning and unlearning, about untangling the ways we're taught to accept bad behavior, about peeling the layers back. These intelligent songs often contain the epiphanies of therapy sessions more than pop sessions, even when the hooks are simply a blast. "The lyrics are really vulnerable and they were scary to say," she says. "I feel like the shredding guitars are a protective shell."