Event Information
Location
Corinthia Hotel Prague
1 Kongresová
140 69 Praha 4
Czechia
Description
Praha je místem konání posledního ze série seminářů na téma "Decentralizovaný svět 2018". Přednasejícími budou přední odborníci v problematice Blockchain, dat a digitálních měn.
Seminář je výbornou přílezitostí navázat kontakty v daném oboru. Hudba a občerstvení* zajištěno.
Více informací naleznete zde:
https://community.blockstack.org/decentralizing-world-tour
*Občerstvení si bude možno zakoupit v místě konání hotovostní platbou v českých korunách nebo Euro.

Hostující přednášející:

Mark Hendrickson

Mark pracuje jako Produkt manažer pro společnost Blockstack.
Mark pochází ze San Franciska a pyšní se vice než desetiletou praxi v oboru designu, vývoje a marketingu webových a mobilních aplikaci pro začínající firmy.
Momentálně žije v dobrovolném exilu v Barceloně, kde se odstěhoval po úspěšné kariéře v Silicon Valley, kde uvedl na trh řadu úspěšných produktu jako např. Plancast, KITE, Lift & CrunchBase.
https://twitter.com/markymark

Jörn Erbguth

Jörn Erbguth je konzultantem v oblasti Blockchainu, chytrých smluv a GDPR (Obecné nařízení na ochranu osobních údajů).
Díky svým dvěma titulům které získal v oblasti práva a informačních technologií se Jörn zaměřuje na propojení práva a informačních technologií.
Jörn je nezávislým konzultantem a kandidátem na PhD v oboru aplikovaného práva v informačních technologiích a Blockchain na Ženevské univerzitě, publikuje články na související téma a přednáší na několika švédských univerzitách.
Aby zvýšil povědomí o GDPR v Blockchain komunitě, Jörn zpracoval jednoduchý dotazník pro kontrolu zda Vaše použití Blockchainu splňuje požadavky GDPR.
http://erbguth.ch

Pete van Velden – Antifragile (chaos je cestou k růstu)
Některé věci a osoby mohou těžit ze šoků; prospívají a rostou když jsou vystaveny měnicím se podmínkám, nahodilosti, zmatku a stresu a miluji dobrodružství, risk a nejistotu.
Pete má velmi úspěšnou kariéru v IT už od doby prvního vzestupu (a pádu) Internetu.
Jako nadšený příznivce Blockchainu a financí se Pete snaží pomoci lidem vlastnit své digitální já, svá data a majetek.
https://www.linkedin.com/in/blockpac/
----
Prague will be the final event as part of the Blockstack Decentralize The World 2018 Tour. Expect industry-leading speakers on Blockchain, Data and Cryptocurrencies. Expect food/drinks*, music and networking!
For more information about the tour check out: https://community.blockstack.org/decentralizing-world-tour
* Please note that food and beverages are available at the venue against cash payment in CZK or Euro's :)
Eventbrite:
https://www.eventbrite.com/e/blockstack-decentralize-the-world-tour-prague-tickets-50148505530
Meetup:
https://www.meetup.com/Prague-Decentralization-Meetup/events/254597855/
Contact: dataviznz@outlook.com
http://bringyourown.id

Phone/SMS: +31 6 8351 8527 OR +420 728 357 522
RSVP Count per 17/12/2018 (excl. organizers): Meetup 27, Eventbrite 30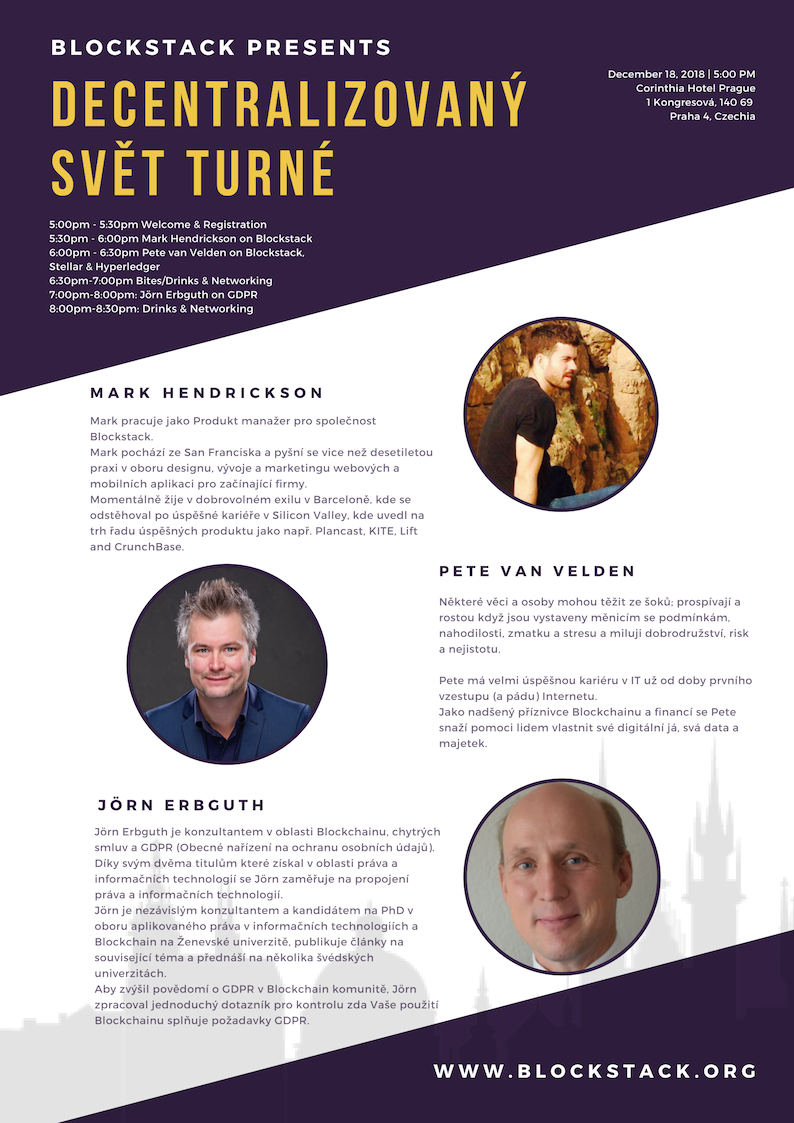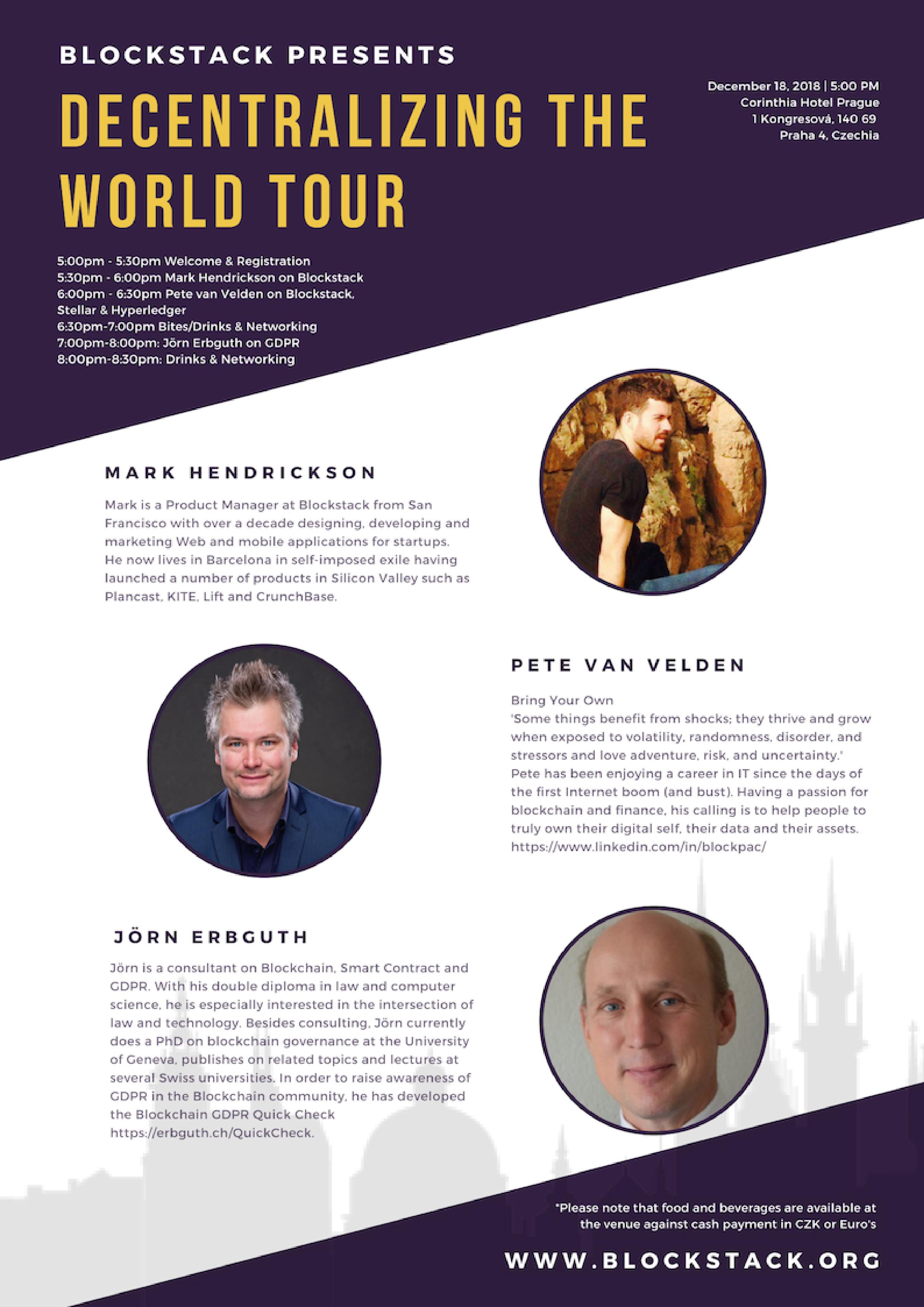 Date and time
Location
Corinthia Hotel Prague
1 Kongresová
140 69 Praha 4
Czechia