Description
Blockchain: Out of the Labs
Presented by Fenwick and West, Draper University, Day One Investments & unbank.ventures
This one day event will highlight industry leaders who are taking their Blockchain technology projects from the lab to the real world.
This is an interactive conference that will connect investors, founders, and other technologists interested in learning about the current state of the Blockchain landscape and its real world implications, as well as the incredible investment opportunities it presents from some of the industry's top CEOs, CTOs and investors.
Speakers: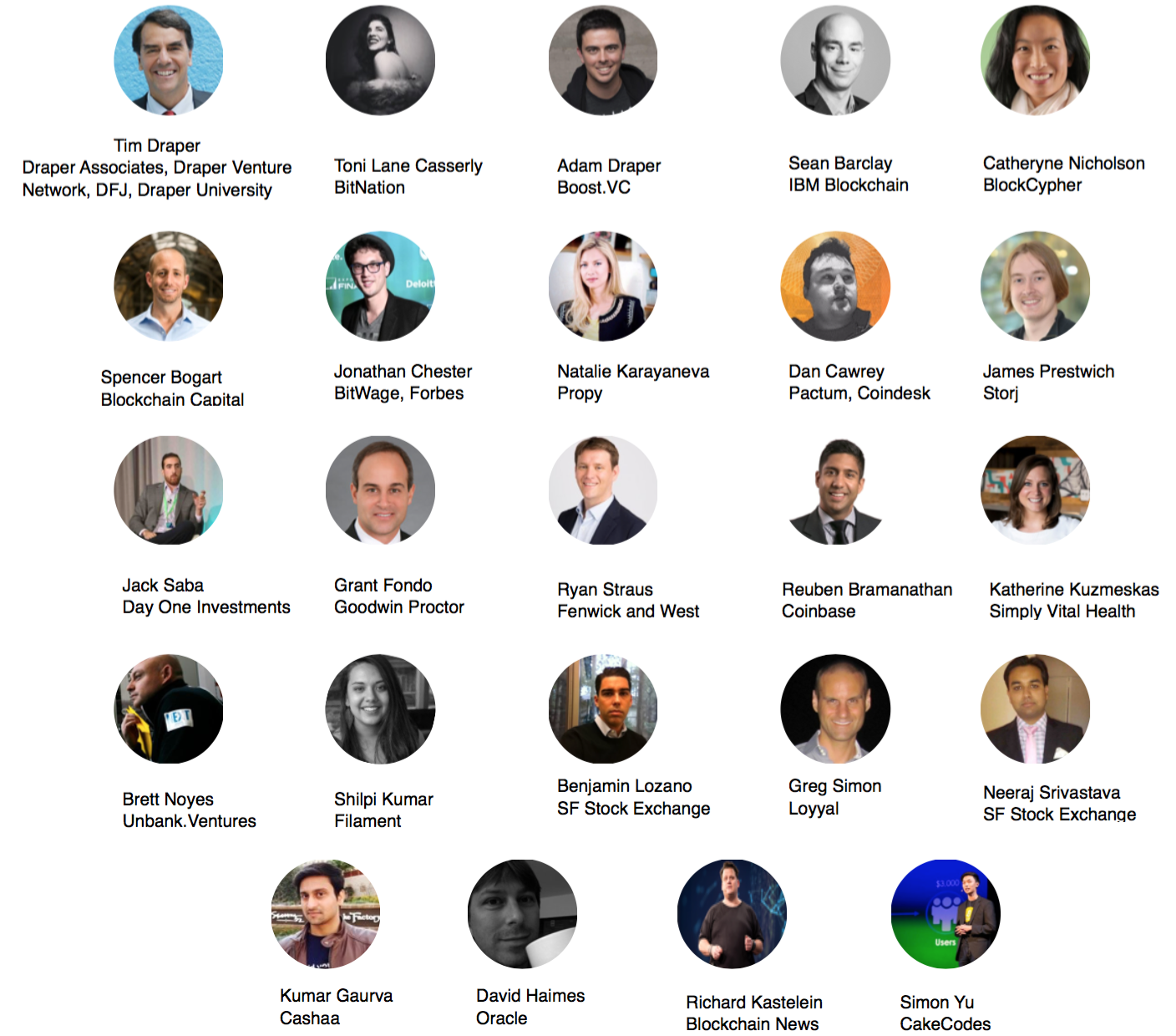 Learn more about our speakers on Crunchbase
Who should attend:
Investors, entrepreneurs, developers, corporate partners and students who want to learn more about Blockchain technology and its application.
Why you should attend:
The objective of this event is for participants to walk away with new fundraising opportunities, a stronger network, and a grounded understanding of the potential for this technology.
Program Overview
Opening Remarks
This short talk will set the stage for the day's events
Fireside Chat
In this discussion Tim and Adam Draper will explore the Blockchain's potential, what their early investments have taught them, and the exciting things they see ahead.
Panel 1: State of blockchain- Capabilities & Technical Limitations
The first panel will feature a skeptical investor and three CTOs. The panel will discuss the balancing act of building disruptive solutions with immature technology.
Panel 2: When to use Public, Permissioned or Private Blockchains
Each type of Blockchain places a different value on efficiency, immutability, transparency, and anonymity. This panel will feature industry leaders working with the various types of Blockchains as they discuss the pros and cons for different use-cases.
Panel 3: Investing in Blockchain
This panel of active Blockchain investors will explore past and future investing trends and opportunities. Get an inside peak into what applications and use cases are appealing to investors.
Break out session
Panel 4: Regulations and ICOs
Regulations exist to address risk inherent in business models and markets. The Blockchain is creating new models, markets, and fundraising opportunities. This panel will explore how they could be regulated.
Panel 5: Shark Tank Blockchain
The highlight of the conference. Watch Blockchain startups pitch to a panel of active Blockchain investors. You are not going to want to miss this event.


For more information or Sponsorship opportunities contact: Jack@dayone.vc
Sponsors: