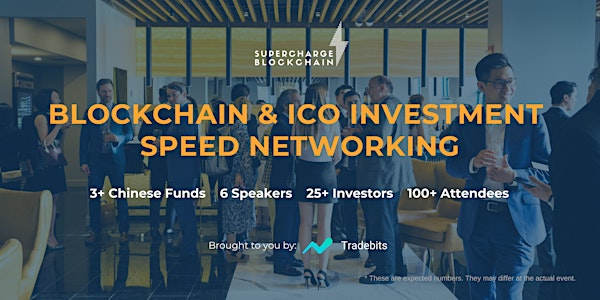 Blockchain & ICO Investment Speed Networking
When and where
Location
Supercharge Blockchain 398 West Thames Street New York, NY 10280
Description
3+ Chinese Funds, 6+ Speakers, 20+ Investors, 70 Attendees.*
Tradebits® and Supercharge Blockchain® invite you to join our Blockchain & ICO Investment Speed Networking event. We will pair you one-on-one with investors and influencers in the format of speed networking.
Learn how to raise money from China and Asian markets. Connect with over 25 investors, including at least 3 Chinese Funds, and dozens of Blockchain/Crypto entrepreneurs and enthusiasts.
Meet your future investor, business partner, advisor, and employer. Enjoy the stunning waterfront view on the Hudson River.
As ICOs and cryptocurrency trading are banned in China, more Chinese investors, blockchain startups and mining companies are seeking opportunities overseas, and the U.S. is the top destination. We will feature a keynote presentation and a panel discussion that covers the latest blockchain regulations and strategies on how to raise funds from Asia.
You will get up close and personal with investors, innovators, and thought leaders during our Open Networking session.
For VIP Pass holders, you will get to join our VIP Reception at 4:30 pm ET and meet with the Tradebits team, accredited investors, and other VIP guests.
Accredited investors, family offices, and institutional investors:
Attend our event for FREE!
If you are looking for credible and valuable investment opportunities in blockchain and cryptocurrency, we sincerely invite you to join us at the event. No more endless, time-consuming coffee meetings! Get to speak with up to 75 blockchain founders and executives in just 2.5 hours!
Please select Investor Pass as your ticket type.
NOTE: You will need to fill out an Investor Questionnaire so we can assess your qualification as an accredited investor. We reserve the right to cancel your Investor Pass if we don't think you are qualified as an accredited investor.
Blockchain/ICO/Crypto entrepreneurs:
If you want to pitch your company to investors and influencers, please get the Standard Pass or VIP Pass. You will get to speak with 25 investors in just 2.5 hours. We will send you a Pitch Summary template for you to fill out so you can bring it to the event.
Don't have anything to pitch?
No problem! You can get the Open Networking Pass and just network and mingle at the event. You won't be able to join the Speed Networking session.
---
Agenda
4:30 to 5:30: VIP Reception (VIP Pass only; exclusive to investors, Tradebits team, and other VIP guests; food and beverages)
5:30 to 6:00: Registration and Welcome Reception
6:00 to 6:20: Keynote Presentation
6:20 to 6:50: Panel Discussion: The Future of ICOs
7:00 to 7:30: Pitch Presentations
7:30 to 9:30: Speed Networking and Open Networking
---
Speed Networking Format
Attendees will be divided into two groups:
- Group 1: Investors & influencers (25 expected)
- Group 2: Blockchain/ICO/Crypto entrepreneurs and enthusiasts (75 expected)
Everyone in Group 2 will get to speak with everyone in Group 1. Each pair will get about 1.5 to 2 minutes.
(Afterwards, attendees will get to connect with everyone else during the Open Networking Session).
---
Just A Few of Investors and Attendees
Thomas Tiedemann
VP of Global Equity, Blackstone
Anthony Shook
Executive Producer of TV series The Rise of Blockchain, produced by Oscar winner Leonardo DiCaprio and two-time Emmy's winner Stephen David.
Linda Lu
645Ventures
Past investments: Abacus, ALICE, AptDeco, Beauty Bakerie, Bespoke Post, BetterView, Eden Health, Fat Lama, FiscalNote, FLY, Goldbely, Hire an Esquire, Hullabalu, Iterable, Keaton Row, LeagueApps, LittlStar, Loverly, MergeVR, MM LaFleur, Nanit, Negotiatus, Overtime, Poshly, Rifiniti, Rosie App, Scout Finance, Source 3, SourceEasy, StorageOS, Thinknum, Voodoo Manufacturing
Matt Wilkerson
Founder, ParagonOne; Angel Investor
Past investments: Spotify, ClassPass, LedgerX, Basis, Accion Systems, Bevi Technologies, BaseCoin, JustFab, and Mogul
Joel Palathinkal
Managing Partner, Genesis Block Holdings
Past investments: AICoin, FR8 Network, SKYFchain, BlockSeed Investments, Securrency
Leeor Shimron
CEO, NovaBlock Capital
Past investments: Aion, Antshares (NEO), BlockCollider, Celsius, Constellation, and others
David Brand
CEO, Magma Software Technologies
Past investments: Enigma, Cardano, Zcash, 0x, ChainLink, PIVX, Polymath
Michael Onghai
CEO, Snowy August Management, LookSmart and Clickable, Director of MGT Capital, and Principal of Ibis Management.
Past investments: ENTRPRNR, Izea, Mingyian, and SNAP Interactive
Emre Okay
CEO, RenGen Labs
Past investments: Venture capital and digital asset investments such as tZero
Brian Johnson
White Bay Group
Past investments: Blockchain projects and traditional companies, including many protocols in the blockchain space and Silicon Valley companies (several Scooter sharing companies, for example)
Kelvy Ko
Managing Director, LD Capital
Past investments: Certik, Celer, Carry, Hubtoken, etc
Han Jing
Differential Ventures
Invest in early-stage companies in Fintech, Cybersecurity, and IoT. Nearly $200 million under management across 6 funds; managed over 100 portfolio companies that have realized over $3.5 billion in exit value.
Sebastian Zhou
Alpha Square Group
Past investments: 8 growth stage private companies across technology, media, and telecom, healthcare, and real estate sectors.
Isa Yu
Founder, KoinEra
Pass investments: Moeda, Omisego, Monero, Endor
Sammy Ahn
Managing Partner, Lucid Crypto investments

Lan Tschirky
Angel Investor, Rothbadi & Co ICO Advisory
Investments: Carable
Marc Orenstein
Chief Investment Officer, Blockweather Holdings, LLC
Waseem Sadiq
CEO, Tradebits Exchange
Alex Yeh
Co-founder, AuraBlock Ventures
---
Venue
This event will be held at the Hudson Club, a luxury event space in the heart of NYC's Financial District. Located at Hudson River Bank, The Hudson Club serves as a 7,500 square foot meeting destination and venue for our clients. It harbors a sound system, projector, VIP meeting space, and a media room— all just minutes away from Wall Street.
NOTE: When you enter the address in Google Maps, it says NYC Parks Enforcement Patrol but it's the right location! It is the last building on your left when you face the Hudson River.
---
Panelists and Pitch Presenters:
If you want to join our panel discussion titled How to Raise Capital From Blockchain and Crypto Funds in Asia, or pitch your company to the audience in a 5-minute presentation, we welcome you to apply to become a Key Sponsor.
For this event, we require all panelists and pitch presenters also be our Key Sponsors.
If you are interested, please fill out our Sponsor Application Form and select Key Sponsor/Panelist or Key Sponsor/Pitch Presenter for Sponsorship Package:
https://superchargeblockchain.typeform.com/to/bhzCi3
As a Key Sponsor, you will receive 2 VIP Passes for free.
Sponsors:
We still have a few sponsorship spots available! View our Sponsorship Packages here:
http://bit.ly/superchargeblockchain

Please fill out our Sponsor Application Form if you want to sponsor:
https://superchargeblockchain.typeform.com/to/bhzCi3
Interested in investing in Tradebits.co?
Purchase the VIP Dinner Pass and you will get to join the Tradebits team and other luminaries at a private dinner party on July 31st.


---
Our sponsors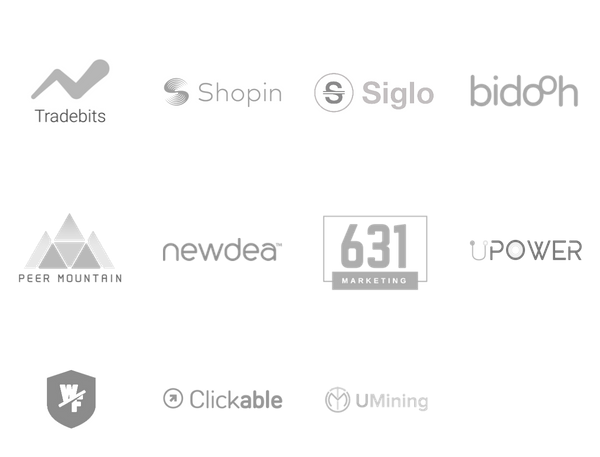 Our Partners

---




Contact info
Please contact us at:
Marcol Lingpeng Liu
(917) 930-9053
lingpeng.liu@gmail.com
---
About Tradebits
Tradebits is building the digital currency trading platform for the next 100 million users, the most high-performance, flexible, and reliable digital currency exchange platform, capable of scaling and handling an unparalleled number of users and transactions per second, while fully adaptable to the skill level of any trader.
For more information on Tradebits, please visit: tradebits.co
Tradebits' whitepaper: tradebits.co/whitepaper
* These are expected numbers. The actual numbers might differ at the event.