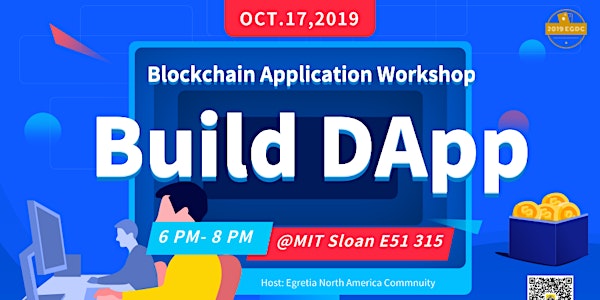 Blockchain Gaming Opportunities & Build a DApp and Accept Token Payments
Event Information
Location
MIT Sloan School of Management
100 Main Street
E51-315
Cambridge, MA 02142
The easiest way to start is TO BUILD DApp!
About this event
What is Blockchain? What is a Decentralized Application looks like?
How could I simply integrate my work with decentralized technology?
Where I can find the Blockchain application?
How I could use it? But More important. WTF is DApp?
The easiest way to start is BACK to the BASIC! BUILD & PLAY!
Game DApp development involves a lot of fun and pain. Lack of resources and support among all the challenges restrain the imagination of gamers and developers.One thing we know, As a developer, you might have many small apps built for fun or so any occasion. How to better develop your own game? How to turn your great idea into a well-known game? How to share the joy and fun to the gamers? These are the questions we expect you have!
Agenda:
- 6:00 PM - 6:30 PM: Pizza & Social Time
- 6:30PM - 6:45 PM: Blockchain Gaming Opportunities
- 6:45 PM -7:00 PM: How to Build a DApp and Accept Token Payments in Your DApp?
- 7:00 PM - 7:10 PM: Egretia Global DApp Contest Introduction
- 7:10 PM - 8:00 PM: Q&A / Social Time
Speaker:
Toby Ragaini, Ex Producer of Zynga, VP of MMO Games at Big Fish Games
Toby was the lead designer of several video games including pioneering MMO Asheron's Call and later The Matrix Online. He is also known for having been founder/CEO of the casual MMO company Thinglefin, which was successfully acquired by Big Fish Games. After the acquisition, Toby served as Director of Game Development and VP of MMO Games at Big Fish Games. He served as Director of Product Development for Novel, Inc. for two years before joining Zynga. He is currently serving as Executive Producer in Boston for Zynga
William , Core developer of Block Kingdom Studio
Block Kingdom is creating a groundbreaking next-generation blockchain game ecosystem. We integrate marketing and publication for blockchain games, game asset issuance and decentralized data storage, cross-chain trading for game assets and game player communities, to help game developers to develop high-quality blockchain games.
Host: Egretia North America Community
More Info about Egretia Global DApp Contest:
Reuters: The 2019 Egretia Global DApp Contest Will Boost the Blockchain Gaming Market in 2020 https://www.reuters.com/brandfeatures/venture-capital/article?id=159060
UseTheBitcoin: Egretia Pledges to Bring Blockchain Gaming to the Next Level With a Global DApp Contest https://usethebitcoin.com/egretia-pledges-to-bring-blockchain-gaming-to-the-next-level-with-a-global-dapp-contest/
CCN: Game On: Egretia Launches a Global DApp Contest to Boost Blockchain Gaming for 2020 https://www.ccn.com/game-on-egretia-launches-a-global-dapp-contest-to-boost-blockchain-gaming-for-2020/
Crypto Ninjas: Egretia bets big on blockchain gaming with a global dapp contest https://www.cryptoninjas.net/2019/10/01/egretia-bets-big-on-blockchain-gaming-with-a-global-dapp-contest/
Market Watch: Egretia is Devoted to Bringing Blockchain Gaming to the Next Level With a Global DApp Contest https://www.marketwatch.com/press-release/egretia-is-devoted-to-bringing-blockchain-gaming-to-the-next-level-with-a-global-dapp-contest-2019-10-02
Date and time
Location
MIT Sloan School of Management
100 Main Street
E51-315
Cambridge, MA 02142