Description
Vela Wood Presents...
Blockchain Breakfast: Summer Series with Lacey Shrum
Join us for the final Blockchain Breakfast of the summer. Designed to be an open conversation with attendees, each Blockchain Breakfast features Lacey Shrum and other local blockchain personalities in a non-technical, interview-style format – over croissants, coffee, and intimate convo.
Attorneys - this event is accredited for one CLE ethics hour.
---
Implementing Blockchain Solutions:
How You Would & If You Should
Blockchain is the hottest cure-all solution out there. But like any golden child, it comes with its share of problems. If you're a founder considering implementing blockchain in your company or a developer interested in learning about blockchain solutions, join Lacey Shrum and Michael Lewellen as they discuss how blockchains and smart contracts work, why they are useful, when and how to implement them, and the risks associated with doing so.
Michael Lewellen has been advising and architecting blockchain systems for seven years and is certified in Scrum methodologies, blockchain development, and supply-chain systems. Michael formed the first blockchain consultancy in the DFW area and is now CEO of Tarski Technologies, where his clients include digital currency funds, mining operations, and Thomson Reuters.
---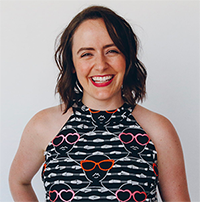 Meet Your Host, Lacey Shrum
Lacey is an associate attorney at Vela Wood, where she serves businesses using blockchain technology and cryptocurrencies, and is the founder of Smart Kx, a smart contract management software which involves taking part of a traditional contract and "sprinkling a bit of code" behind it to make it self-executing.