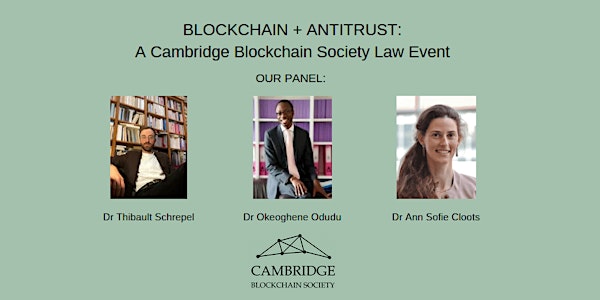 Blockchain + Antitrust - A Cambridge Blockchain Society Law event
Join us on 27th Oct @5:30PM to hear our panel of guest speakers speaking on Blockchain and Antitrust.
About this event
The Cambridge Blockchain Society is organising a panel discussion with Dr. Thibault Schrepel, Dr. Okeoghene Odudu, and Dr. Ann Sofie Cloots. The title of the event is "Blockchain + Antitrust", which is also the title of Dr Thibault Schrepel's new book.
Join us on Zoom on 27th October 2021 @ 5:30PM BST (Current UK time)!.
Structure:
20 minutes presentation by Dr. Schrepel.
30 minutes panel discussion.
10 minutes Q&A session.
Our Panel:
Dr. Thibault Schrepel
Dr. Thibault Schrepel, LL.M., is an Associate Professor of Law at VU Amsterdam University, and a Faculty Affiliate at Stanford University CodeX Center where he has created the "Computational Antitrust" project that brings together over 50 antitrust agencies. Thibault also holds research and teaching positions at the University Paris 1 Panthéon-Sorbonne and Sciences Po Paris. He is a Harvard University Berkman Center alumnus, a member of the French Superior Audiovisual Council's scientific board, and a blockchain expert appointed to the World Economic Forum.
Dr. Okeoghene Odudu
Dr. Okeoghene Odudu is a Fellow of Emmanuel College, Cambridge and Deputy Director of the Centre for European Legal Studies. He teaches Competition and EU law and serves on the editorial boards of the European Competition Journal, the Cambridge Yearbook of European Legal Studies and Concurrences. He begun his career as a Fellow in Law at Downing College, Cambridge, and also holds a DPhil from Oxford, awarded for research on aspects of Article 101 TFEU.
Dr. Ann Sofie Cloots
Dr. Ann Sofie Cloots is a lecturer of Law in Digital Assets @ Cambridge's Law Faculty, and the Legal Expert of Cambridge Blockchain Society. She holds a PhD in Law from Cambridge, has been a Visiting Doctoral Researcher at the Harvard Law School, and holds an LLM from the Columbia Law School. She is currently the Head of Legal at OpenOrigins, a Blockchain startup.