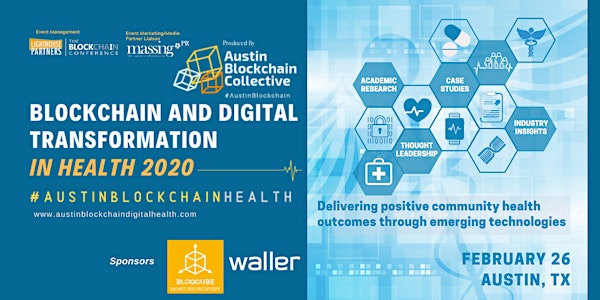 Blockchain and Digital Transformation in Health 2020
By Austin Blockchain Collective
When and where
Date and time
Wednesday, February 26, 2020 · 8am - 7pm CST
Location
MedtoMarket 2101 E. St. Elmo, Bldg. 1 Austin, TX 78744
Refund Policy
Refunds up to 7 days before event
Eventbrite's fee is nonrefundable.
Description
NOTE: Online registration has ended. A few on-day walkin tickets are available for $495 full day (entry before noon) and $295 half day (entry after noon). No exceptions.

​The Blockchain and Digital Transformation in Health 2020 symposium features an educational program curated jointly by the Austin Blockchain Collective and Dell Medical School. Uniquely, it will provide a blend of academic and industry insights into the application of blockchain, Web 3.0 and related digital transformation technologies to achieve better health and healthcare outcomes.

Thanks to our sponsors: BloqCube & Waller Lansden Dortch & Davis.

Featuring: 40 expert speakers, 2 world class keynotes, 10 academic research presentations, 20+ innovative healthtech startups. One low price ticket!

Keynotes:

Mark Treshock, Blockchain Solutions Leader for Healthcare and Life Sciences at IBM will present the industry keynote: "Blockchain in Healthcare and Life Sciences: The End of the Beginning".

Dr. Lucila Ohno-Machado, Associate Dean, Informatics and Technology, UCSD Health will present the academic keynote: "Blockchain Applications to Support Biomedical Research and Healthcare".

Scene Setting Thought Leadership: "What Healthcare Can Learn from Wall Street" - by Pete Harris, Austin Blockchain Collective.

Expert Speakers and Panelists:
Aman Quadri, AMSYS Blockchain/AMCHART
Pete Harris, Austin Blockchain Collective
Indira Mysore, Austin Blockchain Collective
Rama Rao, BloqCube
Brian Jackson, BurstIQ
Brance Hudzietz, Capital Factory
Brennan Hodge, Citizen Health
Adam Wiedemann, City of Austin/MyPass
Jeffrey Eyestone, CognitiveScale
Nathan Miller, Consensus Networks
Heather Flannery, ConsenSys Health
Amit Malhotra, Continuity Care
Daniel Toshio Harrell, Dell Medical School
Anjum Khurshid, Dell Medical School
Corey Todaro, Digital Asset/DAML
David Koepsell, EncrypGen
Robert Teague, Green Room Technologies
Phil Beckett, HASA
Ray Dogum, Health Unchained
Andy Morris, IBM
Matthew Atwood, Lonestar Life Sciences
Todd Chamberlain, MedBlox
Aaron Ali, MedtoMarket
Tatyana Kanzaveli, Open Health Network
David Stefanich, Rymedi
Florence Lowe, Synerzip
Travis James, Tribe Health Solutions
Meredith Butterfield, Valkyrie Intelligence
Kristen Johns, Waller Lansden Dortch & Davis
There will also be a 10-presentation academic program featuring faculty and researchers from Dell Med and UT.

The latest awesome program is @ https://www.austinblockchaindigitalhealth.com/program.html.

Key topics for the educational day include:

* Blockchain for healthcare consortia and applications, such as clinical testing, pharma supply chain, EMR. payments, HIPAA and other regulatory compliance.
* The promise of public blockchains and Web 3.0 in healthcare.
* The role of artificial intellience in healthcare and how blockchain applies
* The emergence health data marketplaces on blockchain. Data monetization and #OwnYourData.
* Smart contracts for healthtech apps and designing them for HIPAA compliance.

There is plenty of time also for networking with your peers during breakfast, lunch, breaks and the end of business day reception - all included in the low price ticket!

Easy to travel to venue. Free parking for all.

Full information @ https://www.austinblockchaindigitalhealth.com.


About the organizer
The Austin Blockchain Collective has a mission to promote the City of Austin's credentials as a recognized global center of business, innovation and thought leadership in the blockchain technology space. 
The Collective provides education, advice and guidance on blockchain and crypto technologies, and advocates for, showcases and nurtures local blockchain and crypto vendors and users. It connects, aligns and promotes ecosystem participants and encourages accelerated adoption of these transformative technologies.