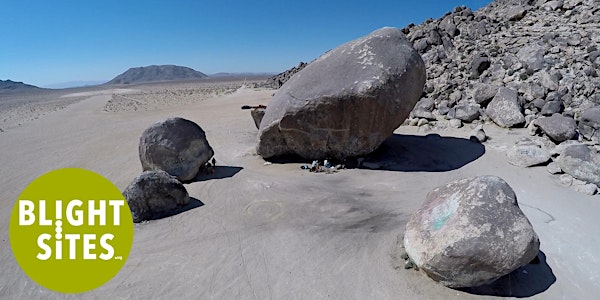 Blightsites Giant Rock Cleanup and Tidbit Tour
When and where
Location
Giant Rock CA Landers, CA 92285
Description
Join Blightsites.org and the Bureau of Land Management on Saturday, December 10 at Noon for a cleanup at Giant Rock in Landers, CA. We will gather garbage and lay rumors to rest about the man who created Giant Rock Airport and lost his life in a controversial explosion in his homestead under the boulder. Years later, thousands attended UFO conventions here, led by George Van Tassel, creator of the nearby Integratron. Unfortuntately, many contemporary visitors don't pack out their trash. Together we can help repair and recover refuse for reuse and recycling while learning about local history. #storiesandstewardship
We will meet at noon to sign-in, discuss safe trash collection procedures and fill out volunteer agreements. Blightsites founder and event organizer Karyl Newman will share recent discoveries from her ongoing research into the history of the site.
WHERE: N34 19.946' W116 23.269'
PARKING: High clearance and 4WD vehicles are recommended. Consider carpooling from Homestead Valley Park at 1501 Belfield Blvd, Landers, CA 92285 where you can drop your used tires at the collection event from 8-12.
ATTIRE: Wear layered comfortable clothing to cover both arms and legs. Trash cleanup can get dirty. Closed-toe shoes, hats, sunglasses and sunscreen are essential. Bring a refillable water container or enjoy ice cold bottled water provided by the Bureau of Land Management. The BLM will supply bags, gloves, magnetic sweepers and other collection tools. Each volunteer will receive a reusable Blightsites screenprinted bag made from a recycled t-shirt.
More details will be provided upon sign up.
Space is limited. Each volunteer will receive a screenprinted reusable bag made from recycled t-shirts and a pizza sandwich. We look forward to your participation!