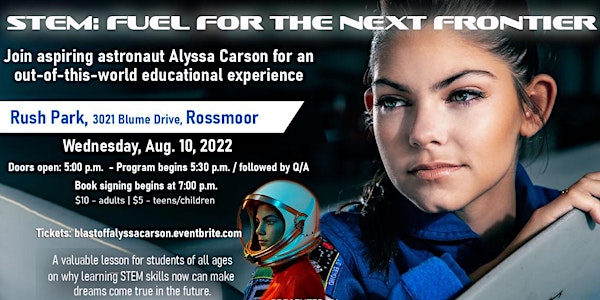 Blast off Back-to-School with Aspiring Astronaut Alyssa Carson
An out-of-this-world evening for any student interested in space. Alyssa Carson explains how STEAM skills can fuel dreams.
When and where
Location
Rush Park Auditorium 3021 Blume Drive Rossmoor, CA 90720
About this event
Schedule
5:00p.m. - Doors open
5:30p.m. - Presentation starts followed by Q&A
7:00p.m. - Book signing starts
Snap a picture in front of a Mars Rover backdrop during the evening.
** Attendees will get a free copy of Alyssa's book "So you want to be an Astronaut" which Alyssa will sign that evening (while supplies last).
** FREE PIZZA will provided while supplies last.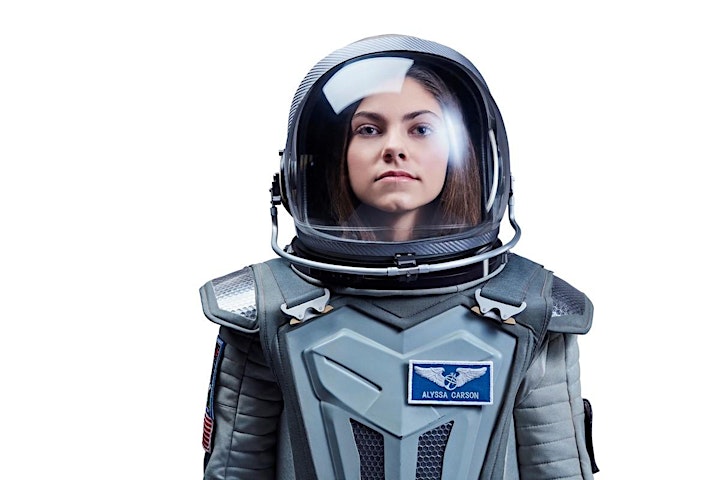 Alyssa Carson has been preparing to rocket into space since she was a toddler. Billed as the youngest astronaut in training, the 21-year-old American is blazing her own trail in a quest to be among the first humans to land on Mars.
As a kid she went to every Space Camp available (even traveling overseas) and completed the NASA Passport to Explore Space Program, visiting all 14 U.S. space centers.
She was on a NASA panel on the Mars Exploration Rovers (MERs) mission, was selected as one of seven ambassadors for Mars One, a privately funded effort to form a human colony on Mars, and was featured in the 2017 Netflix Documentary, "The Mars Generation."
She's currently an undergraduate studying astrobiology at the Florida Institute of Technology with a focus on her big goal of seeing the red planet in person.
On Earth, Alyssa is also on a mission to inspire young people to get excited about space and the study of Science, Technology, Engineering, and Math (STEM). She shares her vision for the Mars Generation in speeches all over the world and to her nearly one million followers on social media.
In Blast Off Back-to-School, Alyssa will bring her extraordinary experiences and advice to Orange County students thanks to media partners Spotlight Schools, The Event-News Enterprise, The Sun Newspapers and Rossmoor Community Services District.
Alyssa will explain how the future of the space economy is as vast as the universe. The emergence of space tourism, plans to return to the moon and further explore, and someday visit, Mars mean more opportunities for today's kids to become the innovators of tomorrow in this expanding field. Alyssa will also do a Q&A session with the audience so children can get their questions answered. Attendees will also get a free copy of Alyssa's book, "So you want to be an Astronaut" that she will sign that evening.
In addition, Los Alamitos Unified School District Superintendent Andrew Pulver, Ed.D., will be there to welcome Alyssa and talk about the district's new $67 million multistory STEM building opening at Los Alamitos High School this school year.
Also, the sponsors will provide free pizza for attendees (while supplies last).
Don't miss out on this stellar event sure to leave children reaching for the stars and beyond.