Description
Blank Map is the work of Adee Roberson, Brontez Purnell, keyon gaskin, Tasha Ceyan, and Wizard Apprentice, a temporary collective of Black artist-performer-musicians. This internally-focused work activates sound and movement and creates a space where individual and shared narratives emerge.
Blank Map is psychedelic and expansive, involving Black abstractions influenced by punk, queer, and feminism. Blank Map is non-essentialized and considers anti-assimilationist tendencies.
Blank Map is a study in bodies as they metaphysically and spiritually examine shape, space, and time. Each moment supports and ruptures the next-- tape, skip, loop-- translating sounds into gestures and vibrations. Blank Map fucks with, unsettles perceptions of time. This work allows the collective to be taken and to take others elsewhere.
This project is a ritual to focus on feeling good despite who may be watching.
Blank Map aims to create a world that is inescapable and expansive-- an event horizon. This critical and abstract work wants to leave you unsettled and unable to trust your opinions of it. Ultimately, this project aims to provide more questions than answers.
The collective is supported by Stephanie Anne Johnson (lighting), Sampada Aranke (dramaturg), Alec White (production manager), and Keith Hennessy (instigator/producer). Blank Map is presented as part of the National Queer Arts Festival, co-produced by Circo Zero and Queer Cultural Center.

Dates + Times
Friday-Sunday ▲ June 3-12 ▲ 8pm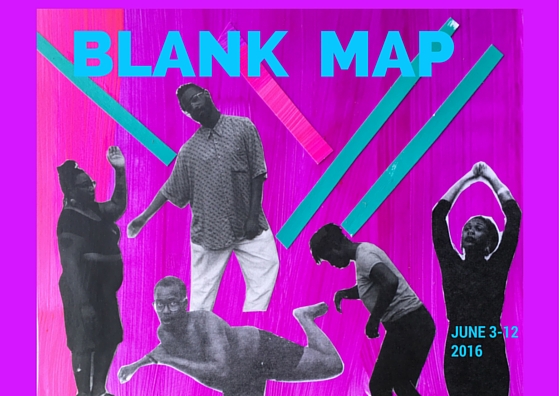 Artist Biographies

Adee Roberson is a black feminist, visual artist, educator, musician, and healer who was born in West Palm Beach, Florida in 1981, with strong familial ties to Jamaica. Her work weaves rich celestial landscapes with drum patterns, found photos, synthesizers and various percussion instruments. Adee believes in art as a commemoration of the natural world and our ancestors. She creates through magic, dreams, and intuition. Adee has exhibited and performed her work in numerous galleries and independent venues including Yerba Buena Center for the Arts, African American Cultural Center, and Art Gallery of Windsor, Ontario. She is based in Oakland, CA where she co-founded Black Salt Collective. http://blackpineappleadee.tumblr.com // http://blacksaltcollective.squarespace.com/
Brontez Purnell is the author of the cult zine "Fag School," Cruising Diaries, the frontman for his band "The Younger Lovers," and founder of the Brontez Purnell Dance Company (BPDC). Formerly a dancer with Gravy Train!!!, his other collaborations include an ensemble role in the queer independent feature film, "I Want Your Love" (Dir. Travis Mathews, 2012), and dancing for local artist-choreographers Amara Tabor-Smith, Keith Hennessy, Eric Kupers, and Nina Haft, and South African artist-choreographer Athi-Patra Rugra. Since founding BPDC in 2010, Purnell has presented his original dance and movement theatre works at the Berkeley Art Museum, CounterPULSE, the Garage, Kunst-Stoff Arts, the Lab, and SOMArts. With cinematographer Gary Fembot Gregerson and lighting designer Jerry Lee, Purnell produced, choreographed, and scored "Free Jazz" (2012), a 8mm B&W dance film documenting "various dance parties, structured improvs, rituals and happenings" performed by BPDC between 2010 and 2012, which has been shown internationally. He was a guest curator for the Berkeley Art Museum's L@TE program in 2012, awarded an invitation to the 2012 Radar Lab queer arts summer residency, honored by Out Magazine's 2012 Hot 100 List and 2013 Most Eligible Bachelors List, and most recently won the 2014 SF Bay Guardian's Goldie for Performance/Music. He earned a B.F.A. in Theatre and Contemporary Dance at California State University, East Bay.
keyon gaskin prefers not to contextualize their art with their credentials.
Tasha Ceyan
East Palo Alto, CA
SFAI MFA/MA (2017)
Interdisciplinary artist-scholar, whose work is immersed creating an embodied language for intersectional metaphysics. This involves investigating the dynamics between religion and faith through a framework comprised of blackness, queerness, gender, and poverty.
Wizard Apprentice is an independent singer-songwriter, electronic music producer, and motion graphics artist based out of Oakland, Ca. As a highly sensitive Black Queer Feminist, her multimedia project is an attempt to do energetic battle with an overwhelming world. Her music includes a mix of digital elements such as electronic instrumentation and voice manipulation. It also has North American folk elements, such as simplistic song structures and straight-forward vocals that emphasize her lyrical, deliberate word-craft. Her video work uses green screen graphics, digital puppetry, and minimalistic compositing to create imagery that's cerebral, psychedelic, campy, and hypnotic. She combines song and video to create multimedia live performances that explore deeply intimate emotional themes ranging from the sensuality of singing, to the challenges/triumphs of being a Black empath, to overstimulation in the internet age. She has self-produced multiple albums and has toured the U.S. numerously. Her most current video work is scheduled to be featured for Black Salt Collective "Visions of Infinite Archives" which will premiere in late January at Somarts in San Francisco. www.wizard-apprentice.com
--- --- --- ---
Stephanie Anne Johnson is a second-generation theater practitioner. She has been a lighting designer working locally, nationally, and internationally for over forty years. Locally, she has worked with Cultural Odyssey, Afro Solo, Anne Bluethenthal and Dancers, The Ubuntu Theater Project, and many other groups. Her designs have been seen in Italy, Amsterdam, India, Paris, Canada, and Brussels. She is the playwright/performer of Every Twenty-One Days: Cancer, Yoga and Me, a play that has been performed in San Francisco, Los Angeles, Berkeley, and Atlanta. Her second play Mrs. Reiff and the Counterfeit Shop is a work in progress about her friendship with a European Holocaust survivor. As a visual artist, she has created installations, mixed media sculptures and projection art that were shown in railroad stations, churches, cemeteries, and galleries. Her work has been exhibited locally at Yerba Buena Center for the Arts, The DeYoung, the Jewish Museum, and other venues. Johnson has had one-person exhibitions at The African American Historical Society, S.F. and The Sargent Johnson Gallery, S.F. Dr. Johnson is a professor in the Visual and Public Art department at Cal State University, Monterey Bay. She is very happy to be working with these talented and amazing artists. Samples of her work can be seen online at www.lightessencedesign.com. Upcoming shows are posted in Facebook on the Light Essence Design page.
Sampada Aranke (PhD, Performance Studies) is an Assistant Professor in the History and Theory of Contemporary Art at the San Francisco Art Institute. Prior to coming to SFAI, she was a Visiting Assistant Professor in Art History at the University of Illinois, Chicago. Her research interests include performance theories of embodiment, visual culture, and black cultural and aesthetic theory. Her work has been published in Art Journal, Equid Novi: African Journalism Studies, and Trans-Scripts: An Interdisciplinary Online Journal in the Humanities and Social Sciences at UC Irvine. She's currently working on her book manuscript entitled Death's Futurity: The Visual Culture of Death in Black Radical Politics.
Keith Hennessy was born in a mining town in Northern Ontario, Canada, lives in San Francisco, and works regularly in Europe. He is an award-winning performer, choreographer, teacher and organizer. Hennessy directs Circo Zero, a laboratory for live performance that plays with genre and expectation. Rooted in dance, Hennessy's work embodies a unique hybrid of performance art, music, visual and conceptual art, circus, and ritual. Hennessy was a member of Sara Shelton Mann's legendary Contraband (85-94), as well as the collaborative performance companies CORE (95-98) and the France-based Cahin-caha, cirque bâtard (98-02). His work is featured in several books and documentaries, including Composing While Dancing (Melinda Buckwalter, U of Wisconsin: 2010), How To Make Dances in an Epidemic (David Gere, Univ of Wisconsin: 2004), Gay Ideas (Richard Mohr, Beacon: 1992), and Dancers in Exile (RAPT Productions, 2000). Hennessy is a co-founder of 848 Community Space/CounterPULSE a thriving performance and culture space in San Francisco.
Credits
Blank Map is supported by The MAP Fund, supported by the Doris Duke Charitable Foundation and the Andrew W. Mellon Foundation, San Francisco Arts Commission Organization Project Grant, The Zellerbach Family Foundation, Bi-Rite Market, Rainbow Grocery: A Worker Owned Cooperative, Djerassi Resident Artist Program, and MANCC.
Top Two Images: artwork by Adee Roberson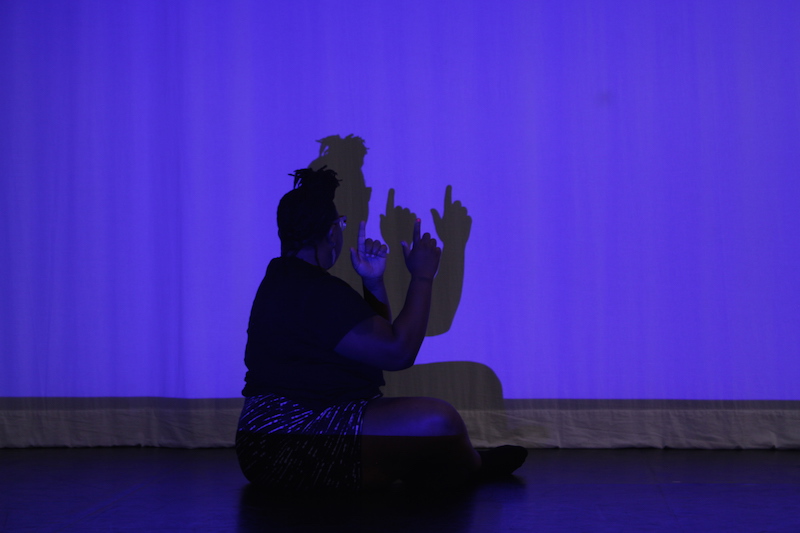 FAQs
What are my transport/parking options getting to the event?
Dance Mission Theater is on the corner of 24th Street and Mission, directly across from the BART station and multiple bus lines. Parking can be challenging in the neighborhood, but there is a parking garage on Bartlett Street between 22nd and 21st. Click here to look up directions using Google Maps
Where can I contact the organizer with any questions?
Yes, please write us at info [at ] circozero [dot] org if you have any questions, comments, or requests.
Is my registration/ticket transferrable?
Yes, but please have the person who purchased the tickets email us at info [at ] circozero [dot] org to transfer the tickets to someone else's name.
Do I have to bring my printed ticket to the event?
Please do not print your ticket, we will have a will-call list on hand and would prefer you save the paper.
What is the refund policy?
If you contact us 24 hours before the show, we can refund your ticket. Just email info [at ] circozero [dot] org to let us know.