Description
National nonprofit organization, Blacks in Technology (BIT) will host their inaugural conference in the Greater Minneapolis-St. Paul area from October 11th-13th. The BIT Conference is the 2018 premiere event for black professionals to network in the tech industry. Events include over 25 workshops, networking parties, a Tech Fest and career fair, pitch competition, city excursion tour, and more! As the Twin Cities is quickly becoming one of the fastest-growing hotspots for innovation, BIT will highlight the region's tech, business, and political climate while inviting the nation's leading companies to share expertise and source talent.
BIT Founder Greg Greenlee commented, "We listened to our community and we are excited to finally bring them a conference that they can be proud of as engineers, innovators, and entrepreneurs. The BIT conference is a celebration of the women and men who not only helped to build our incredible community, but are also doing amazing work in the technology industry that would normally go unrecognized. We are compelled as an organization, to provide a space and a platform for them, so their voices are elevated and heard. The Blacks In Technology Inaugural Conference is here to deliver the ultimate tech conference experience. This 3 day event is celebrating black tech-xcellence."
With expectations of over 1000 attendees, BIT will provide an interactive and innovative platform to increase and recognize the representation of black women and men in the tech industry.
To learn more about the BIT Conference, please visit bitcon2018.com.
---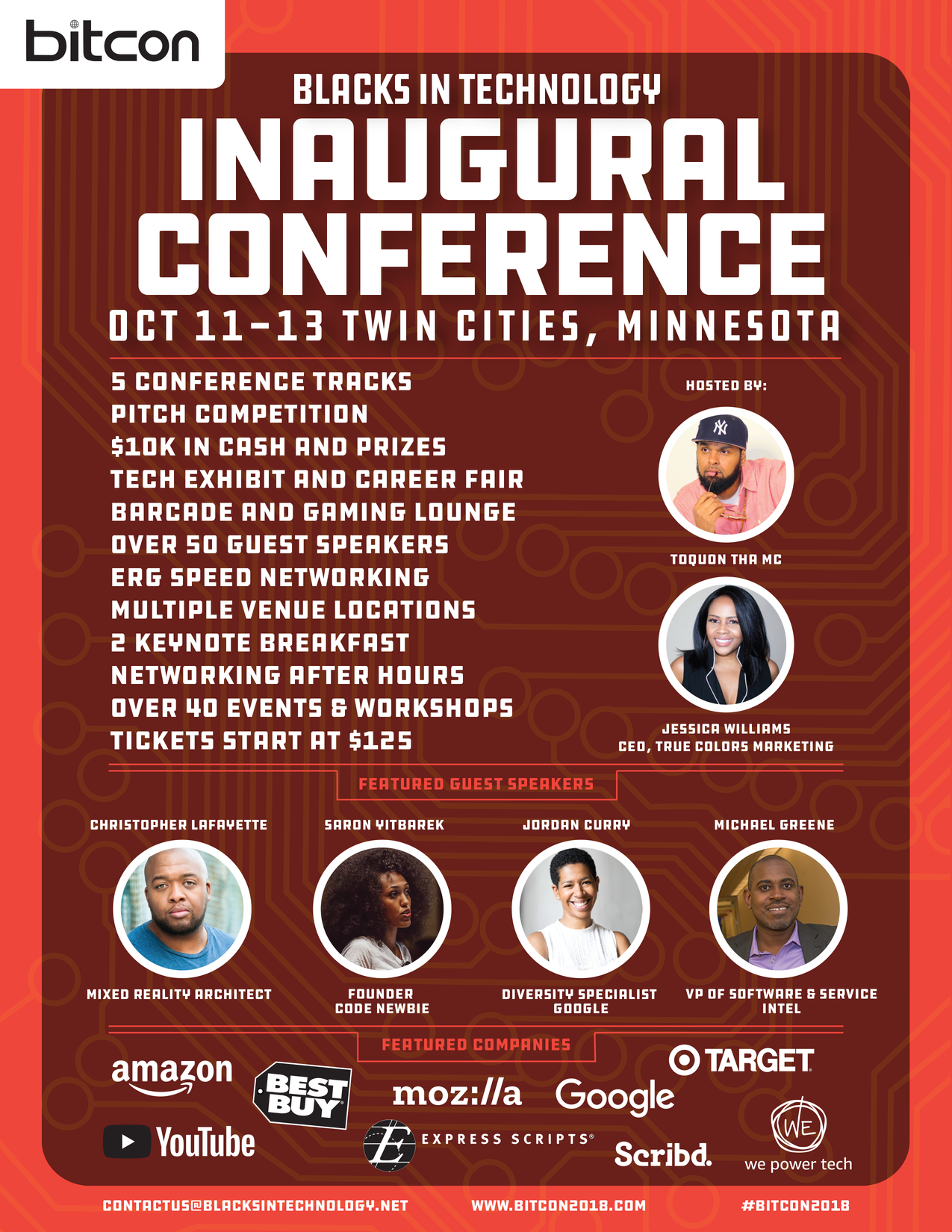 Are you a startup or entrepreneur looking for a chance to advance your business? Make sure to sign up for the BITCON Techquity 180 Pitch Competition on Thursday October 11, 2018 for a chance to win up to $10K in Cash & Prizes!!! Deadline to apply is September 21st, 2018!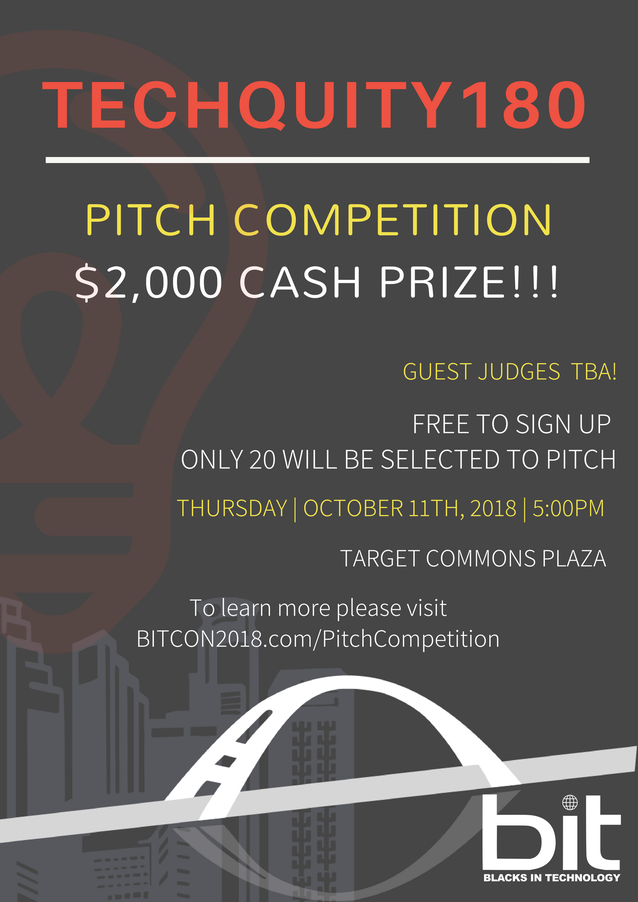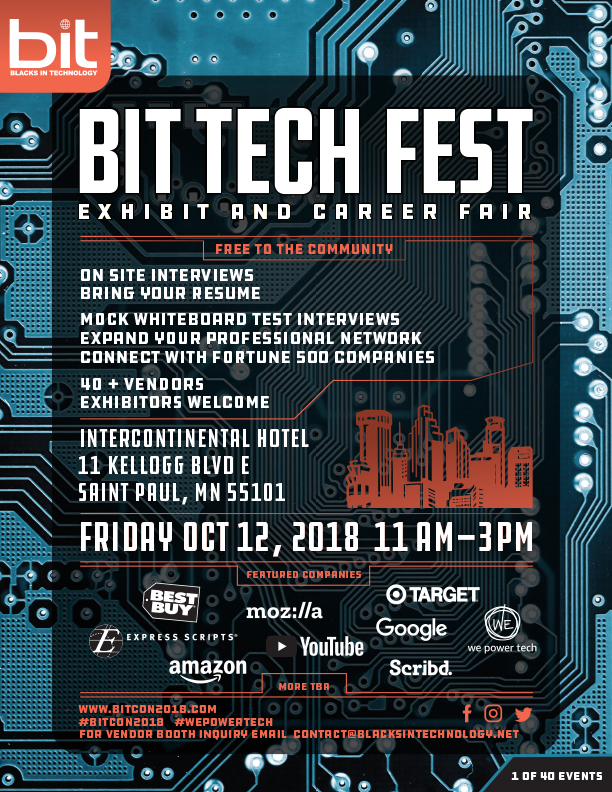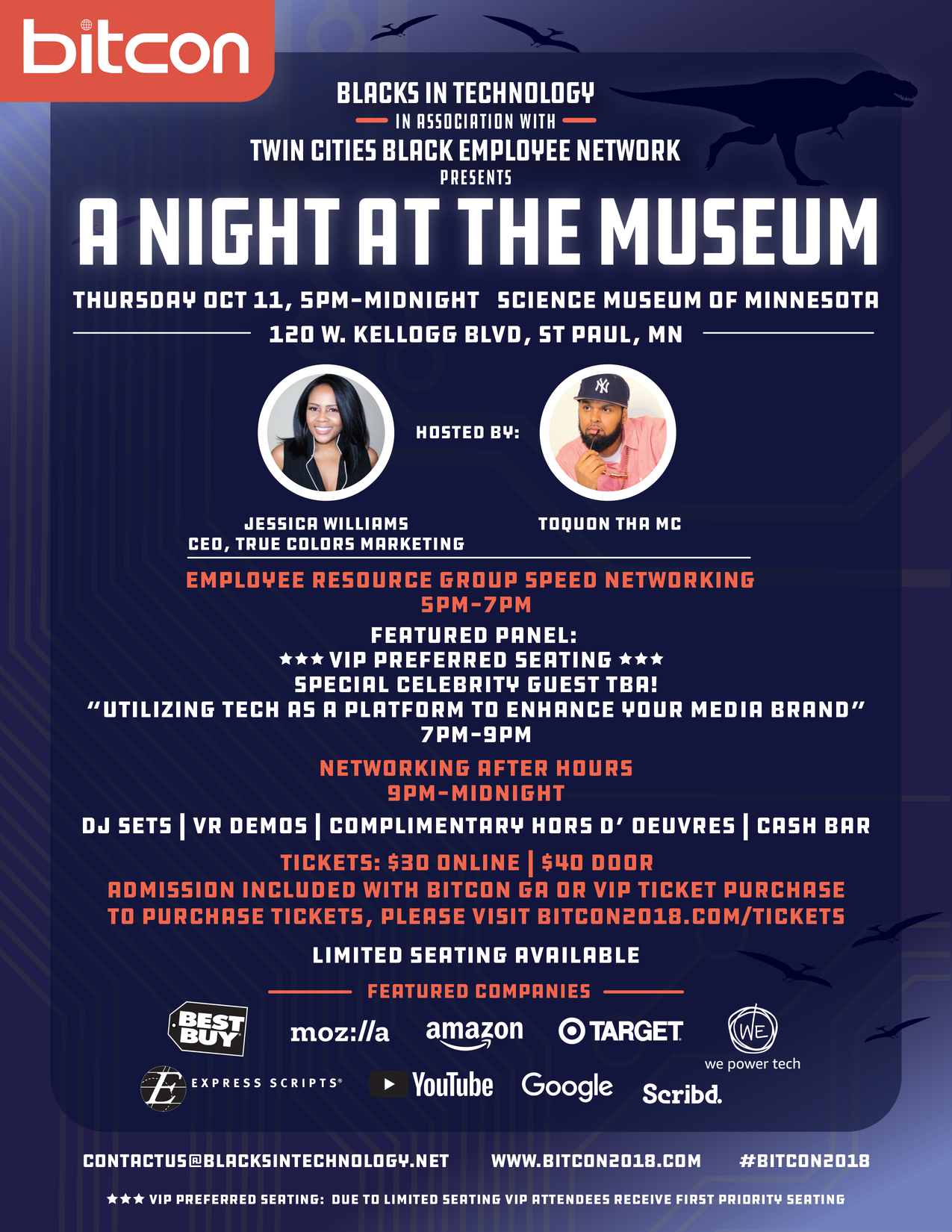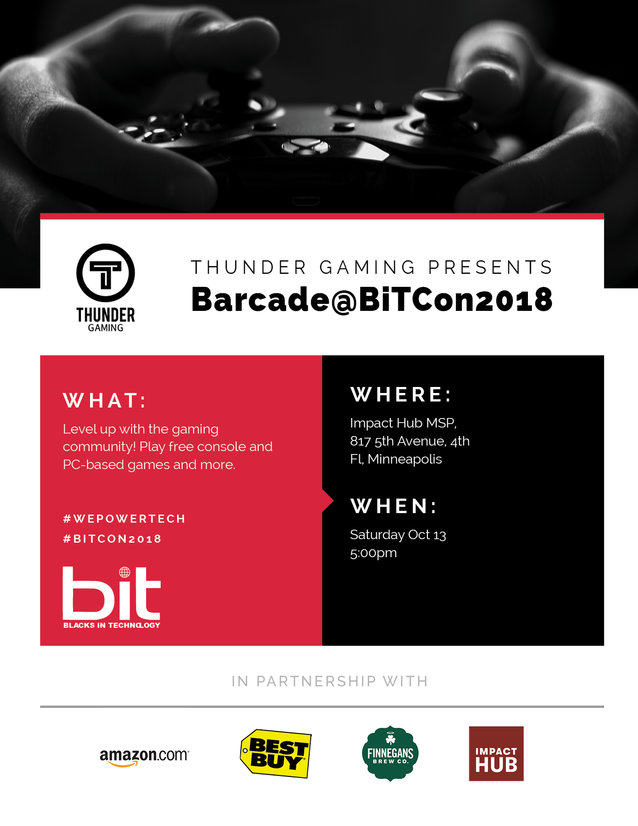 Visit bitcon2018.com for more details!
FAQs
Are there ID or minimum age requirements to enter the event?
Conference sessions are 18 and over. Tech Exhibit and Career Fair is all ages.
What are my transportation/parking options for getting to and from the event?
Street or Garage Parking. Rates may apply
How can I contact the organizer with any questions?
contactus@blacksintechnology.net
What's the refund policy?
No refunds allowed after 7 days (October 4th) before the conference begins
Do I have to bring my printed ticket to the event?
Not required but may help registration go faster
Is my registration fee or ticket transferrable?
Yes. Please email contactus@blacksintechnology.net to designate a ticket
What are my hotel options in the Twin Cities?

Please click on the links below or visit https://www.bitcon2018.com/hotel-options
W Hotel Foshay - Minneapolis, MN
InterContinental Riverfront Hotel - St. Paul, MN
How do I enter the pitch competition?
Visit bitcon2018.com/pitchcompetition
What is VIP Preferred Seating?

Due to limited seating in some of our venues, VIP attendees may receive priority seating.
Are there any free events at the conference
The BIT Tech Fest and Career Fair is free and open to all ages.
Sampson Abrahams

Best Buy

IT Manager, Infrastructure Collaboration Services

Babatope Adedayo

State of MN: Office of Equity and Procurement

Vendor Specialist

Afroza Ahmed

Thrivent

IT Director, Enterprise Data Services

Tony Albright

MN House of Representatives

MN State Representative

Gilliane Arens

Travelers Insurance




Jared Arms

Kylar.io

Founder and CEO

Alex Bernardin

Scribd

Manager, Web Development & QA

Clarence Bethea

Upsie

Founder

Christian Bishop

GG Media Network

CEO

Jeffrey Bissoy-Mattis

Minnesota Public Radio

Host of Maintainin'

Fredrick Blocton

UpNet Technologies

President

Derris Boomer

BoomerTechnologyGroup.com

CEO

DJ Mickey Breeze







Jason Bruce

Best Buy

Senior Diversity Recruiter

Steve Buchanan

Accenture/Avanade

Microsoft MVP, Group Manager - Cloud Transformation/DevOps

Ronda Burke

Jet Fuel Tech/ NBA Mom & Dads

VP Lady JetFuel Techs

Tyrre Burks

Player's Health

CEO

Joseph Caddell

Method Studios

CG Generalist / Lighting Artist

Aaron Call

State of MN

CISO

Rosalind Chevreuil

Best Buy

Senior VP, Human Resources

Chebem Chukwu







Karen Civil




Digital Media Marketing Strategist

Courtney Cole

Entrust Data Card




McKeever Conwell

TEDCO

Fund Manager

Mark Cooper

State of MN: Office of Equity & Procurement

Procurement Specialist

Elizabeth Cotton

Blacks in Technology

National Director of Strategic Partnerships

Kim Crayton

Kim Crayton LLC

Entrepreneur

Ryan Cromwell

Sparkbox

Technical Director

Jordan Curry

Google

Diversity Specialist

Nayshawn Danner

Nerdery

Principal Software Engineer

Mondo Davison

The Black Tech Guy

Startup Founder

Semirah Dolan

Ebay

PM, Tech Influencer, Inventor, Founder

Dr. Kai Dupe

Amazon Web Services

Technical Trainer

Sarah Engstrom

CHS, Inc.

CISO & VP IT Security, Productivity & Privacy

Samuel Erskine







Michael Greene

Intel

Vice President, Software and Service Group & General Manager, System Technologies and Optimization

Greg Greenlee

Blacks in Technology

Founder

Janeya Griffin







Ron Guerrier

Express Scripts

CIO

Jazzy Harvey







Alecia Hodges

Best Buy

Associate Digital Engineer

Genma Stringer Holmes

GSH Media

Owner

DJ Icy Ice







Aneela Idnani

HabitAware

President, Marketing Director

Perry Jeter II

JetFuel Tech, Inc.

CEO

Michael Jenkins

Blacks in Technology

Editor

Jonathan Jennings

RelayCars

Software Engineer

Najma Jeylani







Nicole Johnson

GovLoop

Managing Editor

Tiffany Johnson

InColor Magazine

Creator, Editor-in-Chief