Description
'Black, White & Blue'
"Very simply, this film is an unbiased examination of the role of race in America—from police brutality to the rise of Donald Trump." - Curtis Scoon, Executive Producer
'Black, White & Blue' is an organic, often profane, always interesting documentary about black people and their treatment in this country, the first film of its kind in decades. It chronicles the profound events that have occurred over the last 5 years in the collective, national black community and attaches those events to our shared history: the civil rights movement, socialism and the changes occurring in our national systems and institutions.
From police violence and civil unrest to the Trump campaign, the Black Lives Matter movement and, even, the Flint water crisis, 'Black, White & Blue' uses some of today's strongest voices—nationally known academics, rappers, historians, politicians—to tell the searing tale of what it means today to be black in America.
Watch the Trailer Here --> https://vimeo.com/249349249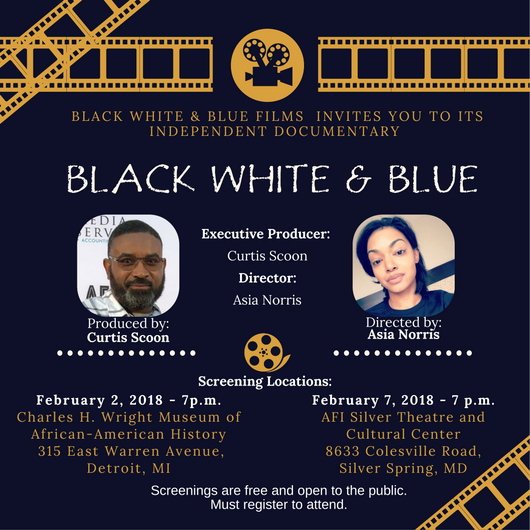 Screenings are free and open to the public. Must register to attend.
Questions? Contact Marian Dozier at 561-203-9311 or news@tysmedia.net.
Run Time: 76 minutes
Target Demographic: ages 18 and up
Film Locations:
Baltimore, MD
Brooklyn, NY
Burtonsville, MD
Detroit, MI
Lansing, MI
Los Angeles, CA
Newark, NJ
New York, NY
Philadelphia, PA
Raleigh, NC
Washington, DC