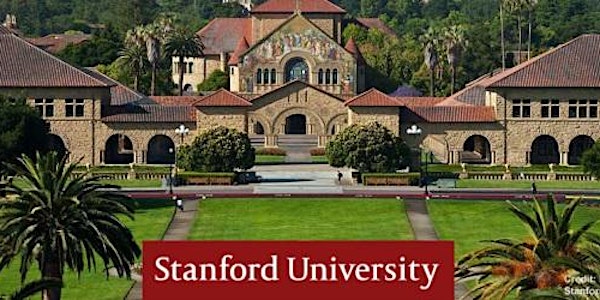 BJ Fogg teaches you "10 Powerful Ways to Apply Behavior Design at Work"
Location
Stanford University -- Institute for Research in the Social Sciences (IRiSS)1
30 Alta Rd
Stanford, CA 94305
Sales Have Ended
Ticket sales have ended
Thanks for your interest in attending BJ Fogg's Behavior Design workshop. We're sorry you missed out on this opportunity. The good news is that we hold these trainings at Stanford periodically and there will be more in the future. Hope to see you then!
Description
The Behavior Design Lab at Stanford University presents . . .
"10 Powerful Ways to Apply Behavior Design at Work"
A full day of training by Dr. BJ Fogg
---
Talk with BJ about this training (it's free). Click here to schedule a time
---


We invite you to join us at Stanford
During this special event at Stanford University, BJ Fogg will teach you the best ways to use his methods in Behavior Design on your work projects.
BJ Fogg has designed a full day of practical, hands-on learning for innovative people who face any of these challenges at work:
You need to create a product that changes behavior, but you don't know where to begin.
or
You've already created a solution, but your design is not working. People aren't changing.
or
Your team is stuck on a behavior change project, and your team doesn't agree on how to get unstuck.
or
You've studied a lot about human behavior, but you don't know how to translate all that theory into practice.
or
You have no formal training in psychology, but you need to ramp up fast in behavior change and how to design effective solutions.
or
You've already created a solution that is working (hooray!), but you want to make your solution even better.
If any of these challenges sound like ones you face, come to Stanford University to learn directly from BJ Fogg, who created the field of Behavior Design.
You will join a small group of industry innovators in learning BJ's most practical methods, and you will return to your work projects with more confidence in how to design for change.
If you want to join this training at Stanford but cannot pay the full tuition, please email BJ here: bjfogg@stanford.edu
---


At Stanford you will discover --
A practical, step-by-step method you can use immediately on any behavior change project.

How to change a person's choice by leveraging a simple tool BJ Fogg created.

The truth about how habits work. (This insight is new -- and it's simpler than you think.)

How to avoid the #1 mistake teams make when trying to change behavior -- and how to do it right.

How to successfully respond to difficult questions about behavior by using four simple words.

How to analyze why your competitors are winning and extract the secret sauce to their success.

A proven way to apply your new Behavior Design skills into any project or meeting.
---
To create team alignment and boost impact, you will learn --
How to lead team sessions in Behavior Design with confidence.

How to lead a step-by-step method to reveal new insights from your team, creating enthusiasm for your project.

How to pinpoint the #1 focus for your team -- and put aside dozens of bad ideas that will sink your project.

How to share the vocabulary of Behavior Design, so everyone on your team speaks with clarity -- and avoids the pitfalls of ambiguity.

How to help your team discover who is your customer -- and who is not.

How to transform project confusion to project clarity in less than 55 minutes.

The one question you ask your team to see if a project is on track -- or if you need to rethink your approach.

How to involve executives in your design sessions so they become passionate supporters of your work.
---
Behavior Design can transform your skillset -- and your career
Developed by Dr. BJ Fogg and his lab members at Stanford , Behavior Design is a system of original models (how to think about behavior) and methods (how to design for behavior change).
This is an rare opportunity to learn directly from Dr. Fogg, who created the breakthrough models and methods of Behavior Design.
Behavior Design is new and unique. You can't learn it in books, journals, or even online. Right now, the only way to learn this approach is to enroll in Dr. Fogg's courses at Stanford (not easy to do) or join him at an industry training event, like this one.
---


What industry people say about BJ's teaching
"BJ taught me flexible, remarkably powerful ways of changing behavior that can be applied in many different settings." --Brad W.
"I loved the teaching format and methodology." - Sid
"BJ's methods are directly and immediately actionable and applicable to your life - both personally and professionally." -- Pallen
"Incredible, hands-on learning." -- Sohail
"BJ's teaching gave me an entirely new frame of mind to use for designing things." --Ethan B.
"In BJ's training, you learn absolutely loads but it doesn't feel hard going at any point. You always feel energised and engaged. More importantly, you get simple, actionable knowledge that isn't common knowledge." - Gemma
"easy, digestible, action oriented" -- Rick M.
"I've found so many, many ways to apply the learning to business and to my life." -- Lindsay B.
"I learned not only how to think about and practice behavior design, but also how to share it with others for work projects I care about." - Nicole
---


Why is there a fee for this training?
Revenue from this training will be deposited directly into the Stanford research account for the Behavior Design Lab. This money will help us create an internship program for the summer of 2019.

---


Some Details


Registration
if you work full time for a nonprofit, or if you are a full-time educator, we may be able to give you a discount. Reach out to BJ Fogg for more info.


Policy for Transfers and Cancellations
You may transfer your registration at any time. We will refund all your money except for a $150 administration fee.
If you need to cancel, we will refund what was paid minus the cancellation fee. Cancellation fees are as follows: 10+ days notice -- $200; 7+ days notice -- $400; less than 7 days notice -- $600
There are no refunds for cancellations that occur within 24 hours of the start of this Masterclass. But you can transfer to another person.
Questions?
Contact BJ Fogg here: bjfogg@stanford.edu