#BISONHACKS 6th Annual Howard University Hackathon
The theme for BisonHacks 2020 Hackathon is based on the motto "Veritas et Utilitas" which means "Truth and Service."
About this event
The Howard University School of Business, Department of Information Systems & Supply Chain Management is proud to present the Annual #BISONHACKS Hackathon beginning on Friday, February 28, 2020.
The #BISONHACKS Hackathon is an event coordinated by the Howard University School of Business (Department of IS & SCM). The Hackathon event is an opportunity for participants to develop applications and innovations that automate, alert, organize, encourage, and educate. At #BISONHACKS students can to come together and bring their innovative ideas to life. In less than 24 hours students working either individually or in a team as large as five can create applications on whatever platform they desire.
We want you to take advantage of every second you can to score some sweet prizes. Are you a hacking novice? No problem. Keep your eyes and ears open, and you'll learn more here in 24 hours than you ever would in school. Hackathons are as much a learning experience as they are competition.
Check us out on Instagram @bisonhacks!
Visit the website: http://www.bisonhacks.com
Hackathon prizes include*:
First Place Prize- $6000
Second Place Prize - $3500
Third Place Prize - $2000
Innovation Prize - $1000
*prize amounts payable by Visa/Mastercard gift card
BISONHACKS are open to students at Howard University and any other 2 or 4 year colleges or universities. Registration is free, but space is limited, so be sure to sign up TODAY!
Hackathon Schedule
February 28, 2020
4:00 PM - Registration and Networking - Check-In for both Mentors and Students
5:00 PM - Dinner served
5:30 PM - Opening Ceremony (Remarks from Sponsors)
6:00 PM - Coding Session
10:30 PM - Late Night Snack
11:00 PM - Slideshare Karaoke
February 29, 2020
8:00 AM - Breakfast served
8:30 AM - Coding Session (resumed)
11:30 AM - Lunch served
1:00 PM - Project Deadline
1:30 PM - Technical Check-In for Teams
2:00 PM - Project Presentations
4:00 PM - Judge Session
5:00 PM - Award Ceremony
FAQs
ARE THERE ID REQUIREMENTS OR AN AGE LIMIT TO ENTER THE EVENT?
You must be a student currently enrolled in a 2 or 4-year University program to participate in the Hackathon. You will be required to show your College ID when checking in.
WHAT ARE THE REQUIREMENTS TO BE A TECHNICAL OR BUSINESS MENTOR?
We ask that the those functioning as a business or technical mentor would commit to 2-3 hours to assist the participants in either their coding/programming or with detailing their business idea, plan and pitch.
HOW DO I SIGN UP TO BE A MENTOR OR VOLUNTEER?
Reserve a ticket here on the Eventbrite page for the time slot of your choice. You only need to reserve one ticket but, you are welcome to stay as long as you would like! **If the time slot that you want is sold out, please just register for another time slot so that we can account for you, and come when you can!**
WHERE CAN I CONTACT THE ORGANIZER WITH ANY QUESTIONS?
Please contact Dr. Allison Bryant at allison.bryant@howard.edu and Zuri Hunter at zurihunter92@gmail.com
I DON'T CODE, WHAT ABOUT ME?
You've found the perfect place and time to learn! You can add value to the team through your creativity, business sense, presentation skills, and much more.
HOW MUCH DOES IT COST TO ATTEND?
Attendance is 100% free and includes food, drinks, and a Hackathon T-Shirt.
We encourage people to work in teams of up to five. If you can't find a team beforehand, worry not - there will be time to form teams throughout registration.
All you'll need is a valid college ID, and your laptop + charger.
Money and stuff. But is that really why you go to hackathons?
WHEN CAN I START WORKING ON MY IDEA?

You are more than welcome to acquire the skills and resources ahead of time, but all code must be written in the 24-hour period at the event location in order to be considered.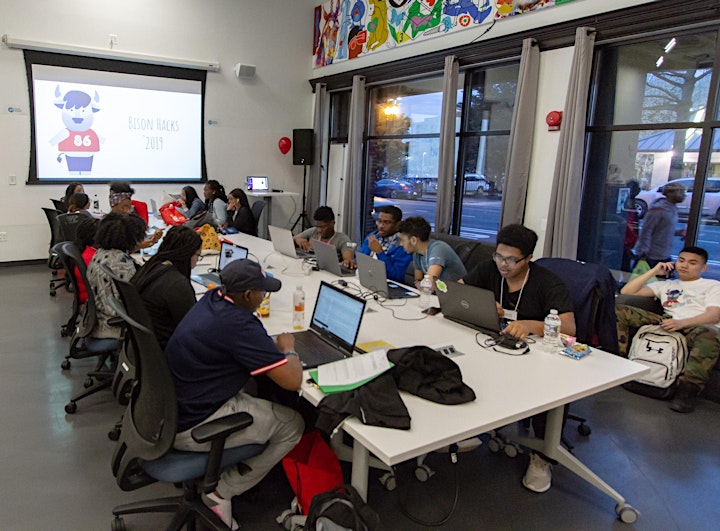 Organizer of #BISONHACKS 6th Annual Howard University Hackathon