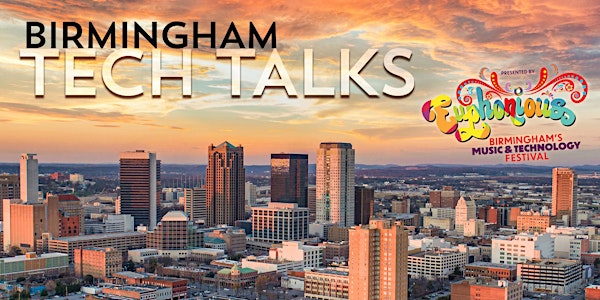 Birmingham Tech Talks, Presented By Euphonious
Birmingham Tech Talks, Presented By Euphonious (Birmingham's Music and Tech Festival)
By Project Voice Media Group
Date and time
Thursday, June 16, 2022 · 12 - 1pm CDT
Location
2630 Cahaba Rd 2630 Cahaba Road Mountain Brook, AL 35223
About this event
Euphonious is Birmingham's music and technology festival, taking place June 17-19 at the Birmingham Zoo, headlined this year by Better Than Ezra, Maddie & Tae, Colbie Caillat, YouTube sensation Harry Mack, and Collective Soul.
As part of the Euphonious festival, we are highlighting great work going on both by Birmingham-area companies, as well as larger US companies investing into the Southeast United States.
Enjoy a complimentary lunch (courtesy of our friends at Taco Mama) and hear from:
- Bradley Metrock (Birmingham native and executive producer of Euphonious)
- Foresite Group - engineering, planning, and design firm with an office in Birmingham
- Intel - global semiconductor and cloud technology company expanding in the Southeast
- Shannon Waltchack - real estate investment company based in Birmingham
- Buzd - technology company delivering alcohol/CBD products throughout the Birmingham area
- United Ability - Birmingham-based non-profit that connects people with disabilities to their communities (and also Euphonious' charity partner)
About the organizer
The Project Voice Media Group is the media and content arm of Project Voice, which drives global business for voice tech and conversational AI companies.