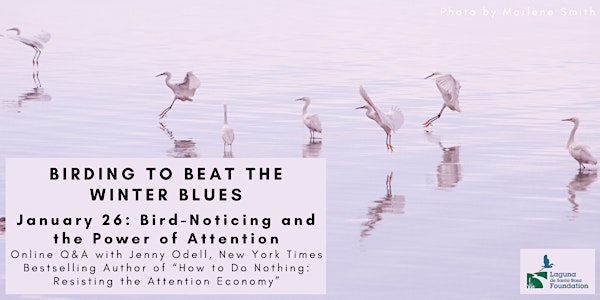 Bird-Noticing and the Power of Attention, Online Q&A with Jenny Odell
Kick off our winter birdwatching series with Jenny Odell, New York Times bestselling author.
About this event
We are pleased to share this virtual education event for free. To help minimize the financial impact of COVID-19 on our programs, please consider a donation of $5-$15 at registration. Your generosity has helped make the Laguna de Santa Rosa Foundation a leader in conservation and environmental education in the Laguna watershed for the past 30 years. Thank you for your continued support!
Jenny Odell, New York Times bestselling author of "How to Do Nothing: Resisting the Attention Economy" will kick off our winter series "Birding to Beat the Winter Blues" with a candid Q&A with Allison Titus, Community Education Manager. We will discuss the practice of birdwatching (or "bird-noticing, as Odell calls it), the power of attention, and the lessons we can learn from listening to and observing the natural world.
Jenny Odell is a multidisciplinary artist and writer based in Oakland, California. Her work celebrates and seeks new angles on the everyday, often using digital means to bring attention to one's physical environment and bioregion. Odell has been an artist in residence at The San Francisco Planning Department, Recology SF (the dump), the New York Public Library, and the Internet Archive. Her writing has appeared in the New York Times, The Atlantic, and the Paris Review, and last year she reviewed bird songs for The Believer. For the last six years, Odell has taught art at Stanford University. Her book, How to Do Nothing: Resisting the Attention Economy, was published in 2019.
This program is the part of the Birding to Beat the Winter Blues series. Join us for three more programs this winter:
Breaking Into Birdwatching with Miles and Teresa Tuffli: January 29
Migración: cómo conectan el mundo los pájaros (Migration: How Birds Connect the World): February 4
Waterfowl of the Laguna de Santa Rosa & the Pacific Flyway with Dave Barry: February 11
This free program is made possible with support from the County of Sonoma Board of Supervisors Community Investment Program.