Location
Genspace
33 Flatbush Avenue
Brooklyn, NY 11217
Description
We are increasingly aware of the invisible and ubiquitous microbial component of our lives – in and on our bodies, in our environment. But, how do you actually measure that? What if you wanted to find out what bacteria are living around you? In this workshop we will learn the methods for identifying microbial species with DNA sequencing data.
We will use the Pathomap dataset and each participant will obtain the metagenomic sequences of their favorite subway station. We will learn how to navigate the public sequencing archives to find the data you are looking for, explain the file formats used for sequencing data and how to manipulate them, and gain hands-on experience on using the computational tools to identify bacterial species with that data, and visualize the results.
Bring your Linux or Mac laptop. Basic experience with the terminal is helpful though not required.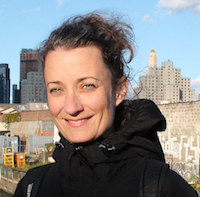 Elizabeth Hénaff was born of French/American parents in Austin in 1981, grew up in France, and has since lived in the US, Japan and Spain. She received a BS in Computer Science, an MS in Plant Biology (both from UT Austin) and a PhD in Bioinformatics from the University of Barcelona. The impetus behind her research is a fascination with the way living beings interact with their environment. She has made contributions to understanding how plants respond to the force of gravity, how plant genome structure changes in response to stress, and most recently has turned her attention to the ubiquitous and invisible microbial component of our environment. She has consistently made the tools – software, wetware, hardware – needed to answer her research questions, and enjoys both this process and the goal equally. Her interests in biological interactions and data visualization have inspired her to create interactive installations, and she has collaborated with artists and musicians in Barcelona, Paris and New York designing custom interactive visuals for their events. She currently works as a postdoc at the Weill Cornell Medical College in New York City.