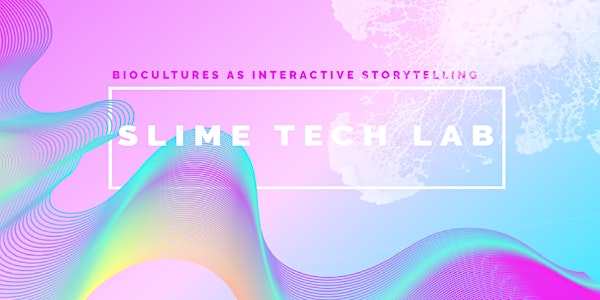 Biocultures as Interactive Storytelling with Slime Tech Lab
Date and time
October 20, 2019 · 3pm - October 27, 2019 · 6pm EDT
Location
Genspace 132 32nd Street #108 Brooklyn, NY 11232
Refund Policy
Refunds up to 7 days before event
Eventbrite's fee is nonrefundable.
Description
Class in two sessions:
Sunday, October 20 and October 27
3:00pm - 6:00pm
Slime mold is a bright, vivid, living monoculture. Due to its ability to grow in the pattern of nodes and branches, technologists have been using it as a tool and medium to represent a wide array of efficient systems, from the functionality of the Internet to the decision making patterns of algorithmic artificial intelligence. Once mistakenly classified as a part of the fungi animal kingdom, this fascinating "othered" organism has the remarkable capacity to both aggregate into a multicellular structure as well as live freely as single cells.
In week one we'll learn about the wonders of slime mold, looking at its ability to solve puzzles as well as its model behaviour for equitable societies, decentralized social cooperation, diversity, and empowered futures. You'll learn how to inoculate, cultivate and care for your slime mold. Each participant will get a small dome-shaped terrarium embedded with the technical ability to communicate with one another through a raspberry pi micro-computer. Using this, you'll create a hospitable ecosystem for your slime to flourish. We'll teach you how to mount low powered sensors to our habitat that will act as switches. Over the course of the week, as the slime grows and makes contact with the switches, each device will send media files to a website, creating an online collective art experience in which we are both creative collaborators with one another and collaborators with our slime mold. The class will discuss the kinds of media, both narrative and non-linear that might be metaphorically meaningful to program.
In session two we'll discuss the experience of witnessing this collaborative performance piece and discuss ways in which you could design new variations. This project will live on the Slime Tech Lab and be available for viewing for the course of the exhibition.
In Collaboration with Slime Tech Lab:
The Slime Tech Lab is a mobile living system that offers opportunities for research, art exhibition and education.

Ashley Jane Lewis is a tech educator and interactive artist with a focus on bioart, afrofuturism and speculative design. In the summer of 2016 she was listed in the Top 100 Black Women to Watch in Canada. Her new media work has been exhibited in both Canada and the US, earning editors choice at Maker Faire and, most notably, featured on the White House website during the Obama presidency. Her works explore the relationship between past present and future for the empowered black identity, asking audiences to suspend their conceptions of reality. She is now studying to get her Masters at ITP (Interactive Telecommunications) in New York University's Tisch School of the Arts. She's been featured as a Tech Activist in Metro News, Reader's Digest, Huffington Post and has highlighted diverse tech education as a keynote speaker on numerous occasions for audiences at Afrotectopia, TEDx, FITC, International Women's Day and Maker Faire. Ashley feels honoured to have had the opportunity to help more than 3000 youth learn how to code to date.

Ayodamola Tanimowo Okunseinde (Ayo) is a Nigerian-American artist, designer, and time-traveler living and working in New York. His works range from painting and speculative design to physically interactive works, wearable technology, and explorations of "Reclamation". As a collaborator with, amongst others, choreographer Maida Withers, Carmen Wong, and Yoko K., Okunseinde has created several interactive performance-based works and has performed in several countries including Mexico, Finland, and Croatia. His art residency participation includes ITP's S.I.R., IDEO's Fortnight, The Laundromat Project, Eyebeam, New INC, and Recess Assembly. He has exhibited and presented at the 11th Shanghai Biennale, Tribeca Storyscapes, EYEO Festival, Brooklyn Museum, M.I.T. Beyond the Cradle, and Afrotectopia amongst others. His works themselves exist between physical and digital spaces; across the past, present and future. They ask us, through technology, to reimagine notions of race, identity, politics, and culture as they travel through time and space. Okunseinde has taught at New York University, Bennington College, Hostos CUNY and 92Y. He holds an MFA in Design and Technology from Parsons School of Design in New York where he is currently a faculty member.