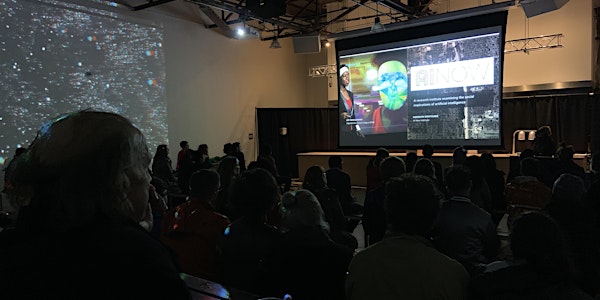 Binary Salon 10
Ages 21+
The Midway Gallery
Binary Salons are a place where artists who are working at the intersection of art + tech can come together to share ideas and practices.
When and where
Location
The Midway 900 Marin St San Francisco, CA 94124
About this event
Please join us for an evening of drinks, conversation, and collaboration. Together with interactive artist Marpi, The Midway Gallery started a series that we call our Binary Salons. Our Binary Salons are a place where artists who are working at the intersection of art + technology can come together to share ideas and practices. These Salons are for artists and by artists.
On Tuesday, May 28 @ 6pm we will feature a new set of artists who use technologies to engage audiences in unique and thoughtful ways. Binary Salon 10 includes presentations by collaborators, Dylan Chapple and Ryan Huber, whose work sub_Tidal is centered around environmental health. Shane Lannister will round out the evening with a discussion of his audio-visual projects.
FREE WITH RSVP
Past Salons have featured artists: Inigo Quilez (IQ), Can Buyukberber, Chelley Sherman, Eccoscreen, Osman Koc, Jeffrey Yip, Swan, Cere Davis, Lauren Bedal & Travis Bennett, Donald Hanson, Xiaohan Zhang, Dylan Urquidi, Camila Magrane, Zoey Vero, Nick Shelton, Will Clark, Anastasia Victor, and Tyler Freeman.
ABOUT THE ARTISTS
SHANE LASSITER aka Shino Smoke is an Oakland based MC and Hip-Hop Artist that migrated from Sacramento, Ca. to Oakland in 2016. Since his arrival he has been immersed in the Oakland artists community that has led to various artistic projects focused on creating safe creative spaces for anyone involved. These projects include but are not limited to hosting and being the on camera talent for the "Saturday Nights In America: Oakland" 360 Virtual Reality documentary that focuses on an artists showcase at a local gallery in efforts to invite locals back to the space after a deadly shooting had taken place a few months before. He also hosted the BAOBOB (Bay Area Organization of Black Owned Businesses) Relaunch event (2018), and several open mic's and mixers as the Community Manager at Oakstop Gallery, Co-Working and Creative Space.
RYAN HUBER creates audio and visuals for dance groups in the Bay Area, including UC Berkeley, Mills College, Project Agora, Little Seismic Dance Company, USF and Lick Wilmerding. Hidden among surreal music videos on his YouTube channel is a short-film tone-poem about sea life surrounding the Farallon Islands, which he made in collaboration with Remora. He plays drums in the San Francisco band Battlehooch.
DYLAN CHAPPLE holds a PhD in Environmental Science, Policy and Management from UC Berkeley with an emphasis on tidal wetland restoration. He has made music that explores the relationship between humans, nature and sound as a member of the bands VVD WNDWS, Pine and Swanifant.