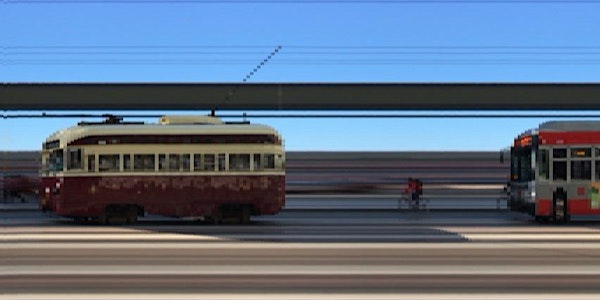 Location
The Midway
900 Marin St
San Francisco, CA 94124
Binary Salons are a place where artists who are working at the intersection of art + tech can come together to share ideas and practices.
About this event
Please join us for an evening of drinks, conversation, and collaboration. Together with interactive artist Marpi, The Midway Gallery started a series that we call our Binary Salons. Our Binary Salons are a place where artists who are working at the intersection of art + technology can come together to share ideas and practices. These Salons are for artists and by artists.
On Tuesday, April 16 @ 6pm we will feature presentations by Pierluigi Dalla Rosa and Colin Evoy Sebestyen, a new set of artists who use technologies to engage audiences in unique and thoughtful ways.
FREE WITH RSVP
Past Salons have featured artists: Inigo Quilez (IQ), Can Buyukberber, Chelley Sherman, Eccoscreen, Osman Koc, Jeffrey Yip, Swan, Cere Davis, Lauren Bedal & Travis Bennett, Donald Hanson, Xiaohan Zhang, Dylan Urquidi, Camila Magrane, Zoey Vero, Nick Shelton, Will Clark, Anastasia Victor, and Tyler Freeman.
ABOUT THE ARTISTS
PIERLUIGI DALLA ROSA is a designer and researcher who has been working at the intersection between industry and institutions creating innovative and engaging interactive products and media pieces.
In his artistic practice, Pierluigi devotes time to expand his understanding of the intersection between digital and physical materials, most of the time making images and reflecting about today's visual culture.
Pierluigi is a Cinema and Media Engineer by training, and, after having worked as a graphic programmer in the early days of post-pc devices, he pivoted towards interaction design, attending the Interaction Design Program at CIID, where he learned to craft experiences that mix digital, natural and tangible elements.
As a lead designer at NIO, he is bringing his creative point of view to explore new paradigms in human-computer interaction in the automotive space. Prior to NIO, Pierluigi had the chance to lead teams of researchers, artists and designers to create thought-provoking exhibitions, like the Museum of The Future Government Services commissioned by the Prime Minister Office of Dubai, or immersive installations like the award-winning experiential marketing campaign S7 The Imagination Machine.
Pierluigi is an active contributor to Processing and openFrameworks. tramontana and tramontanaCV are a couple of examples of open source tools he's made. Pierluigi wants to empower designers, artists, and technologists to prototype artifacts and experiences at scale. These tools are the building blocks of the classes of Interactive Spaces and Physical Computing he teaches at HyperIsland in Stockholm, Strelka Institute in Moscow and the Copenhagen Institute of Interaction Design.
Featured image from Pierluigi Dalla Rosa's artgram series
COLIN EVOY SEBESTYEN is a San Francisco based motion designer, artist, educator, and musician. He's currently the Motion Graphics Lead at the Academy of Art University, School of Web Design & New Media. As an educator, he has instructed courses in Generative Art & Code, Interactive Media, Motion Graphics, Human Centered Design, and Live Cinema.
He has produced live visuals for many years. He has created visual design for a wide array of musicians as diverse as Snoop Dogg, Björk, Aesop Rock, Nonagon, Lusine, and Edison. His work combines the immediacy of live performance with the multidisciplinary study of design, animation, and code.
For the work he will be presenting at Binary Salon, Colin will show off very simple GLSL/ISF code he has written and his control environment, the awesome VDMX software. The shader code will be manipulated in realtime using his MIDI enabled Piano. Colin will play a few works (Phillip Glass, Erik Satie) with visual accompaniment, and explain and break down his process.
FREE WITH RSVP