Location
Impact Hub Amsterdam
Haarlemmerweg 8c
Westergasterrein
1014 BE Amsterdam
Netherlands
Description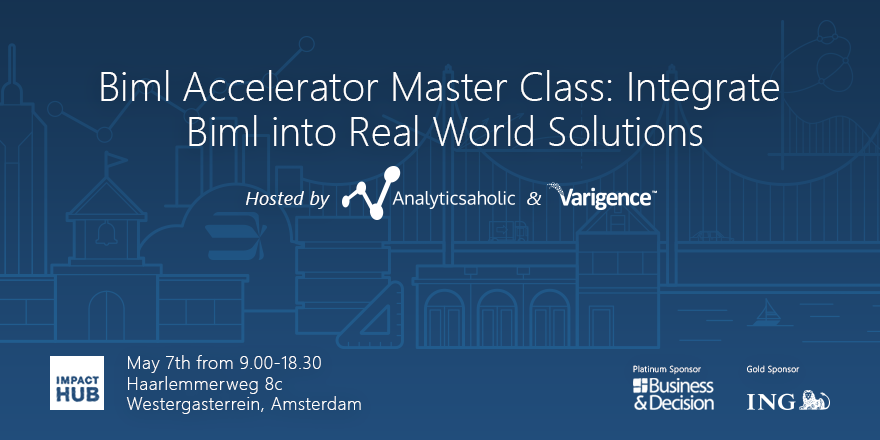 Analyticsaholic and Varigence are hosting a Biml Accelerator Master Class and Biml User Group Netherlands Kick-Off on Saturday, May 7th, 2016 featuring Scott Currie, the founder and CEO of Varigence, Inc.
Scott will cover multiple technical topics on Biml and Business Intelligence solutions during the day.
We will also be kicking-off the Biml User Group Netherlands during this event, which will be the first of the many Biml User Group Netherlands sessions we are planning to have going forward.
The program of the day:

09.00 - 09.30 Start program
09.30 - 09.45 Introduction and welcome - Raymond Sondak
09.45 - 10.15 Keynote - Varigence
10.15 - 10.30 Biml User Group Netherlands Kick-Off - Raymond Sondak and Frenk van Beekveld
10.30 - 10.45 Break
10.45 - 12.00 Guided Tour of a Real World Biml Solution - Scott Currie
12.00 - 13.00 Lunch
13.00 - 14.15 BimlFlex Accelerator - Scott Currie
14.15 - 14.30 Break
14.30 - 15.45 Incrementally Moving to the Cloud Using Biml - Scott Currie
15.45 - 16.00 Break
16.00 - 17.15 SSIS Unit and Integration Testing with Open Source BEST project - Scott Currie
17.15 - 17.30 Closing
17.30 - 19.00 Drinks
We hope this one day session will create a great opportunity to learn, share knowledge, and network amongst Biml/Microsoft Business Intelligence community in an informal and inspiring setting, both with familiar and new faces. We'll have good food and drinks to energize us throughout the day!!
Please don't forget to bring your laptop (at least SQL 2012 and BIDS Helper/Varigence Mist installed) as in some of the sessions we will work through various real world case studies and solutions on the day under Scott's guidance.

This event is first come first serve basis as we only have limited places. When it is full we will close the registration.
We only have limited places for this event due to reserved meal, drinks, and work space. We would really appreciate for those who has registered and decided not to come to cancel timely (2 weeks prior) so that we can make space for those who also would like to attend.

We're looking forward to having you in Amsterdam!!!
Event image copyright: Rijksmuseum - 2014 - By John Lewis Marshall
---
Sessions
(15 min) What is Biml and Why Should You Care? You've heard about Business Intelligence Markup Language (Biml). Some people seem to be doing some pretty impressive things with it, but what exactly is it and will it work for you in your job?

Biml is a programming language for creating data warehouse, business intelligence, and other data solutions. It uses XML in combination with small nuggets of C# or VB code to automatically create huge amounts of SQL scripts, SSIS packages, SSAS cubes, and other objects that your team previously had to build manually - usually with slow, tedious, error-prone dragging and dropping. Perhaps the best part is that there is nothing to install on your server - Biml works entirely with your existing data infrastructure.

Want to know more? In this session, you'll find out everything you need to know in just 10 minute from the creator of Biml.
(75 min) Guided Tour of a Real World Biml Solution Have you been curious about Biml but find many of the samples and initial tutorials to be a bit theoretical? Would you rather see a Biml solution that works with real-world data? Look no further! In this session, Scott Currie, the creator of Biml, will demonstrate an end-to-end patterns-based metadata-driven integration using a real world Customer Interaction Center (http://www.inin.com/solutions/Pages/Contact-Center-Software.aspx) database. With just the source database and a simple but complete metadata store, the Biml solution will generate a data mart that is PowerBI ready.
(75 min) BimlFlex Accelerator So you have built your Data Vault and it is awesome, now what. We will show you accelerators that we use to create point in time, bridge and data mart views. The presentation layer can be either physical or virtual depending on your preference.
(75 min) Incrementally Moving to the Cloud Using Biml Many organizations are interested in the cost savings, ease of maintenance, and other benefits of hosting data solutions on Microsoft Azure. For most, moving to the cloud is easier said than done, especially when they have a large existing solution that is being actively used by stakeholders.

In this session, we will examine various strategies for incrementally moving your solution to the cloud. This will include strategies that incorporate the use of:
1) New value-added features and services, such as machine learning and big data
2) Hybrid approaches where portions of your existing solutions can be moved to the cloud without requiring everything to be moved
3) Failover and surge approaches that enable the cloud to supplement on premises resources
4) and much more

Business Intelligence Markup Language (Biml) will be central to our approach, enabling the rapid movement of assets back and forth between on premises and cloud hosting.

(75 min) SSIS Unit and Integration Testing with Open Source BEST project Testing is critical to managing a high-quality data lifecycle. Unfortunately, SSIS has no built-in support for test authoring and the tools for relational database testing are limited. As a result, most organizations forgo automated testing and focus entirely on manual user testing, which is both expensive and often occurs too late in the process to address all of the issues discovered.

Biml Enabled SSIS Test (BEST) [https://github.com/bimlscript/best] is an open source framework that enables users to define unit and integration tests for SSIS packages using your choice of database tables, Excel files, or XML.

In this session, you will learn how to use BEST to author your SSIS tests and how to use free open source tools to report and visualize test results as part of your existing production processes.

Note that while BEST is implemented using Biml, you do not need to learn Biml to use it.
---
Presenters
Scott Currie, the founder and CEO of Varigence, Inc. At Varigence, Scott has led the development of the Business Intelligence Markup Language (Biml) and the Mist IDE. Before founding Varigence, Scott worked for seven years at Microsoft on the .NET Framework, Visual Studio, the C++ compiler, various customer connection initiatives, and internal BI/DW projects.
Raymond Sondak, owner of Analyticsaholic. Sr. Business Intelligence Specialist and Architect. He is an expert in agile end-to-end Business Intelligence implementation and automation with main focus on Microsoft technologies. Prior to Analyticsaholic, Raymond spent 7 years at Capgemini worked on various Business Intelligence projects.
Frenk van Beekveld, Capgemini. Managing Consultant Insights & Data.
---
FAQs

Can I attend the event without ticket?
No. We have limited places and for each attendee we reserved seat, meal, and drinks
What are my transport/parking options getting to the event?
By bike: If you cycle on Haarlemmerweg from the direction of the city centre, you will see the park on your right. Turn right the first chance you get onto the Westergasfabriek area over the little bridge. You will see the Bakkerswinkel on your left hand side and two beautiful red brick buildings on the right. We're in the second building, in the former stadsdeelkantoor.
By public transportation: From Central Station: Bus 18 (direction Slotervaart), 21 (direction Geuzenveld) and 22 (direction Spaarndammerbuurt) all stop at Haarlemmerplein. From there you walk in 5 min through the park to our Impact Hub.
From the city centre: Take tram 10 (direction van Hallstraat) and get off at Limburg van Stirumplein.
By car: Parking on the Westergasfabriek terrain is not permitted. You can park in the paid parking zones in the streets directly adjacent. Be aware to take some time to find a parking spot. Another option is the Q park garage at Van Bleiswijkstraat 8. It is permitted to drive your car onto the Westerpark area to load or unload.


What can/can't I bring to the event?
Bring your laptop with at least SQL 2012 and BimlExpress/BIDS Helper/Varigence Mist installed
Where can I contact the organizer with any questions?
Twitter: @raymondsondak
E-mail: raymond@analyticsaholic.com

Hotels nearby
Please send e-mail to raymond@analyticsaholic.com for hotel list
---
Platinum sponsors

Gold sponsors