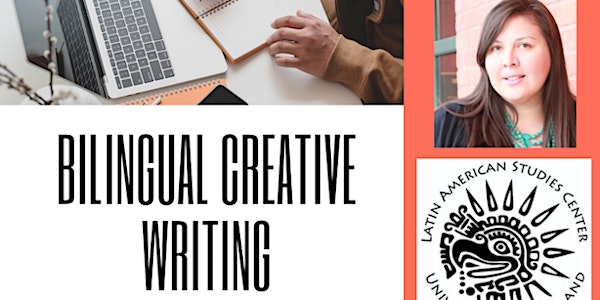 Bilingual Creative Writing Workshop
A bilingual creative writing workshop with Mexican writer Ofelia Montelongo.
About this event
A bilingual creative writing workshop with Mexican writer Ofelia Montelongo. The objective of this workshop is to start writing stories in any two languages using code-switching. This type of writing makes our stories unique and reveals the authenticity of our characters.
Ofelia Montelongo is a bilingual writer from Mexico. She received a BA in accounting and finance, an MBA, and a BA in English and Creative Writing. She has a MA in Spanish and Latin American Literature from UMD. Her work has been published in Latino Book Review, Los Acentos Review, Rio Grande Review, Ponder Review, The Lindenwood Review, and elsewhere. She is the 2019 Writer's Center Undiscovered Voices Fellow, the PEN America New Voices Fellow for the Old Town Books Festival, Tin House alumna, Latinx in Publishing mentee, and PEN/Faulkner writer in residence in Washington, D.C. ofeliamontelongo.com
The Latin American Studies Center (LASC) at the University of Maryland originated as a research center and academic program in 1969. Since then, it has been a dynamic research center on the College Park campus and is well known internationally. In 1996, an undergraduate Latin American Studies Certificate program was established and the first cohort of LASC students signed up in fall 1997 (see our 2014-15 Terrapino for a detailed article on our history). The Certificate program continued in 2017, along with research support, academic presentations, student and faculty conferences, and co-curricular cultural events. The Minor program started in the spring of 2019. The minor helps prepare students for careers related to Latin America.
Mission
The mission of the Latin American Studies Center (LASC) is to promote and build a community of students and faculty interested in learning and actively engaging in Latin American, Caribbean, and Latina/o history and culture. It provides a crucial network and central source of administrative, intellectual, and cultural support and inspiration for students and faculty throughout the university, as well as a strategic point of connection between UMD and the nation at large. LASC is a cultural sphere that celebrates the linguistic, ethnic, cultural, and religious diversity of the university and its community.