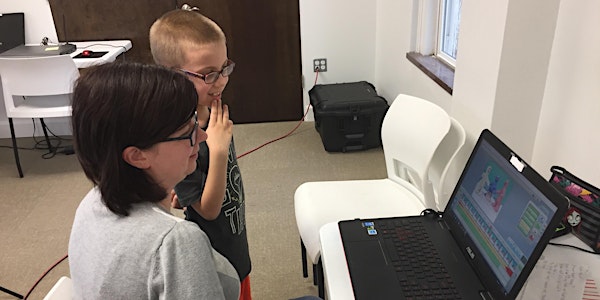 Big/Little Stop-Motion Workshop
When and where
Location
digiSTORY Academy 2nd Floor, Connecting for Good 3210 Michigan Avenue Kansas City, Missouri 64109
Refund Policy
Refunds up to 1 day before event
Description
If you like working on fun projects with your kids, this is perfect for you! Moms, Dads, Grandmas, Grandpas, Aunties--anyone with a close relationship to kids are invited to this workshop. In this workshop you will work with your child partners to create a fun, stop-motion animation workshop. Work in a team of up to four kids and adults on this intergenerational workshop. What a great way to work closely with the kids you love and learn from each other while creating an original story that you will animate using Claymation, LEGOs, etc.!
This workshop for kids and adults consists of four 1.5 hour sessions held Monday November 13th through Thursday, November 17th from 7:00 – 8:30 p.m. Recommended ages are 8 – adult.
Nov. 13th: Making Pictures Move: Participants begin the first of four workshop sessions with hands-on learning about "key framing" and "frame rates." In this session they will construct a simple flipbook and view examples of animation at different frame rates. Teams will also use the digiSTORY model to create an original story. From this they will create a storyboard and script.
Nov. 14th: Stop-Motion Tools: Participants will learn how to use a webcam and simple lighting with a laptop to capture their stop-motion frames. Students will also learn how to use Zu3D animation software to create their stop-motion story. Students will use the features of the animation software to edit images, add sound effects or voiceovers, and edit the video timeline.
Nov. 15th : Image Capture for Stop-Motion: Students will start photographing the progressive movements of the characters and props in their story at a frame rate of at least 15 frames per second (fps).
Nov. 16th: Editing & Publishing Stop-Motion: Students will add title frames to the beginning of their stories and crawling credits at the end of their stories. When the stop-motion production piece is final, the student will publish the story to digiSTORY KC's YouTube where links can be shared with family and friends.
Students who successfully complete this workshop can earn digiSTORY KC's "Stop-Motion Animation" badge. This badge is part of the LRNG-KC badge program.
Registration Fee: $40 per participant

FAQs
Do I need to bring anything to this workshop?
No—everything the student needs will be provided during the workshop. If the student wants to keep the production files they create during the workshop, they should bring a flashdrive (2 GB or more).
Will the student be able to continue creating stop-motion animations after the workshop is over?
Since our software and equipment is specialized for stop-motion, you will need to acquire these special tools to continue creating stop-motion. digiSTORY KC selects the software and tools to be affordable for students to purchase for home use. See the workshop instructor for information about purchasing the stop-motion tools for home use.
Is there a materials fee in addition to the workshop fee?
No. All materials are provided during the workshop.
Are discounts available for students whose families face financial hardships?
Yes—A key mission of digiSTORY KC is to make sure that every child gets to explore digital storytelling regardless of their ability to pay for workshop fees. digiSTORY KC has a set of guidelines to help families demonstrate the need for financial assistance. Contact the Executive Director at rgreen@digistory.org to request financial support for workshop fees.
Will the student be able to publish their work where family and friends can see it?
Yes—students have the option of publishing their productions to the digiSTORY KC YouTube Channel:
https://www.youtube.com/channel/UCYonw2piO8dsckqF0g63r0Q
Is parking available for this workshop?
Ample well-lighted parking is available on the west side of the building. The Linwood Area Ministry Place (LAMP) provides secure access throughout the building to assure a safe environment.
Are similar workshops available through digiSTORY KC?
Yes, digiSTORY KC will be offering a wide range of stop-motion animation and digital media workshops as it builds its curriculum over time. You can learn more about available workshops at these websites:
Can I get a refund if the student can't attend the workshop?
You can cancel your registration up to the last day prior to the workshop on the Eventbrite event site. No refunds will be given if we are not notified prior to that deadline.

Who can I contact for questions I have about this workshop?
Contact Ron Green, Executive Director of digiSTORY KC, at rgreen@digistory.org or (816) 804-5917.