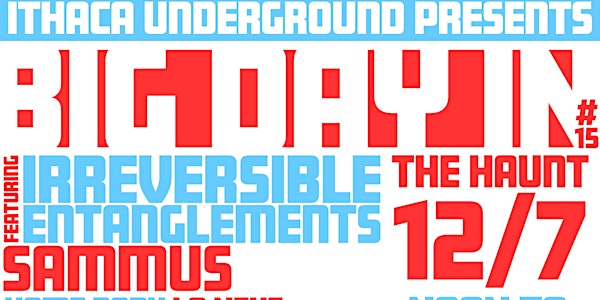 Big Day In #15 featuring Sammus, Irreversible Entanglements, and more TBA!
Presented by Ithaca Underground
Event Information
Performers
Big Day In #15
Sammus, Irreversible Entanglements, Home Body, La Neve, Lady D & The Shadow Spirits, Desmond n Friends, Tender Cruncher, The Miserable Genius, Magnetic The Shaman, Sonic Reducers, Denzel World Peace , Hen Model , Jake and The Nowhere Men, Guy Fieri Fever Dream , Charmion
Location
The Haunt
702 Willow Avenue
Ithaca, NY 14850
Big Day In #15 in Ithaca, NY
About this event
Join Ithaca Underground once again for our all-ages, end-of-year celebration event– BIG DAY IN. Tons of bands for a low price thanks to the help of generous contributions of local, like-minded organizations.
This program was made possible in part by grants from the Tompkins County Tourism Program, Community Arts Partnership, and Community Foundation's Thomas R. Bruce and Judith S. Pratt Fund.
Thanks to our sponsors The Watershed, Angry Mom Records, McNeil Rentals, Electro Harmonix, WordPro, Fingerlakes Beverage Center, with more TBA.
Free entry for applicable IU Patron supporters - join today for event entry and other benefits: https://www.patreon.com/ ithacaunderground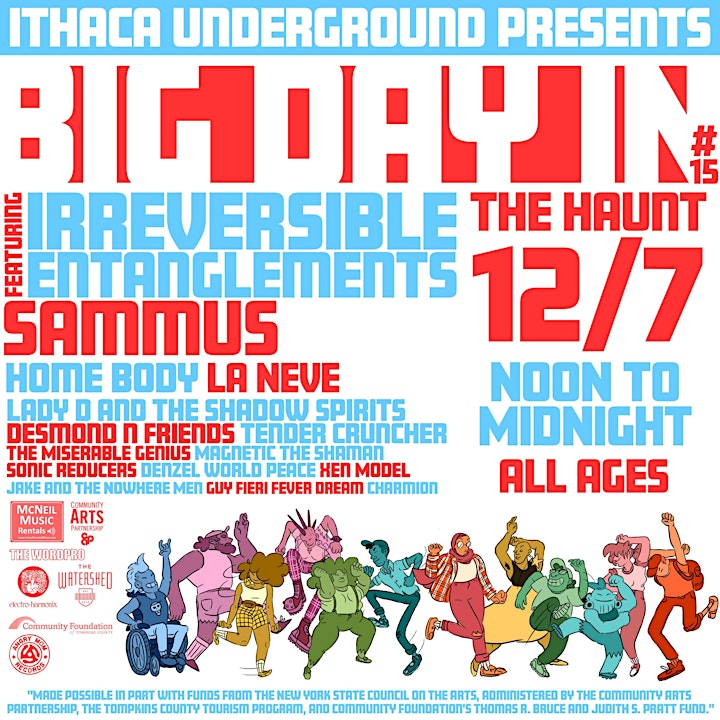 Performers
Big Day In #15
Sammus, Irreversible Entanglements, Home Body, La Neve, Lady D & The Shadow Spirits, Desmond n Friends, Tender Cruncher, The Miserable Genius, Magnetic The Shaman, Sonic Reducers, Denzel World Peace , Hen Model , Jake and The Nowhere Men, Guy Fieri Fever Dream , Charmion
Date and time
Location
The Haunt
702 Willow Avenue
Ithaca, NY 14850
Refund policy