Multiple Dates
Beyond the Press: Open Studio with Pavel Acevedo (In-Person)
Join us for our monthly Beyond the Press (artist in residence) open studio with Pavel Acevedo at Self Help Graphics & Art.
About this event
Self Help Graphics & Art invites you to stop by our monthly Open Studio and meet Pavel Acevedo, our Beyond the Press resident artist. The open studio takes place on the third Thursday of the month from 3:00 p.m. - 7:00 p.m. at Self Help Graphics & Art. It's is an opportunity to engage with Pavel, ask questions and see their work in progress.
Our next Open Studio experience is Thursday, August 19 and will include a printmaking demonstration. Limited space is available. Masks are required for all visitors, including vaccinated guests. RSVP on Eventbrite today!
Pavel Acevedo was born in Oaxaca, Mexico, and resides in Riverside, CA. Through printmaking and muralism, he explores migration, immigration, borders, and the duality many immigrants contend with after leaving their homeland for a new nation. He studied at the Rufino Tamayo Plastic Arts Workshop in Oaxaca City and La Escuela de Bellas Artes of Oaxaca with the renowned master printer, Shinzaburo Takeda. Acevedo has exhibited throughout Mexico and the United States.
Beyond The Press is SHG's new iteration of the Artist in Residence (AIR) program that invites interdisciplinary artists to create a new body of work over six month period.
#BeyondThePress #Printmaking #Printmakers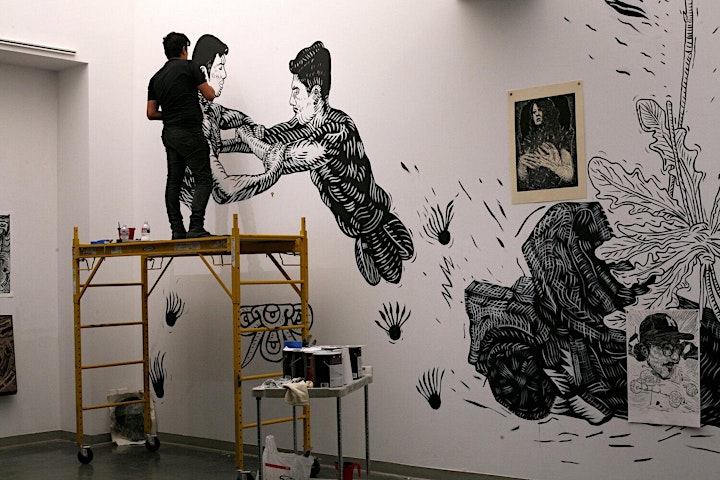 Organizer of Beyond the Press: Open Studio with Pavel Acevedo (In-Person)
Since 1973, Self Help Graphics & Art (SHG) has produced more than 2,000 art print editions, including 62 Professional Marking Program ateliers and exhibitions all over the world. The organization remains dedicated to the production, interpretation and distribution of prints and other art media by Chicana/o and Latinx artists; and its multidisciplinary, intergenerational programs promote artistic excellence and empower community by providing access to working space, tools, training and beyond. SHG continues to foster emerging Chicana/o and Latinx artists through its world-class printmaking practice and supports the role of artists as leaders, both within its organization and the community. Learn more at www.selfhelpgraphics.com. To make a donation, text SHG to 41444 or visit www.selfhelpgraphics.com/donate.
NOTE: Please verify event details to determine whether your event will be virtual or in person at Self Help Graphics & Arts. Virtual workshops can be accessed via our YouTube at www.youtube.com/shgtv. Learn more about our virtual offerings on our website at www.selfhelpgraphics.com/calendar.