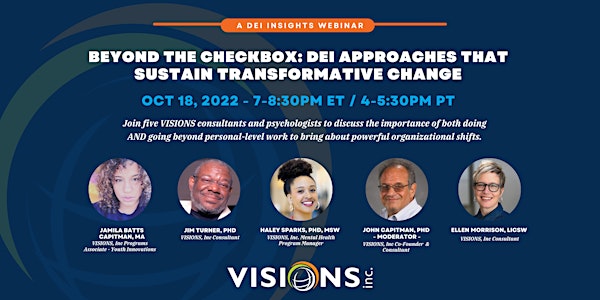 Beyond the Checkbox: DEI Approaches that Sustain Transformative Change
Join five VISIONS consultants and psychologists who do transformational change work in a range of settings as they discuss the importance of
Refund Policy
Contact the organizer to request a refund.
About this event
The VISIONS' consultation model is unique in the diversity, equity, & inclusion (DEI) field, having been developed over the last 40 years from a combination of approaches in social psychology, sociology, and political economics. This deep grounding in social science knowledge has resulted in an interpretive framework and practice approach that supports individuals and organizations in addressing the cultural underpinnings of oppression across multiple dimensions to create change at the personal, interpersonal, institutional, and cultural levels. Understanding DEI organizational and individual development approaches based in psychology and other social sciences can assist organizational leaders and change agents in their planning and oversight of DEI interventions in their settings.
This webinar is geared toward organizational leaders and human resource professionals across the range of public, private and non-profit organizations. It will be an important opportunity to understand the social science behind VISIONS's work and to think broadly about the impacts of DEI programs on individuals, work teams, and organizations.