Beyond the Blackout is an opportunity for diverse and inclusive networking. Our goal = increase connection and access among DC event profs.
About this event
Beyond the Blackout: Creating Connections for the DC Event Community will be a hybrid in-person and virtual event.
The in-person experience will be held at the stunning Anderson House on Tuesday, September 15th from 3-5pm. We do have a limit of 50 attendees.
The virtual experience will be held simultaneously on Tuesday, September 15th from 3:00-5:00pm, for those who cannot or choose not to attend in person.
Plus - option to add Post Event Matchmaking Service. In the effort to further connections, we will be providing complimentary professional matchmaking to vendors to allow them to set their own in person or virtual coffee dates. Information to follow after the event.
Our why: Black Lives Matter highlighted the significant racial inequities in the world. In response, the DC event industry hosted a series of conversations to educate and create understanding. Beyond the Blackout is an extension of these conversations and will strive to provide an intimate, in-person and hybrid virtual opportunity for diverse and inclusive networking. Our goal is to increase connection and access and go beyond the black square by providing a spotlight of select DMV-based black-owned event industry businesses, and provide networking among BIPOC event businesses with white-owned event businesses in order to further collaborations in the future. Beyond the Blackout is a collaborative event planned by Bright Occasions and LaJoy Plans.
COVID Venue policy
We ask all vendors, staff and guests to wear a mask at all times when indoors, except for the moments they are eating, drinking, or posing for professional photographs.
We will take a forehead temperature reading of everyone at the door, and if it registers 100 or higher we will ask them not to enter.
We will ask everyone to RSVP with their name, email and/or phone number.
We will ask all guests to use our hand sanitizing station upon entry.
We will ask that guests do not attend if:
They or anyone in their house has experienced a fever, cough or shortness of breath within 2 weeks of the event
They or anyone in their house has experienced any other COVID symptom such as: severe headache, muscle pain/weakness, diarrhea or vomiting, abdominal pain, respiratory symptoms, rash/skin irritation, unexplained bleeding or bruising
They have traveled outside of DC to any high-risk city or state or out of the country within 2 weeks of the event
They have had close contact with anyone who has tested positive for Covid or has experienced any Covid symptoms within 2 weeks of the event
They are being tested for or have tested positive for Covid within 2 weeks of the event
Beyond the Blackout: Creating Connections for the DC Event Community Hosted by Bright Occasions and LaJoy Plans in partnership with:
Anderson House @eventsatandersonhouse
GetPlated Catering @getplateddc
Rhea Whitney Photography @rheawhitney
Jenny Baked It @jennybakedit
Pretty Petals Floral Designs @prettypetalsflorals
Molecular Food & Cocktails @molecularfoodcocktails
Lucy Black Entertainment @lucyblackent
Upper Octaves Productions @upperoctaveproductions
Yes Event & Decor @yeseventdecor
PXL Booth @pxlbooth
Bright Occasions @margobrightoccasions
LaJoy Plans @belajoyful
Graphic design by LaJoy Plans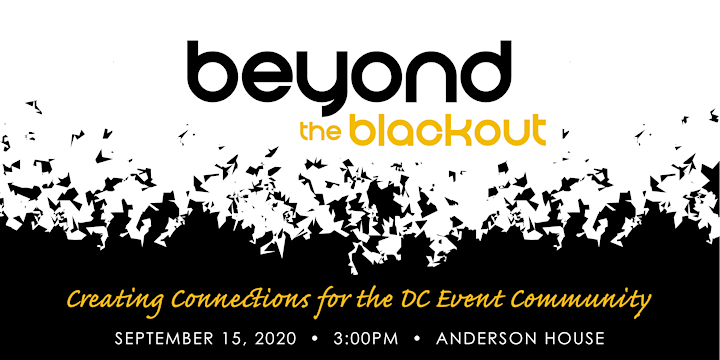 Organizer of Beyond the Blackout: Creating Connections for the DC Event Community