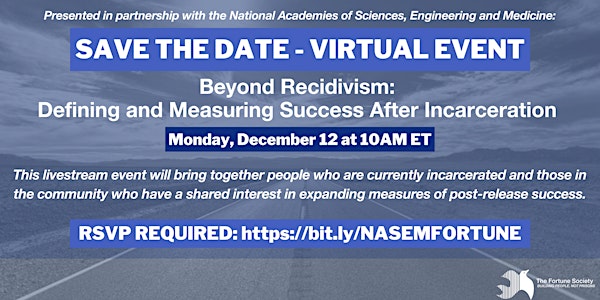 Beyond Recidivism: Defining and Measuring Success After Incarceration
Beyond Recidivism: Defining and Measuring Success After Incarceration
About this event
Please join us on Monday, December 12, 2022 at 10AM - 1PM ET for 'Beyond Recidivism: Defining and Measuring Success After Incarceration.' This livestream event will bring together people who are currently incarcerated and those in the community who have a shared interest in expanding measures of post-release success.
Beyond Recidivism is hosted in partnership with the National Academies of Sciences, Engineering, and Medicine (NASEM), Pennsylvania Department of Corrections, and Eastern State Penitentiary. We will highlight findings from the "The Limits of Recidivism" report published by NASEM in 2022 and have opportunities for audience participation throughout the livestream.
Guest Speakers include:
Ronald F. Day, PhD, The Fortune Society, Vice President of Programs and Research
DeAnna R. Hoskins, JustLeadership USA, President/CEO
Emily Wang, MD, Yale University, Professor of Medicine (General Medicine) and of Public Health (Social and Behavioral Sciences); Director, SEICHE Center for Health and Justice
Nancy La Vigne, PhD, National Institute of Justice, Director
Sec. George Little, Acting Secretary, Pennsylvania Department of Corrections
Lauren Zalut, Director of Education and Tour Programs, Eastern State Penitentiary
Micaela Linder, The Fortune Society, Senior Director of Research
Stanley Richards, The Fortune Society, Deputy CEO
Jeremy Travis, JD., Arnold Ventures, Executive Vice President of Criminal Justice
Special Guests:
Jeffrey Abramowitz, CEO, The Petey Greene Program
Marie DiLeonardo, Regional Manager, The Petey Greene Program
There are two segments of the event:
Part 1: Livestream Panel from Eastern and Fortune | 10am - 12pm
We will hear from currently and formerly incarcerated leaders, scholars committed to expanding measures of reentry success, and communities dedicated to enhancing supports for justice-impacted people in incarceration settings and in the community.
Part 2: Facilitated Discussions | 12pm- 1pm
Professors, non-profit leaders, corrections administrators and other communities will host facilitated dialogues at sites where the event is being held or livestreamed. We will prepare a 'Framework Resource Guide,' to include discussion questions, to help foster these individualized conversations.
Join us on Monday, December 12, 2022 for this live stream event by RSVP'ing today.