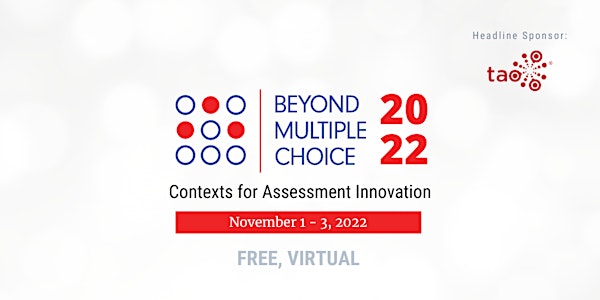 Beyond Multiple Choice 2022: Contexts for Assessment Innovation
A conference devoted to advancing the future of assessment
About this event
THEME: Contexts for Innovation in Assessment
How do today's social, political, and economic contexts affect opportunities to innovate in learning and assessment?
Education stakeholders unite!
This year's conference will once again converge professionals from all facets of the assessment ecosystem, from to educators, to admin, researchers, policymakers, practitioners, and technology developers.
Presentations will explore cutting-edge assessment approaches, along with situational challenges and opportunities in implementing them.
This three-day virtual conference is free and open to the public.
More details coming soon!
Get Involved
Our events are made free thanks to our brand partners. For sponsorship benefits and opportunities, click HERE.
About Beyond Multiple Choice
Beyond Multiple Choice started in 2017 as a small but ambitious conference seeking to address one overarching question:
How can we move beyond multiple choice to better assess the effectiveness of learning, teaching, and training?
Since then, we have grown into an international community of education and training-industry stakeholders committed to exploring, innovating, and implementing the future of assessment.
Presentation recordings will be made available to all conference registrants