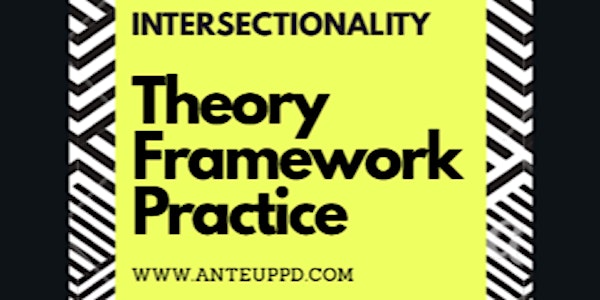 Beyond Buzzwords: Intersectionality: Theory, Framework, Practice
A two day professional development experience.
About this event
DATES OF SESSION: THURSDAY November 11, 2021 4pm - 8pm PST / 7pm - 11pm EST INTENSIVE
Intersectionality has become a buzzword used often and often misused. This course examines and engages with primary resources of intersectionality as a theory, framework, and practice. We will discuss how this practice and theory has expanded, critiques, and ways we have done intersectionality incorrectly along with strategies for expanding our use of each part of this critical practice.
4 CEs offered for AASECT courses are LIVE with award-winning educator, scholar, and activist Bianca I Laureano, PhD, MA, CSE, CSES for one INTENSIVE session of 4 hours with a 20-minute break.
Learning Objective:
Participants will examine and engage with intersectionality as a theory, framework, and praxis.
Learning Outcomes:
By the end of this course participants will be able to:
Discuss the origins of intersectionality as a critical theory
List the ways structural, institutional, and systemic bias and oppression impact individuals and communities
Create a plan of action for including an intersectional praxis / practice in work and life / community
This program meets the requirements of the American Association of Sexuality Educators, Counselors and Therapists (AASECT) and is approved for 4 CE credits. These CE credits may be applied toward AASECT certification and renewal of certification.
AASECT Human Sexuality Core Knowledge Areas
C: Socio-cultural factors in relation to sexual values and behaviors
H: Health/medical factors that may influence sexuality
N: Learning theory and its application
O. Professional communication and personal reflection skills
Completion of this program does not ensure or guarantee AASECT certification. For further information please contact info@assect.org.
View ANTE UP! Grievance Policy: http://www.anteuppd.com/grievance-policy/
ABOUT THE INSTRUCTOR
Bianca I Laureano is the foundress of ANTE UP! Professional Development, an award-winning sexuality educator, supervisor, trainer, and curriculum writer. Bianca has worked in the US sexuality field for over two decades and was trained to be an intersectional scholar during her doctoral work in 2003 from leaders in interdisciplinary fields. Learn more about Bianca at her website www.BiancaLaureano.com.