Between the Panels is a series of comics workshops for teens and adults, empowering you to tell your stories in word and image.
About this event

Between the Panels, 7000 BC's comics workshops for teens and adults continues! Sharpen your pencils, roll out the virtual paper and get ready to draw upon your strengths. Join us as we explore a storytelling medium like no other. Drop-in students are welcome!
Non-profit arts organization 7000 BC has been bringing comic book workshops and presentations to libraries, schools, and other venues across New Mexico for more than fifteen years. Rather than using an illustration-based approach, participants combine word and image through fast-paced, hands-on workshops focused on how a story is told using the unique storytelling medium of comics. We show how it's possible for anyone to produce their own comics.
Between the Panels workshops are designed to work as a series or as individual lessons. Each workshop focuses on a different aspect of the comics creation process.
You'll get a weekly reminder about upcoming workshops unless you tell us to stop. We won't send you anything else. We use Zoom for workshops, so you'll have to sign up for a free Zoom account as well.
Materials are simple - paper and pen or pencil. A nice dark pen will make it easier to share over Zoom what you're working on. On occasion we'll ask you for other common household objects, nothing fancy.
Workshops are presented for a Pay-What-You-Can Donation.
Any amount $1 or more
Suggested Donation - $25 per workshop
Need-based scholarships are available
Still have questions? More information is available on the 7000 BC website.
Scroll down for the full weekly schedule!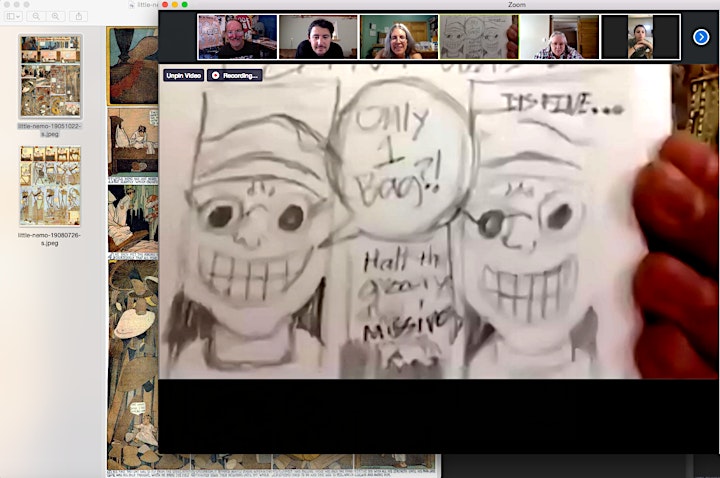 Between the Panels Comics Workshops
All classes work individually or as a series.
Winter-Spring Schedule
January 30 - May 1, 2021
Sat., Jan.30, 2021
What Are Comics? (Opening Up Panels, Contents, and the Space Between)
An introduction to what makes a comic a comic. A panel a panel. And a gutter a truly fascinating place to be.
Sat., Feb. 6, 2021
How Many Radioactive Squirrels Does it Take to Make a Comic? (Clear Storytelling with Banana-Thieving Squirrels)
Exploring too much or too little.
Sat., Feb.13, 2021
The Shape of Characters to Come (Character Definition and Quick Draw Mug Shots)
Visualizing a character's stance by their stance, within a wall of ugly (and otherwise) mugs.
Sat., Feb. 20, 2021
The Down Elevator to Back Story (Design Sheets and Fictional Pasts)
Speak swiftly and carry a big sketchbook. What floor, please?
Sat., Feb. 27, 2021
The Unexpected Three-Panel Comic (Stories are Everywhere)
A re-introduction to creating comics as we unscramble the spaghetti of our brains.
Sat., Mar. 6, 2021
The Covenant of the Arc (Character Arcs and Story Arcs)
Weaving the patchwork of pathways through your story.
Sat., Mar. 13, 2021
Thumbnailing with Kaiju Claws (Enhancing Story with Tiny Broad Strokes)
How many ways can you trim your thumbnails and still have them be your thumbnails?
Sat., Mar. 20, 2021
Mini Comics! What's the Big idea? (A Grand Story in Eight Tiny Pages)
An instruction manual for making your way between extremes.
Sat., Mar. 27, 2021
The Cantina at the End of Storytelling (One-Upmanshipping with MacGuffins)
One shoe is all you need to make a fine MacGuffin Jam.
Sat., Apr. 3, 2021`
You Call That A Comic? (Theme Showing Itself as Format)
The object that is your book. The medium is the message.
Sat., Apr. 10, 2021
Turning Over A New Leaf (The Importance of Page Turns)
Breathing life into the desire to see the next page.
Sat., Apr. 17, 2021
Caught Up in the Moment (Time in, Around, and Between Panels)
Time flies like an arrow, fruit flies like a banana — and comics time flies like nothing else.
Sat., Apr. 24, 2021
Prince Joe Versus the Evil Wizard of Grammaria (How Storytelling Functions in the Brain)
Exploring the psychological, emotional, and physical effects of a good story, found on the bread aisle.
Sat., May 1, 2021
The Gestalt of It All (History, Monsters, and Show and Tell)
Monsters have controlled the evolution of comics. What have we wrought?
If you're finding this late in the series and would like to take the complete program, we will run again from the beginning in the summer. Feel free to drop in and try out a class.
7000 BC is a Northern New Mexico-based organization providing opportunities for comics writers and artists to develop their personal styles and storytelling "voices," while promoting an understanding of the cultural significance of comic art through seminars and workshops.
Sol Arts DBA 7000 BC is a 501(c)3 non-profit visual arts learning collaborative.