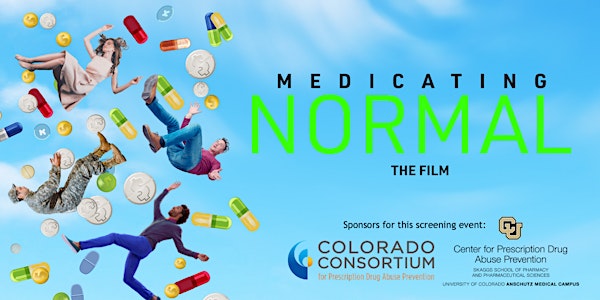 Benzo Action Work Group of the Colorado Consortium Hosts Medicating Normal
Please join us for a virtual community screening of Medicating Normal followed by a live interactive post-screening panel discussion/Q&A.
About this event
The Benzodiazepine Action Work Group of the Colorado Consortium for Prescription Drug Abuse Prevention hosts a screening of Medicating Normal followed by a post-screening panel discussion/Q&A. The mission of the Benzodiazepine Action Work Group is to increase benzodiazepine safety through education, patient support, and informed prescribing and deprescribing practices. The group joined the Consortium in November 2020.
Event Sponsors: Colorado Consortium for Prescription Drug Abuse Prevention and the Center for Prescription Drug Abuse Prevention
Film Synopsis:
Medicating Normal follows the journeys of a newly married couple, a female combat veteran, a waitress and a teenager whose doctors prescribed psychiatric drugs for stress, depression, sleeplessness, focus and trauma. While these drugs can sometimes provide effective relief, they are prescribed far too often, frequently without discussing with patients the possible alternatives and potential adverse outcomes. Our subjects struggle with serious physical and mental side effects as well as neurological damage which resulted from taking the drugs as prescribed and also from attempting to withdraw. Medicating Normal is the untold story of the serious consequences that can occur when market-driven medicine intersects with human beings in distress.
Schedule for April 27, 2021:
6:15 pm MT: Zoom Waiting Room Opens
6:30 pm MT: Welcome & Livestream virtual screening of Medicating Normal via Zoom (~74-minute run time)
7:50 pm MT: Brief Intermission
8:00 pm MT to 9:00 pm MT: Live Post-Screening Panel Discussion/Q&A
The post-screening panel discussion/Q&A will feature the following panelists:
Alexis Ritvo MD, MPH is a board-certified addiction psychiatrist. She is the program director for the CU addiction psychiatry fellowship and associate medical director for the UCHealth outpatient psychiatry clinic. She has a passion for psychotherapy, teaching and improving health systems and policies. Her current professional goals are: (1) to increase psychiatry resident's competency in evaluating and treating physical dependence to benzodiazepines and substance use disorders in general outpatient psychiatry and (2) to improve patient access to psychiatric treatment for physical dependence to benzodiazepines and substance use disorders co-occurring with other psychiatric disorders. Alexis is a co-founder and co-chair of the Benzodiazepine Action Work Group.
Dr. Lesley Brooks serves as the Chief of Addiction Medicine for SummitStone Health Partners and as the Assistant Medical Director for the North Colorado Health Alliance in northern Colorado. Dr. Brooks, a board-certified family physician, has practiced full-scope family medicine including prenatal care, chronic pain, and substance use disorder/addiction in northern Colorado for more than a decade. Since her transition to SummitStone Health Partners in 2020, she specializes in substance use and mental health. As the Chief of Addiction Medicine at SummitStone, Dr. Brooks leads the design, development and implementation of Larimer County's Behavioral Health Services facility, which is set to be open in 2022. Additionally, Dr. Brooks serves as the Co-Chair of the Consortium's Provider Education Work Group, a position she has held for the past 5 years.
Terri L. Schreiber is the CEO/Founder of The Schreiber Research Group (TSRG). Terri's work is informed in-part due to her lived experience with the challenges associated with benzodiazepine tapering, withdrawal, and post-acute withdrawal. Her experience was dramatic and life-changing prompting her to collaborate with the Alliance for Benzodiazepine Best Practices, Benzo-Wise Colorado, and the Colorado Consortium's Benzo Action Work Group to find solutions. She believes that the broader public needs to exercise caution with this class of medications, and that support structures could be needed and important when individuals are ready to taper.
John Staight is a patient advocate who suffered through four years of chronic, unexplained physical and cognitive symptoms which resulted in multiple misdiagnoses. His search for answers led him to seek the advice of over 30 doctors, including a consult at the Mayo Clinic. Only through his own on-line research did he discover he was suffering from benzodiazepine tolerance and withdrawal after as-prescribed use. He is currently in the midst of a difficult multi-year benzodiazepine and antidepressant taper. His goal is to help others by raising awareness with patients and prescribers about the adverse effects of benzodiazepines and the severity of withdrawal. He brings the patient experience and perspective to the Benzodiazepine Action Work Group's efforts. He worked professionally as an Open Space Manager, and lives in Eagle with his wife and two young children.
Trina Faatz is the facilitator of the Boulder County Substance Use Advisory Group (SUAG) for Boulder County Community Services and Public Health. She is an advocate in the community bringing a shared leadership approach for stakeholders. The SUAG represents all areas of the community focusing on destigmatizing addiction and bringing education about, and access to, resources for those involved with SUD and OUD. In 2021, SUAG will encompass benzodiazepine prescribing and misuse in its scope of work. We hope to address educating the community, providers and those with lived experience on resources and information utilizing data and recent findings on misuse and mis-prescribing. Trina lost her dearest friend 4 years ago to an unsuccessful 2-year benzodiazepine withdrawal attempt. She works closely with others with lived experience in this situation.
The post-screening discussion/Q&A will be moderated by D E Foster of benzofree.org and easinganxiety.com. D serves as the co-chair of the Benzo Action Work Group of the Colorado Consortium and is a resident of Colorado.
Film Endorsement:
"Medicating Normal dares to challenge prevailing myths about how psychotropic medications work, or fail to, in our ongoing struggle to treat mental illness. It promises to spark a long-overdue national conversation on the growing problem of overprescribing." - Anna Lembke M.D., psychiatrist, faculty Stanford University Medical School.
Disclaimers: By purchasing a ticket, you agree NOT TO share, photograph, record, upload, download or otherwise distribute the film as doing so would put the film's global distribution in jeopardy. All content in the film is the copyrighted property of Periscope Foundation.
By RSVP'ing for this event, you will be added to the mailing lists of Medicating Normal and the Colorado Consortium for Prescription Drug Abuse Prevention. You can opt out at any time after the event has concluded.
VERY IMPORTANT: After purchasing a ticket, to access THIS EVENT on April 27th, you must locate your "ticket" via the email you receive from Eventbrite OR by clicking on the "online event page" in Eventbrite. You will be sent a reminder email with the information a day before the event from Eventbrite.