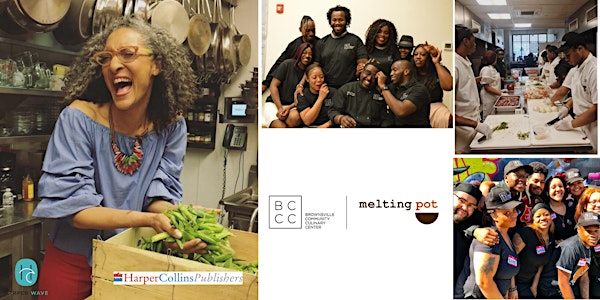 Benefit Dinner for The BCCC featuring Chef Carla Hall!
When and where
Location
Brownsville Community Culinary Center 69 Belmont Avenue Brooklyn, NY 11212
Description
Acclaimed chef, TV personality and cookbook author Carla Hall will be creating a special 4-course menu, prepared by her personally, for Brownsville's residents and guests, inspired by her new book "Carla Hall Everyday & Celebrations." A copy of her new book is included in the ticket price.
All ticket sales will benefit The Melting Pot Foundation and the Brownville Community Culinary Center.
Additional information on BCCC and Carla Hall's partnership: Prior to the dinner, Carla Hall will spend the day at the center, beginning with a breakfast with BCCC's participants. The day will continue with a chef demo and tasting for the community with a Q&A panel and book signing to follow. For additional information on these events, please contact LM@meltingpotfoundationusa.org, or visit www.meltingpotfoundationusa.org