Location
LIVE via Zoom from UMass M2D2
110 Canal Street
Lowell, MA 01854
A 6-event series describing the various opportunities to help bring your health security based technology from the bench to BARDA funding!
About this event
This program is a series of 6 panel discussions with industry and government partners, focused on providing guidance and insight into how innovators can take their solution from the benchtop to the Biomedical Advanced Research & Development Authority (BARDA). BARDA is an entity within the Department of Health & Human Services that advances innovations tackling some of our nation's greatest health security threats. This program is a collaborative effort between incubators and accelerators who are partnered with them through their Division of Research, Innovation & Ventures (DRIVe). Each event will have its own specific focus, while contributing to a sequential flow for the series. Experts with specific backgrounds will be asked to help provide an overview of key resources available to innovators to help fund and advance their solution from early stages of development through late stages, as well as provide guidance on how to navigate the funding opportunities within BARDA and BARDA DRIVe.
Remember to register for all 6 events!
This event is a collaborative event between the following BARDA accelerators and incubators:
Biolocity
First Flight Venture Center
New Orleans BioInnovation Center
Purdue University
New York State Center for Biotechnology
UMass M2D2
University City Science Center
University of Missouri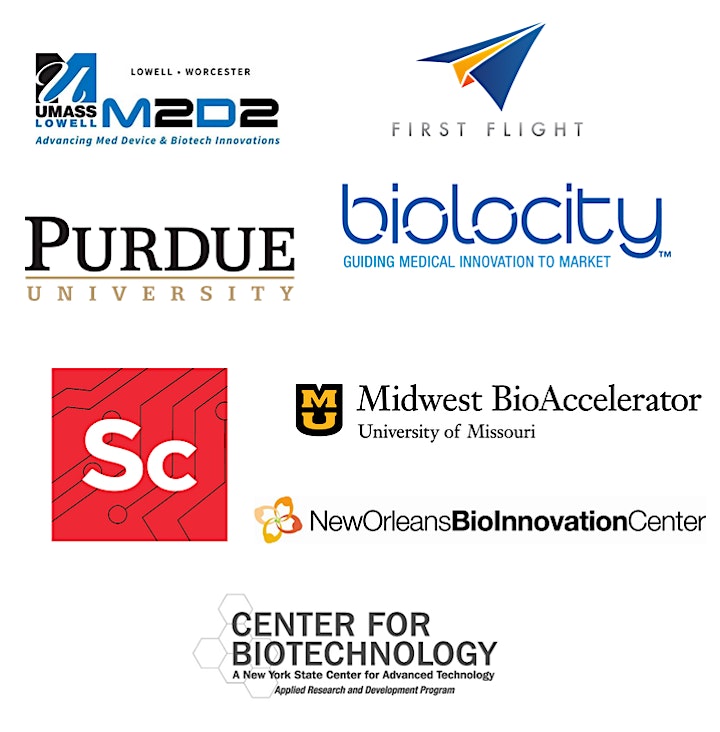 Attend this series if you are an early-stage startup who would benefit from expert insight and knowledge about the resources available to you throughout your commercialization journey! This series will give you a better understanding of what opportunities are not only out there, but also best for you depending on your current technology-readiness-level, where and when to engage with the right government partners to advance your solution, and insight into obtaining funding at all stages of development.
Timeline and Summary
Panel Discussion 1: Spin your Technology out of the Lab
June 14th from 12:00PM - 1:30PM EST
This session is designed for people that have conducted scientific research and are considering starting a company to commercialize it. We will discuss topics around how and when to spin out the technology if working at a lab, who should do it, negotiating with tech transfer offices, and what happens after a spinout is completed. BARDA is partnered with a network of incubators and accelerators that provide support to health security innovators at this stage of product development and during this event you will hear from these experienced leaders who will share their insights on taking research level technologies and developing viable businesses around them. Join us to learn more about how BARDA's Accelerator Network can help your early stage health security venture.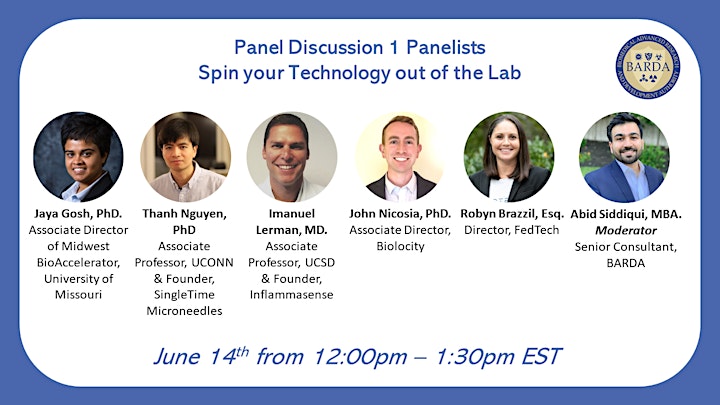 Panel Discussion 2: Build your Technology Into a Product
June 17th from 12:00PM - 1:30PM EST
Every company that sees technology as a competitive differentiator needs a product development strategy, This requires the involvement of all stakeholders in the ecosystem. During this session we will discuss how to build a product development roadmap and strategy that will position your technology as a competitive product in the marketplace. Areas of discussion include business model development, customer discovery and user-centric design, and when to factor in the regulatory and reimbursement pathways for your product, amongst many other topics. We will also highlight programs that help entrepreneurs build these strategies, such as the National Science Foundation (NSF) SBIR/STTR program, which supports disruptive innovations with non-dilutive funding. As an earlier-phase extension of that support, the NSF Innovation Corps (I-Corps) assists innovators in defining value propositions to the market by engaging in a rigorous business model and customer discovery process. During this event we will hear from I-Corps and NSF representatives, and from the CEOs of startup companies who have participated in I-Corps programs and subsequently gone on to receive federal funding via the NSF. Speakers will discuss their experiences leveraging these types of programs to build their early stage ventures.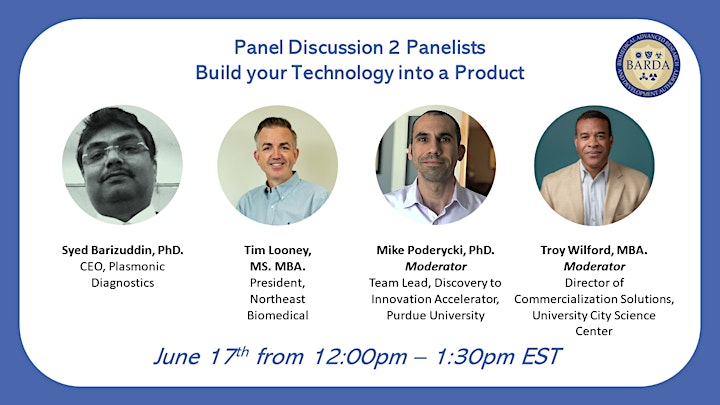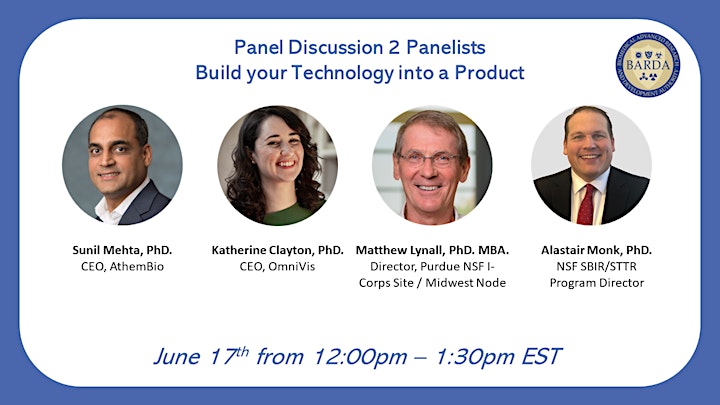 Panel Discussion 3: Supporting Startup Growth via Acceleration Programs
June 21st from 12:00PM - 1:30PM EST
The goal of this program is to provide researchers at the benchside with expert insight and knowledge on the resources available to them to help grow and commercialize their technology. From attending these discussions, attendees will gain a better understanding of what opportunities are right for them given their current technology readiness level, where and when to engage with the right government partners to advance their solution, and insight into obtaining funding at all stages of development. The Small Business Innovation Research (SBIR) and Small Business Technology Transfer (STTR), collectively the Small Business Programs, are also known as America's Seed Fund. By setting aside more than $1.2 billion from its Research & Development Funding specifically for Small Business Programs, the NIH provides support to early stage small businesses throughout the nation. In 2020, the NIH expanded their support of early stage medical innovation by launching the Rapid Acceleration of Diagnostics (RADx®) initiative to speed innovation in the development, commercialization, and implementation of technologies for COVID-19 testing. During this event, you will hear from agency officials at NIH as well as entrepreneurs and researchers that have received funding through these mechanisms. Join us to learn more about accessing these resources for your biomedical innovation.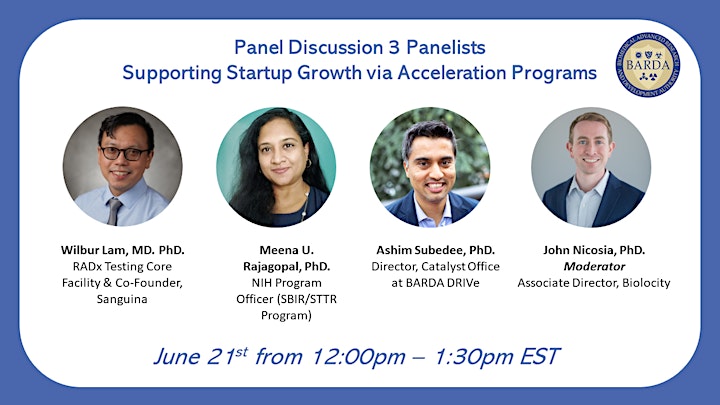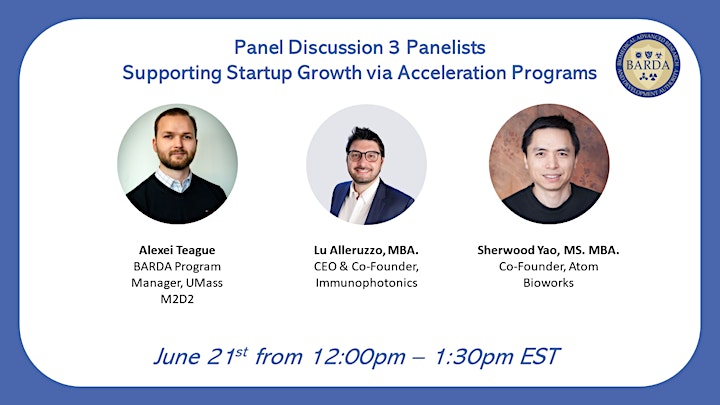 Panel Discussion 4: How can Early-Stage Companies Work with BARDA?
June 24th from 12:00PM - 1:30PM EST
This session is designed for early stage companies that have developed a proof of concept or prototype around a health security use case and are looking to work with BARDA to help advance existing R&D and/or product development. The Division of Research Innovation & Ventures (DRIVe) is the innovation division within BARDA and works with early-stage companies that have breakthrough devices and technologies in the health security space. The Easy Broad Agency Announcement (EZ-BAA) is a contracting mechanism that allows BARDA DRIVe to partner with early-stage product developers on smaller R&D projects. The EZ-BAA provides up to $749K in non-dilutive funds for the use of product development.. During this event you will learn about how to best engage with BARDA as an early stage company. We will review the EZ BAA process and recieve advice from BARDA evaluators on how to submit a complete EZ BAA application. Come learn best practices for EZ-BAA funding opportunities and hear from past EZ-BAA awardees.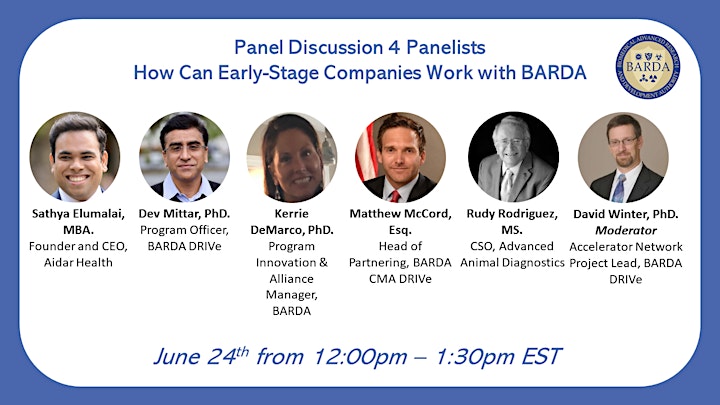 Panel Discussion 5: Partnering with BARDA via the Broad Agency Announcement
June 28th from 12:00PM - 1:30PM EST
As a later stage company, you may be interested in working with BARDA to help scale and/or bring your technology to market. In this session, we will highlight the various BARDA divisions and discuss how the teams use the Broad Agency Announcement (BAA) contracting tool to fund advanced health security product development. We will also discuss the criteria that needs to be met when completing a BAA application and leaders from across BARDA will discuss the various components and best practices for companies looking to apply for BAA funding at BARDA.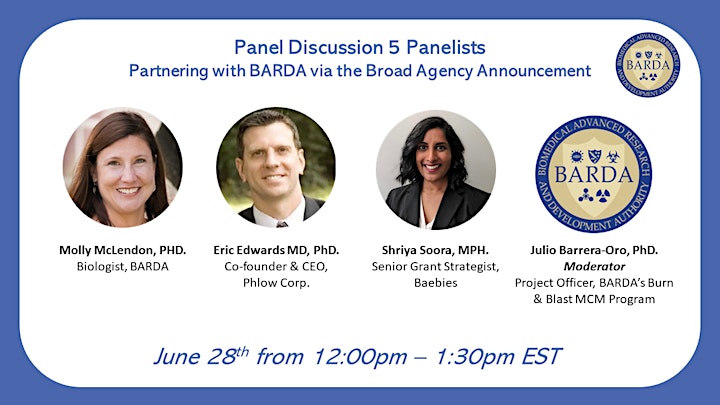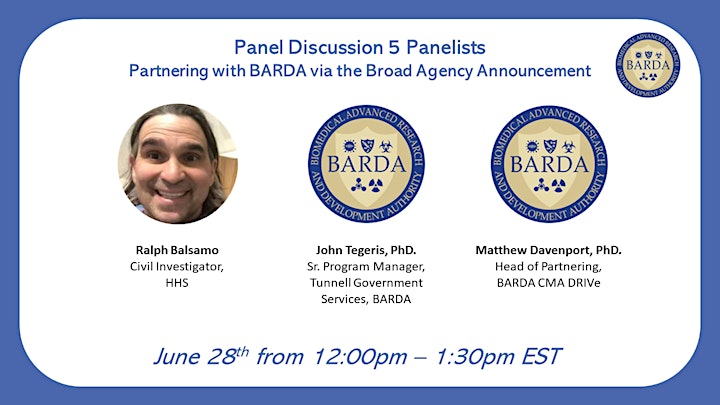 Panel Discussion 6: Scale your Company via Strategic Partnerships & Venture Financing
July 1st from 12:00PM - 1:30PM EST
Setting your startup up to scale sets the stage to enable and support growth in your business. A common pathway to scale a startup entails a combination of strategic partnerships and venture financing. Venture financing is a form of private equity financing (including equity financing, convertible notes, and/or warrants) that invests in promising technology that can demonstrate potential for high impact. The Biomedical Advanced Research and Development Authority (BARDA) works with strategic partners and the venture community to scale and grow promising products and technologies. During this event you will hear from BARDA and non-BARDA VC executives who will give insight on how to appeal to and work with VC investors to help bring products and technologies to market. Join us to learn more about how to scale your health security startup!