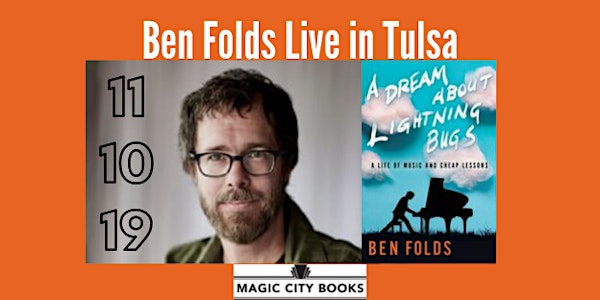 Ben Folds
Ben Folds joins us to celebrate his new book, A Dream About Lightning Bugs. He'll be joined in conversation by Taylor Hanson. Don't miss it!
When and where
Location
Will Rogers High School 3909 East 5th Place Tulsa, OK 74112
Refund Policy
Contact the organizer to request a refund.
About this event
For our 2nd anniversary we are so excited to present an evening with BEN FOLDS in celebration of his new book, A Dream About Lightning Bugs. Moderated by Tulsa's own Taylor Hanson. One night only.
Don't miss an unforgettable evening with Ben Folds in the beautiful art deco auditorium at Will Rogers High School. Tickets go on sale Monday September 30, 2019 at 10:00 a.m.
All tickets are General Admission and there is a limit of two tickets, this is per person, address, credit card, email, etc... Orders over this limit may have any or all of their orders refunded without notice.
All general admission tickets will be open seating in the auditorium. Included with your ticket purchase is one (1) seat at the event on November 10, 2019 and one (1) copy of A Dream About Lightning Bugs.
ALL TICKET SALES ARE FINAL. NO REFUND REQUESTS WILL BE GRANTED.
From the genre-defying icon Ben Folds comes a memoir that is as nuanced, witty, and relatable as his cult-classic songs.
Ben Folds is a celebrated American singer-songwriter, beloved for songs such as "Brick," "You Don't Know Me," "Rockin' the Suburbs," and "The Luckiest," and is the former frontman of the alternative rock band Ben Folds Five. But Folds will be the first to tell you he's an unconventional icon, more normcore than hardcore. Now, in his first book, Folds looks back at his life so far in a charming and wise chronicle of his artistic coming of age, infused with the wry observations of a natural storyteller.
In the title chapter, "A Dream About Lightning Bugs," Folds recalls his earliest childhood dream—and realizes how much it influenced his understanding of what it means to be an artist. In "Measure Twice, Cut Once" he learns to resist the urge to skip steps during the creative process. In "Hall Pass" he recounts his 1970s North Carolina working-class childhood, and in "Cheap Lessons" he returns to the painful life lessons he learned the hard way—but that luckily didn't kill him.
In his inimitable voice, both relatable and thought-provoking, Folds digs deep into the life experiences that shaped him, imparting hard-earned wisdom about both art and life. Collectively, these stories embody the message Folds has been singing about for years: Smile like you've got nothing to prove, because it hurts to grow up, and life flies by in seconds.