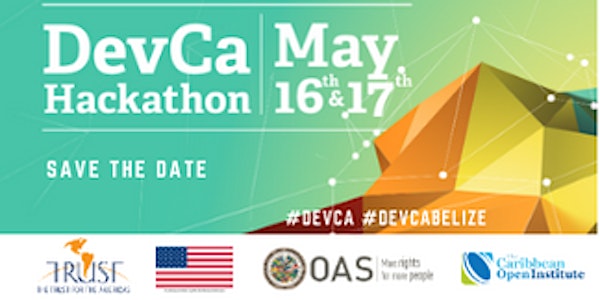 Belize DevCa2019 Hackathon
When and where
Location
UWI Open Campus Belize City Belize City, Belize District Belize
Description
The Belize DevCa2019 Hackathon is the second of its kind in Belize. The initiative is part of the activities of the "Promoting an Open Government Ecosystem in Belize" project, conducted by The Trust for the Americas and the Organization of American States with the support of the Embassy of the United States in Belmopan.
This second hackathon in Belize is part of DevCA2019, a regional innovation event that will explore the "Smart Community" concept within multiple participating countries. DevCA - Developing the Caribbean, is a regional technology for development conference that seeks to highlight both the current and potential impact of Open Data and software innovation by addressing social challenges globally and particularly in the Caribbean. The hackathon is an event where developers across the region will be able to "test-drive" a new Smart Community Tourism platform by creating Tourism Apps and Prototypes. This year, DevCa will take place simultaneously in Belize, Jamaica, Dominican Republic, Cuba, Haiti and St. Lucia.
About Smart Communities
The concept of "Smart Cities" has become popular recently, with the proliferation of Internet of Things (IoT) devices, mobile phones, smart grid infrastructure deployed by electric utilities, public video surveillance systems and other kinds of pervasive sensor equipment combined with Open Data policies at the national, provincial or city levels. The related "Smart Community" concept in the Caribbean, underscores the critical importance of engaged and empowered citizens and the role that broad-based digital literacy can play in ensuring that they are more aware, can participate in, and contribute to their own development and well-being in the emergent digital economy.
About the 1st Belize DevCa2018 Hackathon
The 1st Belize DevCa2018 Hackathon took place on October 2018. Teams from Belize and Jamaica participated and 3 finalists were awarded in Belize. The following were the awarded innovations:
1. Vegan Voyage, by CITO
2. Belize Hotspots, by the Statistic Institute of Belize (SIB)
3. Grow Local Economies through Indigenous Tourism, by The Jaguarondis
For additional information contact Mr. Henry Wade, Local Project Coordinator, Trust for the Americas: hwade@oas.org