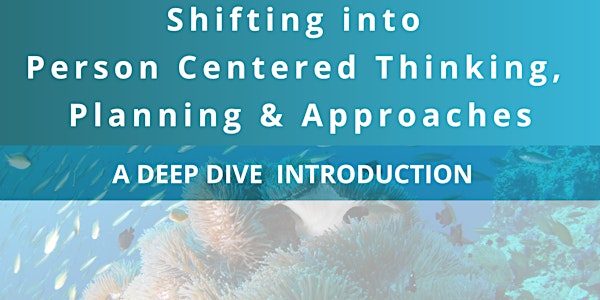 Being Person Centered: A Deep Dive Introduction
This three-hour introduction offers a comprehensive understanding of what being person centered means and why it is important to us now.
When and where
Date and time
Thursday, February 16 · 5:30 - 8:30pm PST
Refund Policy
Contact the organizer to request a refund.
About this event
This interactive workshop is a great introduction to person-centered thinking and practices. Learn about the fundamentals of person centeredness, and what we can do to support people in more meaningful ways. We will also examine how we shift our thinking about person-centered supports and why CMS/Medicare requires it.
It offers a deeply intuitive understanding of what it means to be person centered, why it's being required by policy and funding, and how this shift can dramatically improve outcomes for the people we serve.
Learn and practice:
→ The importance of person centered approaches – core concepts of being person centered
→ How our language impacts our thinking and actions – using respectful and plain language
→ The three elements of person centered practices
→ Incorporating questioning to deepen understanding
HCBS compliance is approaching quickly! March 17, 2023. Don't panic. Learn!
Who is this event for? Direct Service Professionals, Administrators, Family Members, and people that use disability services. In other words, it is for all humans.
About the trainer: Trudy Marsh Grable is actively involved in The Learning Community as a Credentialed Person Centered Thinking (PCT) Trainer and utilizes the PCT tools in all aspects of her career and life. She brings 38 years of lived experience as the parent of an adult daughter who uses disability services.
Trudy's history includes an award-winning, 30-year career at Parents Helping Parents (PHP), where she held various leadership positions. As Executive Director of Journey of Choice, a parent-directed supported living agency for fourteen years, she managed the SLS agency and educated other families interested in parent-directed services.