Behavioral Health Matters: Diversity Inclusion Project Showcase
Join us for a special TWO-DAY event highlighting SAMHSA's Diversity Inclusion Project Showcase, Thurs., Feb. 25 & Fri., Feb. 26 @ 3PM
About this Event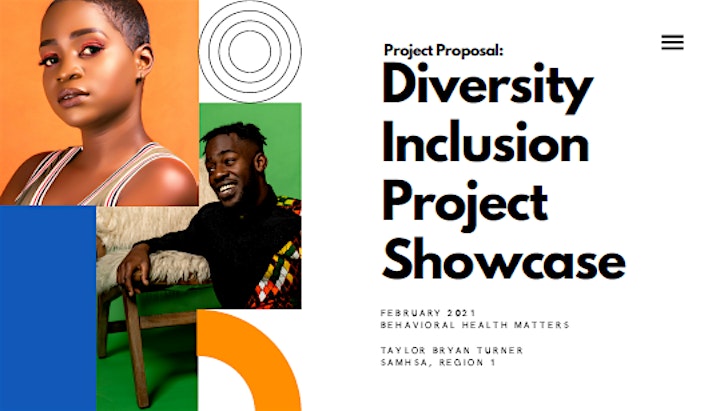 Join us as we highlight SAMHSA's Diversity Inclusion Project Showcase (DIPS), a new initiative that aims to increase a more diverse pool of historically marginalized populations to grant funding opportunities by providing the chance to showcase their goals and populations served, to federal and state leaders, as well as philanthropic partners in a "Round Robin-style" of innovation.
This is a two-day event scheduled from 3:00 p.m. to 4:00 p.m., as follows: Thursday, February 25 and Friday, February 26. Your registration will ensure your access to both days of our showcase.
Learn More: This event is designed to increase the access, visibility, and viability of community-based organizations(CBOs) and local nonprofits in SAMHSA's Region 1 (CT, ME, MA, NH, RI, VT). We encourage registrants to join us for each, one-hour session in this series highlighting exemplary organizations supporting the mental health and resiliency of individuals and communities of Black, Indigenous, and People of Color.
Who Should Attend?
Federal Partners: Learn about a new and creative way to assist partners with engaging BIPOC community-based organizations who might benefit from your programs.
State Leadership: Discover creative ways to engage BIPOC nonprofits, match programs to people, and gain access to a database to ease outreach.
Philanthropy: Explore CBOs that might benefit from your BIPOC investment initiatives.
CBOs: Understand how to showcase your business to potential funding partners, access training and technical assistance, gain exposure, and sign up for a learning collaborative exclusively created to address the multiple levels of cultural responsiveness needed for optimal behavioral health treatment, recovery, and care.
Community Members: Come be inspired, bring hope back to your communities, learn where to get mental health support services, and celebrate organizations dedicated to mental health.
Featured Speakers:
Click here to learn more about our featured and guest speakers. For more information, contact SAMHSA's Public Health Fellow Tim Jean at timothy.jean@samhsa.hhs.gov.