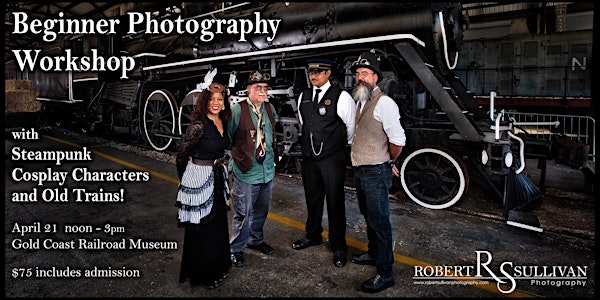 Beginner Photography Workshop with Steampunk Characters and Old Trains!
Location
Gold Coast Railroad Museum
12450 SW 152nd St
Miami, FL 33177
Refund policy
Refunds up to 7 days before event
Description
Following last year's very popular Advanced Flash Photography Workshop at the steampunk event at the Gold Coast Railroad Museum, many new photographers have asked if we would hold a beginner photography workshop at the museum's next steampunk event.

Well, here it is!
The intent of this beginner photography workshop is to jumpstart the learning process for newer photographers by showing them how to use their camera in modes other than automatic or scene settings. Everybody gets a lucky great shot every now and then on auto mode. However, by the end of this workshop attendees will know how to take control of their camera settings so that they can purposefully and intelligently capture scenes as they intend to instead of how their camera thinks the scene should be captured. After learning how to make the camera "do what you want it to", you will even be shooting, confidently, in full manual mode and making the camera produce the images that you envision.
Lecture followed by 'hands-on' practice
In the first half of this workshop, participants will learn basic photography fundamentals and they will be introduced to advanced techniques that they can look forward to exploring in future workshops (such as the advanced off-camera lighting workshop later the same day). To help you with note taking so that you can focus on the presentation, the information packed PowerPoint presentation will be accompanied by "cheat sheet" handouts that will cover the following and more:
What exactly is photography?

The only three factors necessary for a proper exposure (Only three? Well, that simplifies things!)

How those three factors relate to each other

The effects throughout the range of each of those three factors and their pros and cons

How to produce that nice blurry background with a well focused subject

The benefits to taking your camera off of automatic mode

How to purposefully and intelligently create the image you want instead of hoping your camera does it for you

Why Robert shoots in aperture priority 90% of the time

The "rules of photography" and when to break them

Composition tips for different types of photography

When to shoot wide angle and up close, and when to shoot telephoto from far away (either way, the frame can be filled with your subject, but the differences are huge!)

Equipment:

o

What he uses: He will have his equipment on hand and explain what it is, why he uses it, and the purpose for each

o

What equipment you should upgrade first

How he evaluates a scene and the steps he takes to capture it

His workflow from image capture, through processing, to printing

Lightroom or Photoshop? He'll explain why one is, hands down, his preference

What is a Plugin? Hint: It's not an air freshener but it can speed up your post processing

What lies ahead for you as you learn more about how to create excellent imagery?
In the second half of this workshop, participants will stroll the grounds of the Gold Coast Railroad Museum (much of it under shade) with photography instructor, Robert Sullivan, during Rivet Nation's "Steampunk Under the Sea" event. Under the guidance of Robert, you will put into practice what you learned during the lecture. You will photograph steampunk cosplay characters in elaborate costumes among the settings of old locomotives, cabooses, and train cars throughout the museum grounds...a virtual playground for photographers! Robert will assist you in determing how to set up the scene considering available light, backgrounds and minimal distracting elements; how to pose your subjects; how to capture your subject with a pleasing, out of focus background; and generally help you overcome any difficulties that you experienced with your camera in the past.

The train museum coupled with the rare opportunity to photograph costumed characters appropriate to the venue is almost a dream come true for many photographers and is certainly a unique opportunity to create interesting and excellent photography. Join Robert Sullivan Photography to learn how to purposefully create excellent photography. You will leave with unique images along with the photography knowledge to do it again on your own.
---
Note: This is the first of two photography workshops at this venue on the same day
In addition to this beginner photography workshop, the advanced off-camera flash photography workshop that was held last year will take place again, later in the day. Those who take this beginner class at noon and feel ambitious can also take the advanced class from 5pm - 8pm (which will coincide with sunset). It will be quite a leap to bridge the gap between the beginner class and the advanced class, however, you will certainly be exposed to a lot of information and be better prepared for future workshops. If you are considering taking both workshops and have doubts, please feel free to call Robert at 305-986-9781 to discuss the possibility.