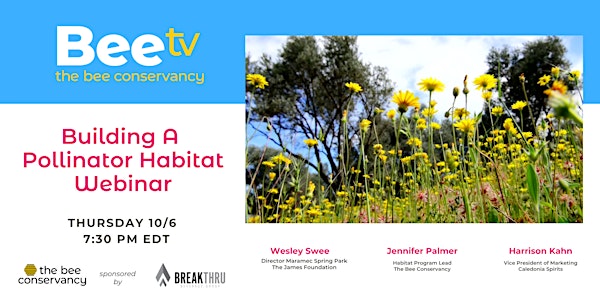 BeeTV: Building a Pollinator Habitat
A panelist discussion on building habitats for pollinators
Date and time
Thursday, October 6, 2022 · 4:30 - 5:30pm PDT
About this event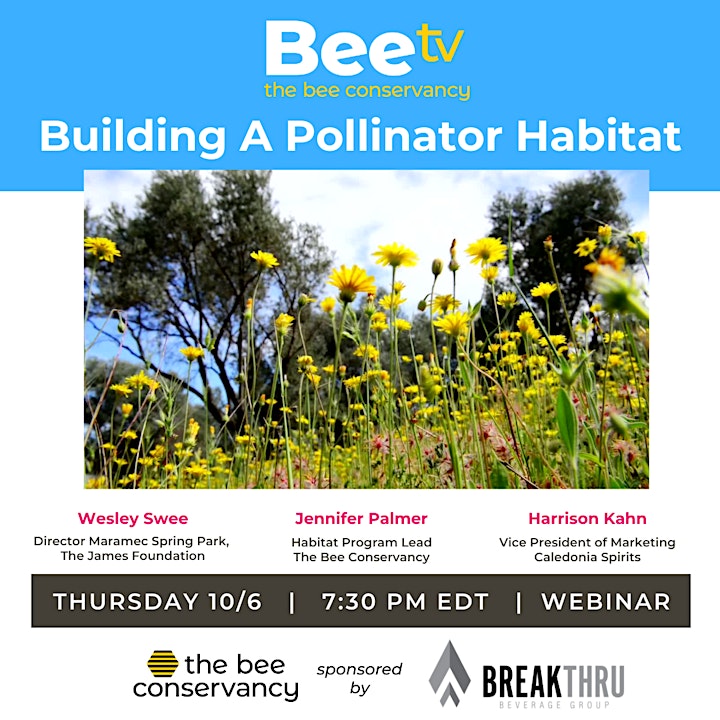 A key strategy to saving the bees is bolstering the habitats they live in. Join The Bee Conservancy for a deep dive into pollinator planting strategies and easy steps you can take to ensure bees are well fed and have safe haven.
During this engaging webinar you'll hear from experts with hands-on experience discuss:
The relationship between pollinators and native habitats
The role of trees and native ground cover in supporting bees
A case study on building pollinator meadow on several hundred acres of state park
A case study on how a brand approached their habitat-building sustainability goals
Ways you can help, no matter where you live!
About The Panelists
Wes Swee, Director of The James Foundation + Maramec Spring Park Wes graduated from Truman State University with a B.S. in Biology and a minor in Chemistry. After college Wes worked for the Missouri Department of Conservation in the trout hatchery system for 16 years, training in all things conservation related, especially habitat improvement. Wildflowers piqued his interest in 2010 and began establishing pollinator gardens around the Maramec Spring Trout hatchery office. After three years of preparation. Wes and his staff are now into the sowing phase of their pollinator project and have planted over 60 acres of wildflowers around the park.
Harrison (Harry) Kahn leads marketing for Barr Hill Gin, a distillery dedicated to reconnecting cocktail culture to agriculture. Harry is a graduate of Middlebury College, where he studied Chinese, and the Tuck School of Business at Dartmouth, where he earned an MBA.
Jennifer Palmer, Habitat Program Lead, The Bee Conservancy holds a certificate in Horticultural Therapy and studies in the Urban Naturalist Program at the New York Botanical Garden. She aims to connect communities and increase access to nature through urban wildlife exploration and native pollinator habitat restoration.
Rebecca Louie, Executive Director of The Bee Conservancy is a beekeeper and certified Master Composter. A lifelong storyteller, she has written for numerous news and lifestyle publications, authored the book Compost City: Practical Composting Know-How for Small-Space Living, and founded The Compostess blog. She splits her time between the mountains and city with her dog, Max.
This webinar is made possible through our partner
Breakthru Beverage Group
Breakthru Beverage Group is a leading North American beverage wholesaler driving innovation in the marketplace with a nimble and insightful approach to business. Breakthru is proud to be family-owned and operated, bringing valued expertise to its operations across the U.S. and Canada. As industry leaders, we are dedicated to Corporate Social Responsibility and the promotion, selling and serving of alcohol in a safe and ethical manner.

Save Me a Seat - Participants can join this webinar from anywhere!
About the organizer
The Bee Conservancy is a 501c3 non-profit established in 2009 in response to the bee crisis. We engage in education, outreach, support research and build bee habitats. We are a Project of Social and Environmental Entrepreneurs.