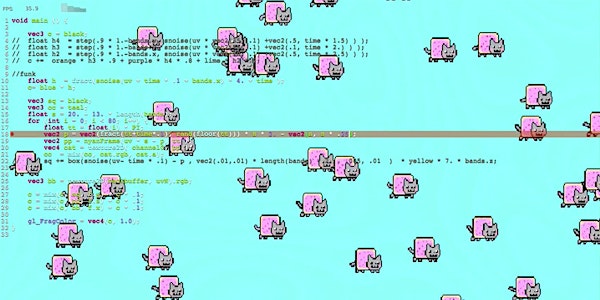 Beast Code featuring Blevin Blectum
When and where
Location
The Downstairs at La MaMa 66 East 4th Street New York City, New York 10003
Description
Beast Code featuring Blevin Blectum
Friday, December 11
8:30 - 10:30PM
The Downstairs at La MaMa
66 East 4th Street
Beast Code presents an evening of live audio-visual performances across a range of genres, techniques, and styles.
Dataf1ow's dynamic performance uses acoustic instruments in an electronic space to investigate specific moments, places, or memories. Through Dataf1low's work, you're sure to experience a range of emotions from the ambient and experimental, to the groovy and melodic.
Codenobi & Wookie will lead you on a journey into a net-based world as they use live-code and not-so-live audio and visual responsive elements that plunge your senses into a sea of EDM, J-Pop, Gif-Culture, psychedelics, and other sensory adventures.
Finally, the incomparable Blevin Blectum performs a new live electronic-multimedia music-based radio-play in two parts:

Mannequin arms rolling thousand-sided dice in solitary skies, the look and sound of iconically deviant parlor tricks, dancing while falling from a great height, with an underscore of unnatural possession by uncanny equine.

A historical retelling of the lost practice of honey-bees grafted to human vocal chords, sadly out of favor today, once the toast of the fashionable elite. An immersive and disjointed sonic tale.

General Admission / $10
Artists Tickets (Online Only) / $5
Students (Must Show ID at Door) / $5