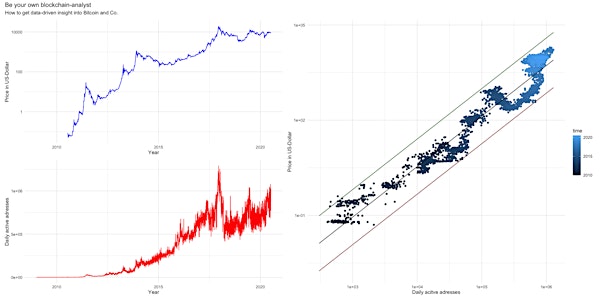 Be your own analyst: How to analyze cryptocurrency markets with "R"
Don't trust: verify: Learn how to analyze the markets of Bitcoin and other altcoins with the statistical programming language "R".
About this event
Bitcoin soon at $50,000?", "Bitcoin price near new bull run?", "Miner capitulation imminent", "Bitcoin near new year low?" - hardly a day goes by without experts opinions about Bitcoin price or the state of the Blockchain ecosystem. But what should you make of such assessments? Akin to "Be your own bank" every investor and enthusiast should also be an analyst and researcher.
Dr. Philipp Giese, as Chief Analyst of BTC-ECHO, the highest-reach digital magazine on Bitcoin, Blockchain and crypto currencies in the german-speaking region, has years of experience in the analysis of crypto markets. With a data-focused view, he discussed in hundreds of articles both the market movements and the fundamentals of Bitcoin and Co.
In this workshop he gives an introduction to the use of R, a statistical programming language, as an analysis tool in the crypto ecosystem. The workshop is not intended to be just a frontal lecture: True to the motto "be your own analyst", participants should also have the opportunity to formulate their own questions that we can get to the bottom of together.
Some news: Time and place for the event are now fixed :) We will meet at 3 pm here:
Coworking Space "Zentrale"
Berger Str. 175
Looking forward to meet you there!