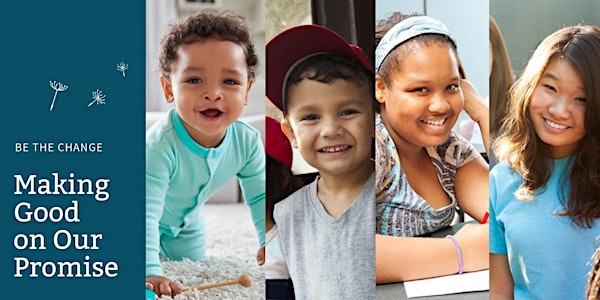 Be The Change: Making Good on Our Promise
To understand our educational outcomes, we must look beyond the classroom and see the whole child.
About this event
When a child is hungry, faces instability at home, or their family lacks the income to afford basic needs, they encounter barriers to success. To better understand our outcomes as a community, we must look to the classroom and beyond to recognize that children are often set up for success or failure before they ever arrive at school.
Be The Change: Making Good on Our Promise will convene our community around The Forsyth Promise's 2020 Community Education Report - https://forsythpromise.org/2020-education-report/ - on the state of education in Forsyth County. Community leaders will shine a light on major themes and findings from the report with the goal of informing a more complete perspective of our most difficult challenges. Attendees will join in open discussions on how we can work together to improve educational outcomes for all students in Forsyth County.
The 2020 Community Education Report features rich informational content to help our community understand our core educational outcomes and the major disparities experienced by many in our community based on their skin color and their economic status. This report goes further than past versions to illuminate the context around our most difficult challenges so that a broader audience can get engaged and take action.
Now is a critical moment for our community to be engaged, to be informed, and to work together like never before to support children and education in Forsyth County. We hope we can count on you to step up and make your voice heard in this critical community conversation.