Be About It: Unpacking White Privilege, Bias, and Anti-Racist Instruction
Join Teacher Talk Live and Get Your Teach On for a two-day virtual conference unpacking white privilege, bias, and anti-racist instruction
About this event
Be About It
Tickets on sale until 11:30pm ET on Wednesday, July 1st! Register now to have access to all of the session replays until August 1st!
Now is the time to have critical and courageous conversations. Now is the time to do the work.
Focusing our eyes, ears, heart, and mind toward anti-bias, anti-racist work is long overdue for so many. Now is the time to commit ourselves to not just learning about it but being about it. We must accept this opportunity for personal growth and sustained change - in our homes, our communities, and our schools. Join us in unpacking white privilege and setting our intentions for life-long anti-bias, anti-racist work. Join us in this conversation - and Be About It.
All attendees will receive a certificate from Get Your Teach On for 17 hours of professional development upon completion of the conference, and will be able to replay all sessions until August 1st.
100% of Get Your Teach On's profits will be donated to The Harvard Diversity Project and South Carolina First Steps to School Readiness. More information about these organizations can be found below.

Incredible Keynotes
DR. DONALD E. Grant Jr.
Mindful Discomfort: Pushing Through to a New You
Author of Black Men, Intergenerational Colonialism and Behavioral Health: A Noose Across Nations; Executive Director at Mindful Training Solutions and Pacific Oaks College's Center for Community and Social Impact (CCSI)
BAKARI Sellers
My Vanishing Country
Author of New York Times Best-Seller My Vannishing Country, CNN Political Commentator, and former member of the South Carolina House of Representatives
Hosted by SHIVY Brooks from TEACHER TALK LIVE

Inspiring Presenters & Panelists
ABBY Mullins, AMEN Mandela Rahh, BARRY White, BRANDON Fleming, CJ Reynolds, DERRICK Carlson, DONOVAN Smalls, HAYWARD Jean, HOPE King, JAMES Hogue, JOHORA Warren, LaNESHA Tabb, MARIAH Cooper, DR. MARIEL Buque, MONIQUE Waters, MORGAN Ingram, NAOMI O'brien, NICHOLAS Ferroni, NITA Creekmore, SARAH Plumitallo, DR. SHAUN Woodly, WADE King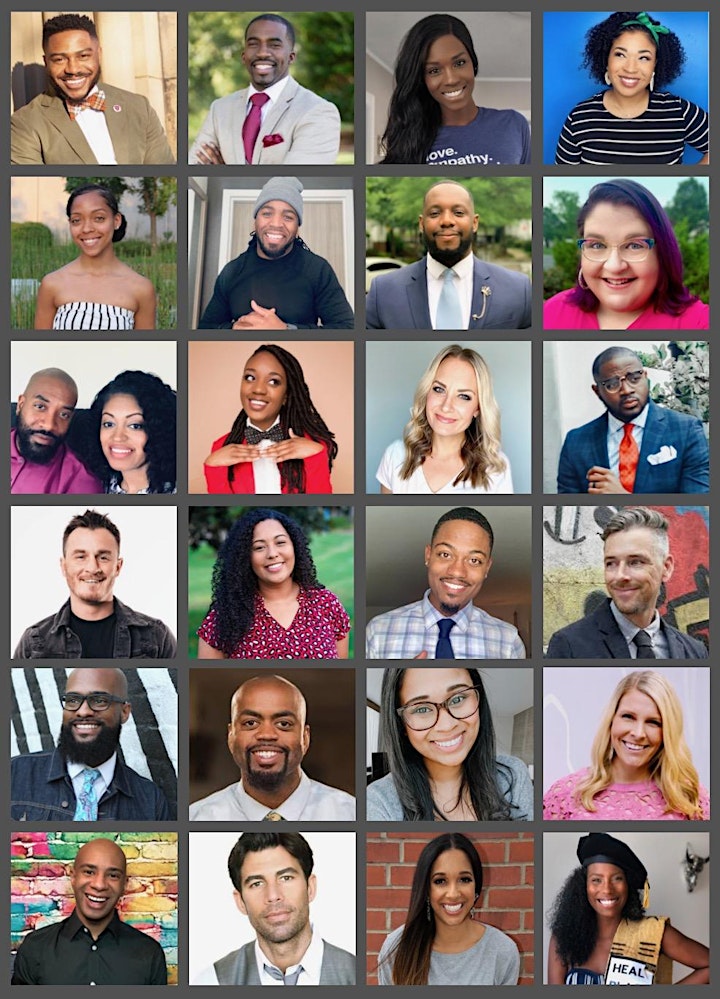 Agenda
Live streams begin at 10:00am EST on Monday, June 29th and Tuesday, June 30th. All sessions will be available for replay (with closed captioning) beginning at 5pm EST on each day, and will be available to watch until August 1st.
Day 1: Unpacking White Privilege
Welcome
Brandon Fleming: A Call to Action
Dr. Shaun Woodly
Dr. Donald E. Grant Jr.
Morgan Ingram & Sarah Plumitallo
Mariah Cooper
Brandon Fleming
Learning Out Loud Panel
Day 2: De-Centering Whiteness
Welcome
Bakari Sellers
James Hogue
Barry White Jr.
Amen Rahh
Naomi O'Brien & LaNesha Tabb
Mike & Nita Creekmore
Be About It Panel
Day 3: Bonus Sessions
These sessions will be released in an on-demand format beginning at 8:00am EST on Wednesday, July 1st.
Monique Waters
Johora Warren
Donovan Smalls
Hayward Jean
Dr. Mariel Buquè
Click Here to download the Conference Guide!
Agenda subject to change without notice.

Supporting the Community
The Harvard Diversity Project
A subsidiary of the Harvard Debate Council, Harvard Debate Council Diversity Project (HDCDP) is an Atlanta-based pipeline program that recruits, trains, and matriculates highly motivated black youth into a summer debate residency at Harvard College. HDCDP cultivates scholars seeking to further their education at elite colleges & universities. The end goal of the Harvard Diversity Project is to promote educational equity by creating opportunities for underserved youth to gain exposure and access to academic training that will distinguish them as top candidates in the college admissions process.
South Carolina First Steps to School Readiness
South Carolina First Steps to School Readiness (SCFS) is both a nonprofit and state agency and is the only dedicated comprehensive early childhood agency in South Carolina focused on getting children ready for school and life success. They serve more than 30,000 children in 81 school districts across 46 counties. South Carolina First Steps works collaboratively to ensure that all children start school ready to reach their highest potential with engaged support from their parents, caregivers, and communities. Our donation will be focused towards initiatives in Barnwell and Bamberg Counties, within South Carolina's "corridor of shame".

Join the Movement!
Register for our All-Access Pass and get online access to the live conference experience on June 29th and June 30th, video replay access until August 1st, and more.
The conference begins at 10:00am EST. Once you register for the event, you will receive a link in your email confirmation to access the webinars. Session replays will be posted after the webinars are over.
T-Shirts Now Available!
Click here to visit Trendy Teacherz Boutique
We've partnered with the incredible team at Trendy Teacherz Boutique to produce an exclusive t-shirt line just for this conference.

What Else?
Payment
With the conference coming up in just a few weeks and schools working remotely, we are not accepting checks or purchase orders for this event. All registrations must be paid with a credit card at the time of registration. We do not offer refunds on paid registrations.
Certificate / Hours
All attendees will receive a certificate for 17 hours of professional development. This will be uploaded to the main event site upon the conclusion of the conference.
Multiple Attendees/Registering On Behalf of Someone
If purchasing multiple registrations or registering on behalf of someone else, you will be prompted to enter names and emails for each attendee. It is critical that you include the actual attendee's email as this is how they will access the online content. If your school district regularly blocks emails, we highly suggest using a personal email (like Gmail). Again, each attendee's actual email address needs to be entered during registration or they will not be able to access the online conference.
How Does it Work?
Be About It is a a virtual conference in the form of an online webinar. You will receive a link in your email confirmation to access live streams and session replays. Once the conference is over, the session replays will be available on the main event site, which you'll have access for 30 days, as well as any downloadable resources.